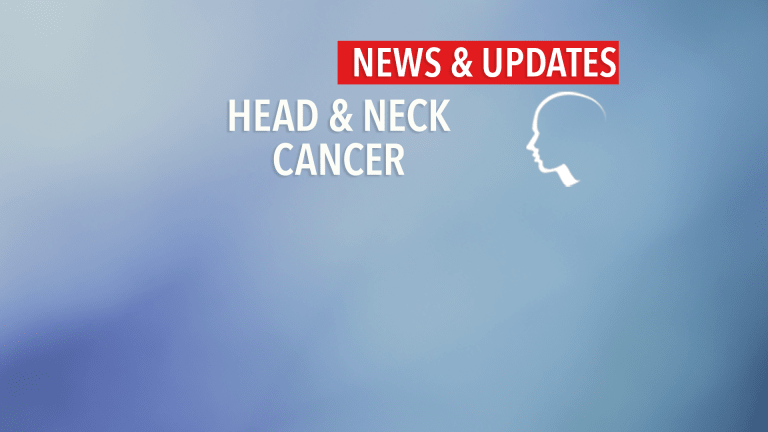 EGFR with Poorer Prognosis in Advanced Nasopharyngeal Cancer
EGFR Expression Associated with Poorer Prognosis in Advanced Nasopharyngeal Cancer
According to a recent article published in the International Journal of Radiation Oncology, Biology and Physics, overexpression of epidermal growth factor receptor (EGFR) is associated with a significantly poorer prognosis in patients with advanced nasopharyngeal cancer than in patients without EGFR overexpression. Patients with nasopharyngeal cancer that overexpresses EGFR may be candidates for more aggressive therapy, or therapy targeted against the EGFR pathway.
Nasopharyngeal cancer (NPC) is a type of head and neck cancer and occurs in the uppermost region of the throat situated behind the nasal cavity. Advanced NPC refers to cancer that has spread from its site of origin to distant and/or several sites in the body. Standard treatment for advanced NPC usually consists of radiation therapy and/or chemotherapy. Unfortunately, a large portion of patients with advanced NPC have suboptimal long-term outcomes and researchers are evaluating ways to determine factors that help to individualize therapeutic regimens and ultimately improve upon the outcomes of these patients.
The EGFR pathway is a biological pathway that is associated with cellular replication. Many cancers have overexpression of EGFR, which is implicated in the uncontrolled replication of cancerous cells. Researchers have been evaluating the EGFR pathway and its associated pathways, and their relationship to cancer, as well as targeted therapies such as Iressa® against EGFR.
Researchers from China recently analyzed data in an attempt to determine if an association exists between EGFR overexpression and the prognosis of patients with NPC. This trial included 43 patients with advanced NPC who were treated with chemotherapy and radiation therapy. Biopsy specimens were tested for EGFR expression and long-term outcome data of the patients were analyzed. EGFR expression was not correlated to the size of the cancer, the spread of cancer to lymph nodes or surrounding tissues, the extent of spread of cancer in the body, age or gender. Patients whose cancer had the greatest EGFR expression (>24%) had a significantly poorer prognosis than those with lesser EGFR or no EGFR expression. At an average of 5 years of follow-up, the rates of death from cancer and cancer-free survival were 52% and 36%, respectively for patients with >24% EGFR expression, compared with 14% and 80%, respectively for patients with 24% or less EGFR expression. Cancer recurrence rates that occurred near or at the site of initial cancer and recurrence rates that occurred in distant sites in the body were 40% and 45%, respectively for patients with >24% EGFR expression, compared with 7% and 14%, respectively in patients with 24% or less expression of EGFR.

The researchers concluded that patients with advanced NPC that overexpress EGFR, particularly patients with >24% expression, have a significantly worse outcome following radiation and chemotherapy than patients who do not express EGFR. The authors state that patients with overexpression of EGFR may be ideal candidates for more aggressive therapeutic approaches or treatment that includes anti-EGFR agents. Patients with advanced NPC may wish to speak with their physician about the risks and benefits of participating in a clinical trial that tests for EGFR and/or evaluates targeted therapy against EGFR.
Reference: Chua D, Nicholls J, Sham J, et al. Prognostic value of epidermal growth factor receptor expression in patients with advanced stage nasopharyngeal carcinoma treated with induction chemotherapy and radiotherapy. International Journal of Radiation Oncology, Biology, Physics. 2004;1:11-20.