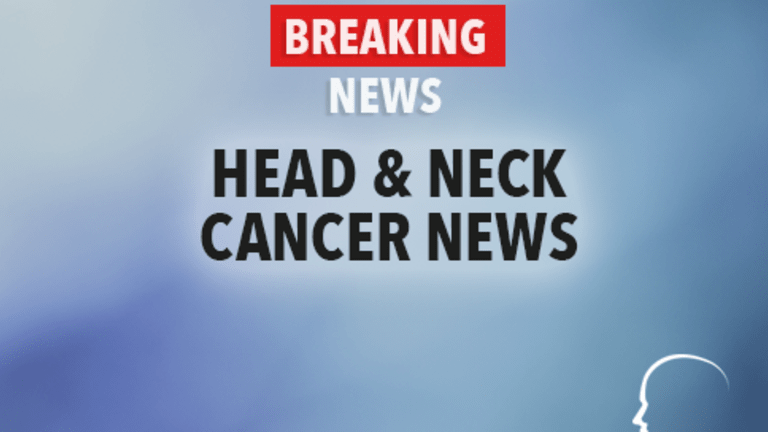 Drug Offers Promise for Treatment of Head and Neck Cancer
Tirapazamine Offers Promise for Treatment of Head and Neck Cancer
Promising results from a recent early-phase clinical trial indicate that a novel agent, called tirapazamine, may offer hope in the treatment of some head and neck cancers, according to a recent article published in theJournal of Clinical Oncology.
The term head and neck cancer is used to refer to a number of cancers that may occur in the head and/or neck. These may include cancers of the tongue, mouth, salivary glands, pharynx, sinus and other sites located in the head and neck area. Locally advanced head and neck cancer refers to cancer that has spread away from its site of origin but has not spread to distant sites within the body. Treatment options may include surgery, radiation therapy, chemotherapy and/or biological (utilizing the immune system to attack cancer) therapy, depending on the specific type, location and extent of the cancer. Although slight advances have been made regarding improved treatment outcomes for this group of patients, survival rates at 2 years following treatment are approximately 50%.
A major obstacle in achieving optimal treatment outcomes of some head and neck cancers is that cancer cells tend to be hypoxic. This means that the cancer cells have a low oxygen content compared to other cells in the body. Oxygen significantly enhances the anti-cancer effects of radiation and chemotherapy. Thus, hypoxic cancers tend not to respond well to these treatments. This fact has prompted recent research efforts to be focused on the investigation of effective treatment delivery to hypoxic cells.
Tirapazamine is a novel compound that becomes activated only in the presence of low concentrations of oxygen. Low levels of oxygen create a change in the chemical structure of tirapazamine. This altered structure of tirapazamine causes DNA damage in hypoxic cancer cells, thus destroying them. In addition to causing death to hypoxic cells, tirapazamine has shown to augment the effects of platinum-based chemotherapy drugs (cisplatin and carboplatin) through processes not clearly elucidated. A previous clinical trial conducted in lung cancer patients indicated promising results with treatment including tirapazamine and cisplatin1. These results prompted researchers to begin clinical trials involving this combination for the treatment of head and neck cancers.
A recent early-phase clinical trial was conducted to evaluate the safety and treatment responses of patients with locally advanced head and neck cancer treated with tirapazamine, cisplatin and radiation therapy. Three years following treatment, approximately 70% of patients were alive with no cancer recurrence. Low immune cell levels were the most common and serious side-effect caused by this treatment combination.
Results from this early phase clinical trial are promising, as hypoxia has hindered the achievement of long-term success in the treatment of some head and neck cancers. These results indicate that tirapazamine is safe and may improve long-term treatment outcomes when used in combination with cisplatin and radiation therapy. Future clinical trials utilizing this treatment strategy are warranted in order to further define the potential clinical benefits of this combination.
Patients with head and neck cancer may wish to speak with their physician about the risks and benefits of participating in a clinical trial further evaluating tirapazamine or other promising treatment strategies. (Journal of Clinical Oncology, Vol 19, No 2, pp 535-542, 2001)
1 von Pawel J, et al,
Journal of Clinical Oncology, Vol 18, pp 1351-1359, 2000
Copyright © 2018 CancerConnect. All Rights Reserved.