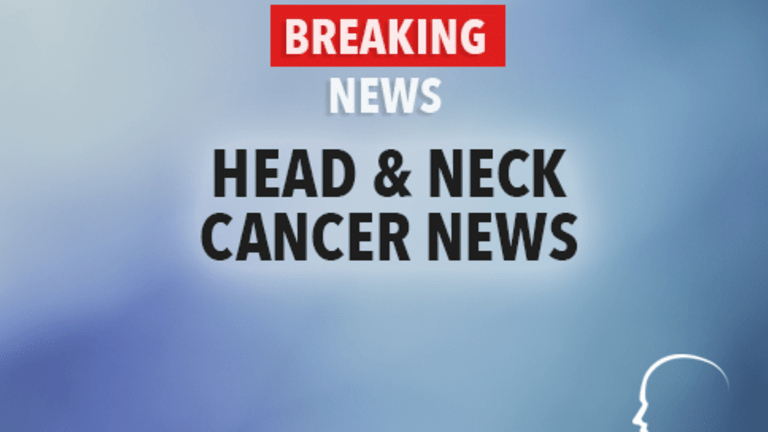 Cisplatin+Radiation Therapy Appears More Effective than Radiation Therapy Alone
Locally Advanced Head & Neck Cancer: Cisplatin + Radiation Therapy Appears More Effective than Radiation Therapy Alone
Persons who have head or neck cancer that cannot be removed with surgery commonly receive radiation therapy as their primary treatment. However, for many of these individuals, the cancer will still progress at some point. New emerging research indicates that the use of chemotherapy with radiation therapy for locally advanced cancer of the head or neck may afford a prolonged survival time for persons who have this disease.
The term head and neck cancer is used to refer to a number of cancers that may occur in the head and/or neck. These may include cancers of the tongue, mouth, salivary glands, pharynx, larynx, sinus, and other sites located in the head and neck area. Treatment options may include surgery, radiation therapy, and/or chemotherapy, depending on the specific type, location, and stage (extent of disease at diagnosis) of the cancer. When the cancer has spread throughout the head or neck area such that it cannot be removed with surgery (locally advanced disease), radiation therapy is often the primary treatment. Sometimes hyperfractionated radiation therapy is used, meaning that more than 1 treatment is delivered per day to kill more cancer cells, but hopefully without damaging more normal cells or causing more side effects. Recently, researchers reported that the use of radiation therapy with a chemotherapy combination improved the control of cancer and the treatment outcomes for persons with cancer of the mouth and throat.* Now, a group of Japanese researchers are reporting similar findings using radiation therapy plus chemotherapy to treat persons with locally advanced cancer of the nose, throat, and larynx.**
Researchers in Japan treated 130 individuals with locally advanced cancer of the nose, throat, or larynx with either hyperfractionated radiation therapy alone or hyperfractionated radiation therapy plus chemotherapy with cisplatin. Hyperfractionated radiation therapy was administered 3 times per day. The results showed that the 2-year survival rates were 49% for those receiving radiation therapy alone and 68% for those receiving radiation therapy plus cisplatin. The 5-year survival rates were 25% in persons receiving only the radiation therapy, and 46% in those who also received the cisplatin. The use of cisplatin was also associated with a reduction in cancer recurrences in the head and neck area and in the development of metastatic disease (spread of cancer to other parts of the body). In terms of side effects, the addition of cisplatin resulted in lower blood counts, but not in any increase of radiation-related side effects.
These findings suggest that the combination of radiation therapy and chemotherapy holds promise in reducing recurrences and prolonging the survival times for individuals who have locally advanced cancer of the head or neck. Persons with this type of disease may wish to talk with their doctor about the risks and benefits of receiving radiation therapy plus chemotherapy or of participating in a clinical trial in which other promising new treatments are being studied.
*(Journal of the National Cancer Institute, Vol 91, No 24, pp 2081-2086, 1999)
**(Journal of Clinical Oncology, Vol 18, No 7, pp 1458-1464, 2000)
Copyright © 2018 CancerConnect. All Rights Reserved.