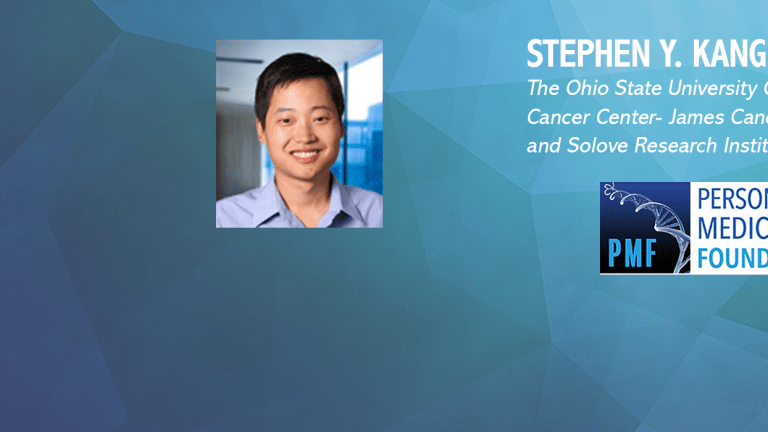 Ask The Expert About Head and Neck Cancer
Dr. Stephen Kang M.D. of The Ohio State University - James Cancer Hospital answers questions about head and neck cancer.
Medically reviewed by Dr. C.H. Weaver M.D. Medical Editor 5/2021
CancerConnect and The Ohio State University Comprehensive Cancer Center- James Cancer Hospital and Solove Research Institute Present
Ask the Head and Neck Cancer Expert, Stephen Y. Kang, MD.
Dr. Kang is an Assistant Professor in the Department of Otolaryngology – Head & Neck Surgery at the OSUCCC – James, specializing in the comprehensive management of benign and malignant head and neck tumors.
Question: Do you have any tips on how to select the best surgeon?
Dr. Kang: Selecting a surgeon is very important. With regard to cancer care, I always recommend evaluation and treatment at a NCI (National Cancer Institute) designated cancer center. These are typically high volume centers that are specialized centers of excellence. At these centers you will typically have the option to see one of several head and neck surgeons, many of which are fellowship trained, that you can consult with and determine your comfort level.
Question: Has immunotherapy improved outcomes in head and neck cancer? What's on the horizon with clinical trials?
Dr. Kang: It has, particularly in the recurrent and metastatic setting.
Question: Are there surgical techniques to reduce or minimize the effects on speech, and/or ability to chew and swallow?
Dr. Kang: Absolutely! Head and neck reconstructive microsurgery has advanced tremendously in the past decade. Our ability to transplant tissue from other parts of the body to reconstruct head and neck defects continues to improve. For example, tongue reconstruction can be very carefully customized to one's cancer defect to optimize sensation, mobility, and volume reconstruction, as well as maximizing the native tissue, to optimize speech and swallowing. Optimizing one's speech and swallowing is the primary goal of the reconstructive surgeon.
Question: Does HPV status affect treatment and when should I be tested for HPV (I have throat cancer)?
Dr. Kang: HPV testing is typically done during the initial pathologic evaluation of your tumor. It can be performed on the primary tumor site or in the lymph nodes.
This is a hot area of research. HPV status has tremendous prognostic potential. Currently there are many studies looking at deintensifying treatment for HPV positive oropharynx cancer. There are many national and institutional clinical trials that are open for HPV positive cancers. In the setting of a clinical trial, HPV positivity may change your treatment. However, as I mention in response to another question, latest NCCN guidelines do not recommend directing treatment based upon HPV status, thus, any treatment deintensification based upon HPV status should be done in the context of a clinical trial.
Question: It seems like there are different types of machines for delivering radiation therapy for my pharyngeal cancer; how do I know which method of radiation delivery is best?
Dr. Kang: You are correct – for most pharynx cancers, IMRT, or intensity modulated radiation therapy, is the technique employed, which spares critical head and neck structures while boosting treatment to the areas at highest risk. Any NCI-designated center, or high volume cancer center, will have the appropriate equipment. It will be critical to find an experienced head and neck radiation oncologist, in order to design the appropriate treatment plan.
Question: I just completed radiation therapy for throat cancer; my voice has changed; will it return to normal?
Dr. Kang: This is very common after radiation treatment for throat cancer. How the voice responds, depends on the location of the tumor, and the amount of treatment delivered to the larynx. While radiation treatment is necessary to treat the cancer, this is a known side effect of radiation treatment.
Question: Is there anything I can do to reduce the mouth sores I am getting from radiation?
Dr. Kang: This is a known side effect of radiation that you should discuss with your radiation oncologist.
Question: Are there any advances in the treatment of neck cancers that use precision medicines?
Dr. Kang: Yes. Advances in the treatment of head and neck cancer are occurring by identifying novel targets, exploring mechanisms of tumor resistance to current therapy, and identifying effective combinations of treatments, whether chemotherapeutic or biologic agents and immunotherapy.
Tumor molecular profiles, through next generation sequencing, can be done on tumors to identify markers that may tailor and customize a patient's treatment and eligibility for targeted therapy.
Question: Does radiation treatment for vocal chord cancer cause or intensify dry mouth?
Dr. Kang: Yes. Radiation treatment, while required to treat cancer, also results in dry mouth, known as xerostomia, as a result of treatment.
Question: Oral issues following treatment for tongue cancer- suggestions? I am 2 1/2 years out from having stage III tongue cancer. I still have a very dry mouth, very sticky & gooey saliva. In addition, most of the time I feel like there's a film on my teeth, even right after I brush. Is there anything to help this? I get my teeth cleaned every 3 months and brush every time I eat anything.
Dr. Kang: Excellent dental hygiene is very important especially after radiation treatment. Most patients that have had radiation treatment carry around a water bottle to help with the dry mouth. Lots of hydration goes a long way.
Question: From time to time, I have cramps from my radiation to the side of my neck. How would I go about treating these muscle contractions?
Dr. Kang: I would discuss this with your radiation oncologist. It is possible that physical therapy may be helpful in your case.
Question: Does excessive amounts of stress increase the change of my cancer returning? And is there a time frame after cancer occurrence that I no longer need be concerned about return of cancer? 3 yrs? 5 yrs?
Dr. Kang: This is a very interesting question! I think most physicians would agree that excessive amounts of stress is counterproductive to overall health in every aspect! For most head and neck cancers, 5 years is the time period in which we follow patients to watch for cancer recurrence. The highest risk of recurrence is in the first year. As time goes on, the likelihood of the head and neck cancer returning goes down.
The Ask the Expert Guest Moderator is not intended to be a substitute for healthcare professional medical advice, diagnosis, or treatment. Speak to your healthcare provider about any questions you may have regarding your health. Click here to learn more about Dr. Kang.
The Ask The Expert Series is made possible by support from The Personalized Medicine Foundation, Incyte Oncology, Abbvie, and CancerConnect. The "Ask The Expert" series is not medical advice nor is it a substitute for your doctor. It should serve as a guide to facilitate access to additional information and enhancement of a shared decision making process with your treating physician.