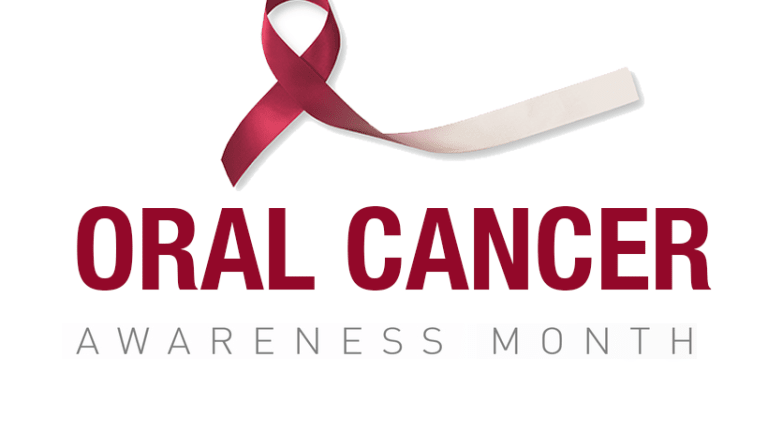 April is Oral Cancer Awareness Month
Tony Corrente, NFL Referee and throat cancer survivor helps increase understanding and urges screening
The month of April brings oral, head, and neck cancer into focus. Oral head and neck cancers usually begin in the squamous cells that line the moist, mucosal surfaces inside the head and neck: the oral cavity, pharynx, larynx, paranasal sinuses, nasal cavity, and salivary glands. Other cancers such as brain, eye, esophagus, and thyroid etc. are not classified as head and neck cancers as these do not originate in the same type of cell.
It is estimated that more than 120,000 individuals will be diagnosed with oral, head and neck cancer this year unfortunately, many will not be aware of their cancer until it has reached an advanced stage. Oral, head and neck cancers are now ranked in the top five cancers worldwide.
At least 75 percent of head and neck cancers are caused by tobacco and alcohol use. People who use both tobacco and alcohol are at greater risk of developing these cancers than people who use either tobacco or alcohol alone (about 30 times the risk). The symptoms of head and neck cancers may include a lump or a sore that bleeds easily and does not heal; a persistent red or white patch, lump, or thickening in the throat or mouth; ear pain; a neck mass; and coughing up blood, difficulty chewing, swallowing, or moving the tongue and jaws.
These cancers are more than twice as common among men as they are among women, and although the rates of these cancers have been declining over the last 30 years, the incidence of oropharyngeal cancers caused by HPV (human-papillomavirus) infection are increasing. Studies have not yet demonstrated what impact HPV vaccines might have on the incidence of HPV caused oropharyngeal cancers. What do we know about HPV and cancers of the head and neck?

Mr. Corrente, an NFL official since 1995 who refereed Super Bowl XLI in 2007 as well as AFC Championship, NFC Championship, Divisional, Wild Card and bowl games, was diagnosed with throat cancer in 2011 under unusual circumstances. While officiating at a Pittsburgh Steelers-Baltimore Ravens game, he was knocked to the turf during a skirmish between players. He took ibuprofen to alleviate the pain in his head and back, and found himself coughing up blood. Following several medical tests, a cancerous mass was found at the base of his tongue. Mr. Corrente, who wears uniform number 99, was treated with chemotherapy and radiation by specialists at The University of Texas MD Anderson Cancer Center in Houston. He recovered and is now in good health.
"My experience shows the importance of both screening for and early detection of oral, head and neck cancers," says Mr. Corrente, who credits both his medical team and friends with getting him through his bout with throat cancer. "I had no symptoms until the incident on the football field, and if it had taken much longer to detect the cancer, it might have spread and forced me to undergo massive surgery. Because I was diagnosed at an earlier stage, I was able to undergo treatment without serious complications and have a successful outcome. I encourage everyone to get screened for oral, head and neck cancers by taking advantage of the free screenings offered during OHANCAW® at hundreds of local facilities throughout the country listed on the www.headandneck.org website. I am living proof that early diagnosis and treatment can improve the outcome and chances of survival for people with these cancers."
"Promising new research shows that people with oropharyngeal cancer caused by HPV who receive active treatment can survive considerably longer than those who are not treated, even if the disease has spread to other organs in the body," said Terry Day, M.D., President of the Head and Neck Cancer Alliance. "These findings underscore the importance of getting screened and catching the disease early as a majority of diagnoses are not made until after the disease is in an advanced stage, resulting in both limited treatment choices and a more difficult prognosis."
More information regarding the signs, symptoms, and risk factors associated with oral, head and neck cancer can be found here. Cancer Connedt HENT Cancer Information Center
Copyright © 2018 CancerConnect. All Rights Reserved.