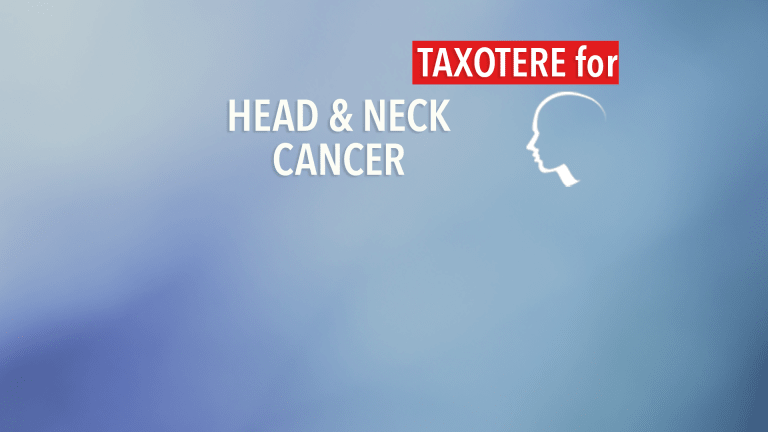 Addition of Taxotere® to Chemotherapy Helps Preserve Function of Larynx
Addition of Taxotere® to Chemotherapy Helps Preserve Function of Larynx
According to results presented at the 2006 annual meeting of the American Society of Clinical Oncology (ASCO), the addition of Taxotere® (docetaxel) to Platinol® (cisplatin) and 5-fluorouracil improves the rate of preservation of the larynx (voice box) in patients with advanced head and neck cancers.
Approximately 40,000 people in the U.S. are diagnosed with head and neck cancer every year. Cancers of the head and neck include several types of cancers affecting different areas of the head and/or neck. In 2005 the American Cancer Society estimated that 11,000 people would die from head and neck cancer.
Laryngeal cancer refers to cancer originating in the larynx, which is located within the throat. Hypopharyngeal cancer refers to cancer that originates in the bottom of the throat. Advanced head and neck cancer refers to cancer that spreads from its site of origin to other sites in the body. Standard treatment for advanced head and neck cancer often includes the use of several chemotherapy agents, the targeted agent Erbitux® (cetuximab), radiation therapy, and/or surgery.
Often, the surgical removal of laryngeal or hypopharyngeal cancer leaves patients with severe disfigurement as well as impairment in quality of life issues. Due to the side effects associated with surgery, physicians may first treat the cancer so that it shrinks prior to surgery. The goal of treatment of advanced head and neck cancer is to preserve as much function and cosmetic appearance as possible while providing optimal long-term survival.
Researchers affiliated with the French GORTEC (Radiotherapy Oncology Group for Head and Neck) 2000-01 trial recently evaluated the addition of the chemotherapy agent Taxotere to a standard chemotherapy combination including Platinol and 5-FU. This trial included 220 patients with advanced laryngeal or hypopharyngeal cancers who were treated with either Taxotere/Platinol/5-FU (TPF) or Platinol/5-FU (PF) as initial therapy and were directly compared.
Overall anticancer responses were achieved in 83% of patients treated with TPF compared with 61% for those treated with PF.
At three years, 73% of patients treated with TPF were able to preserve the function of their larynx compared with only 63% in the group treated with PF.
There were no notable differences in side effects between the two groups of patients.
There was a trend toward improved survival among patients treated with TPF.
The researchers concluded that the addition of Taxotere to PF improves the rate at which the larynx can be preserved without affecting survival among patients with advanced laryngeal or hypopharyngeal cancers. Patients diagnosed with head and neck cancer may wish to speak with their physician regarding their individual risks and benefits of treatment with Taxotere.
Reference: Calais G, Pointreau M, Alfonsi C, et al. Randomized phase III trial comparing induction chemotherapy using cisplatin (P) fluorouracil (F) with or without docetaxel (T) for organ preservation in hypopharynx and larynx cancer. Preliminary results of GORTEC 2000-01. Journal of Clinical Oncology. 2006;24: abstract # 5506.