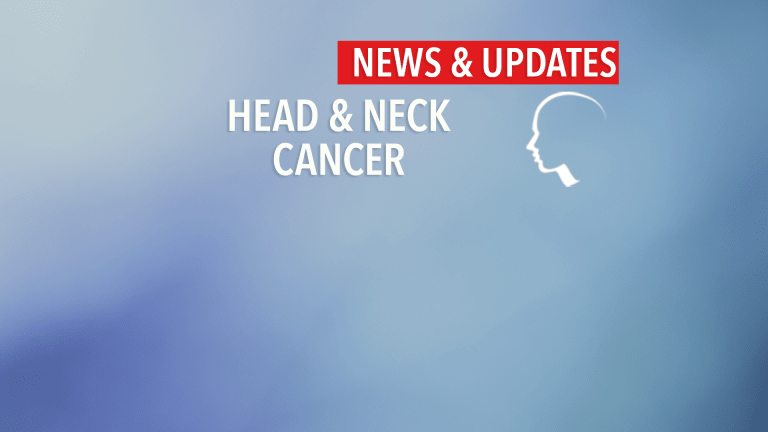 Adding Vectibix to Cisplatin/Fluorouracil Improves Progression-Free Survival in
Adding Vectibix to Cisplatin/Fluorouracil Improves Progression-Free Survival in Recurrent or Metastatic Head&Neck Cancer
The addition of Vectibix® (panitumumab) to cisplatin/fluorouracil as first-line treatment improves progression-free survival in patients with recurrent or metastatic head and neck cancer, according to the results of a study published in The Lancet Oncology.
Head and neck cancers originate in the tissues in or around the mouth, nose, and throat. Risk factors for head and neck cancer include smoking, alcohol consumption, and infection with high-risk types of human papillomavirus (HPV). Patients with head and neck cancer that has spread to other parts of the body or that has returned after initial treatment have limited treatment options, and researchers continue to explore new and more effective approaches to treatment.
Targeted therapies are anticancer drugs that interfere with specific pathways involved in cancer cell growth or survival. Vectibix inhibits cancer cell growth and survival by targeting a protein known as the epidermal growth factor receptor (EGFR). Previous studies have shown that Vectibix can improve clinical outcomes in patients with recurrent or metastatic head and neck cancer.
Researchers conducted an open-label, randomized, phase 3 trial at 126 sites in 26 countries to evaluate the efficacy and safety of Vectibix combined with cisplatin and fluorouracil (5-FU) as first-line treatment for patients with metastatic or recurrent head and neck cancer. The trial included 657 patients with distant metastatic or locoregionally recurrent disease considered incurable by surgery or radiotherapy. Patients were randomly assigned to receive cisplatin/5-FU with or without Vectibix. The primary endpoint was overall survival. In a prospectively defined retrospective analysis, tumor human papillomavirus status as a potential predictor of outcome was assessed using a p16-INK4A (p16) immunohistochemical assay.

The results indicated that median overall survival was 11.1 months in the Vectibix group compared to 9.0 months in the control group. Median progression-free survival was 5.8 months in the Vectibix group and 4.6 months in the control group. The p16 status was available in 67 percent of patients and among these, 22 percent (99 patients) were p16-positive. Among patients with p16-negative tumors, median overall survival was significantly prolonged in the Vectibix group (11.7 months) compared with the control group (8.6 months). There was no difference in median overall survival between Vectibix patients (11.0 months) and control patients (12.6 months) with p16-positive tumors. In the control group, p16-positive patients had a non-significant increase in overall survival compared with p16-negative patients.
The most common grade 3 or 4 adverse events in the Vectibix group were skin or eye toxicity, hypomagnesemia, hypokalemia, diarrhea, and dehydration. Treatment-related deaths occurred in 14 patients (4%) in the Vectibix group and 8 (2%) in the control group, with 5 (2%) of the deaths in the Vectibix group being attributed to Vectibux treatment.
The researchers concluded that the addition of Vectibix to cisplatin/5-FU improved progression-free survival among patients with recurrent or metastatic head and neck cancer and had an acceptable toxicity profile. They speculate that p16 status could serve as a prognostic and predictive marker in patients treated with Vectibix and chemotherapy.
Reference:
Vermorken JB, Stohlmacher-Williams J, Davidenko I, et al. Cisplatin and fluorouracil with or without panitumumab in patients with recurrent or metastatic squamous-cell carcinoma of the head and neck (SPECTRUM): an open-label phase 3 randomised trial. The Lancet Oncology. 2013; 14(8): 697-710.