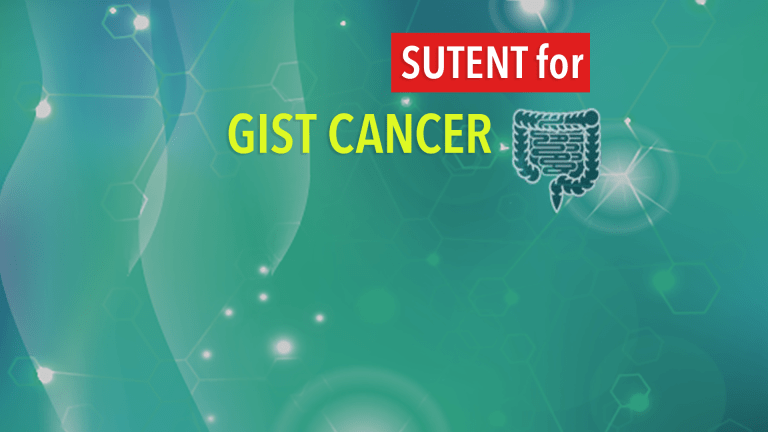 Sutent® Improves Outcomes for Patients with GIST
Sutent® Improves Outcomes for Patients with GIST
According to an article recently published in The Lancet, Sutent® (sunitinib) improves outcomes among patients with gastrointestinal stromal tumor (GIST) who have stopped responding to or cannot tolerate Gleevec® (imatinib).
GIST is a rare type of cancer that originates in the wall of the gastrointestinal track. The American Cancer Society estimates that only approximately 5,000 individuals are diagnosed annually with GIST in the U.S. GIST is thought to originate in the "pacemaker" cells of the digestive system; these cells are responsible for the movement of food or nutrients through the system.
Standard treatment for GIST typically includes surgical removal of as much cancer as possible and treatment with the targeted agent Gleevec. Since GIST remains virtually unresponsive to standard chemotherapy or radiation therapy, effective treatment options are limited. Subsequently, long-term survival remains suboptimal for many patients with GIST, particularly those who do not respond to Gleevec or those who stop responding to Gleevec.
Sutent is an oral targeted agent that works by inhibiting multiple biologic pathways involved in the growth, replication, and spread of cancer cells. Sutent deprives cancer cells of blood and nutrients needed for growth.
The clinical trial that prompted the FDA approval included 312 patients with GIST whose disease had progressed during prior treatment with Gleevec or who were not able to tolerate treatment with Gleevec. Patients either received Sutent or placebo (inactive substitute). An interim analysis demonstrated that patients treated with Sutent achieved significantly improved outcomes compared to those who received placebo:
Overall anticancer responses were achieved in 6.8% of patients treated with Sutent, compared to none of the patients who received placebo.
Time before cancer progressed was 27 weeks for patients treated with Sutent, compared with six weeks for patients who received placebo.
Progression-free survival was 24 weeks for patients treated with Sutent, compared with six weeks for patients who received placebo.
Side effects mainly consisted of diarrhea, skin discoloration, mouth irritation, weakness, and altered taste.
Patients with GIST that has stopped responding to Gleevec and patients with GIST who are not able to tolerate Gleevec should speak with their physician regarding their individual risks and benefits of treatment with Sutent.
Reference: Demetri G, van Oosterom A, Garrett C, et al. Efficacy and Safety of Sunitinib with Advanced Gastrointestinal Stromal Tumor After Failure of Imatinib: A Randomised Controlled Trial. The Lancet. Early online publication October 10, 2006. DOI: 10.1016/SO140-6737(06)69446-4.