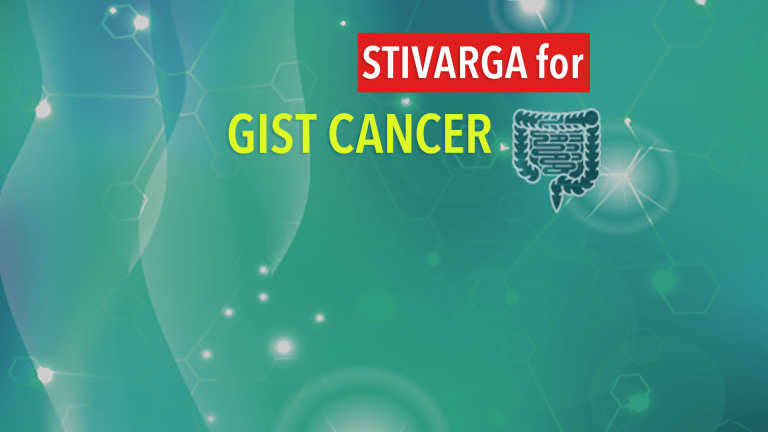 Stivarga Approved for Treatment of Advanced Gastrointestinal Stromal Tumors
Stivarga Approved for Advanced Gastrointestinal Stromal Tumors
The U.S. Food and Drug Administration (FDA) expanded the approved use of Stivarga® (regorafenib)to treat patients with advanced gastrointestinal stromal tumors (GIST) that cannot be surgically removed and no longer respond to other FDA-approved treatments for the disease.
Gastrointestinal stromal tumors (GIST) are a relatively rare but aggressive type of soft-tissue sarcoma. These cancers are most commonly found in the stomach or small intestine. It is estimated that there are between 3,300 and 6,000 new cases of GIST every year in the United States, most often in older adults.
Targeted therapies are anticancer drugs that interfere with specific pathways involved in cancer cell growth or survival. Stivarga is a multi-kinase inhibitor that targets multiple biological pathways involved in cancer development. The drug was reviewed under the FDA's priority review program that provides an expedited six-month review for drugs that offer major advances in treatment or that provide treatment when no adequate therapy exists. The drug was also granted orphan product designation because it is intended to treat a rare disease.
The approval was based on the results of a clinical study that included 199 patients with GIST that could not be surgically removed and progressed after treatment with Gleevec® (imatinib) and Sutent® (sunitinib). Patients in the study were randomly assigned to receive either Stivarga or placebo until their disease progressed or side effects became unacceptable. The results indicated that Stivarga improved progression-free survival by an average of 3.9 months compared to placebo. Patients who received placebo were given the opportunity to cross over to the treatment arm when their cancer progressed.

The most common side effects associated with Stivarga were weakness and fatigue, hand-foot syndrome (also called palmar-plantar erythrodysesthesia), diarrhea, loss of appetite, high blood pressure, mouth sores, infection, changes in voice volume or quality, pain, weight loss, stomach pain, rash, fever and nausea. Serious side effects occurred in less than one percent of patients and included liver damage, severe bleeding, blistering and peeling of skin, very high blood pressures requiring emergency treatment, heart attacks and perforations (holes) in the intestines.
Stivarga is the third drug approved for the treatment of GIST and provides a new treatment option for patients who are no longer responding to Gleevec and Sutent.
Reference:
FDA approves Stivarga for advanced gastrointestinal stromal tumors. [FDA News Release]. U.S. Food and Drug Administration website. Available here