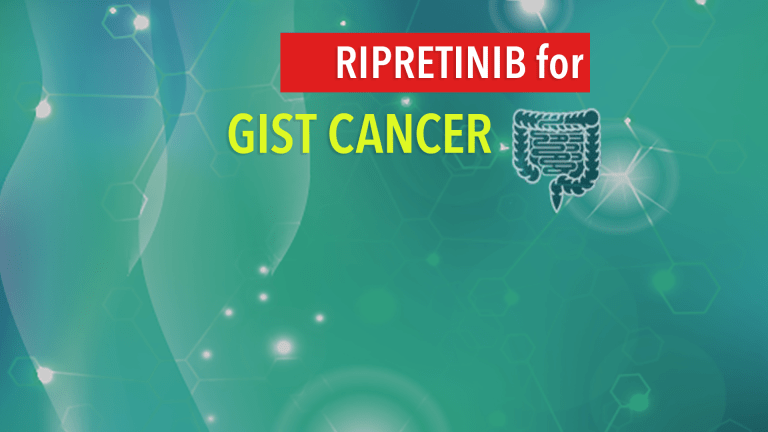 Ripretinib Treatment for Gastrointestinal Stromal Tumors
Ripretinib is a next generation kinase inhibitor FDA approved for the treatment of GIST
by Dr. C.H. Weaver M.D. 5/2020
Qinlock (ripretinib), a broad-spectrum KIT and PDGFRα inhibitor whose mutations are known to drive growth of gastrointestinal stromal tumors (GIST) significantly improves survival and delays cancer recurrence in the most heavily pretreated patients. The FDA approved Qinlock for the treatment of adults with advanced GIST who have received therapy with ≥3 or more kinase inhibitors, including imatinib. (1,2)
About GIST
Gastrointestinal stromal tumors (GIST) are cancers affecting the digestive tract or nearby structures within the abdomen occurring in approximately 4,000 to 6,000 individuals each year in the United States. These sarcomas are driven by mutations, the most common of which are in KIT kinase, representing approximately 75% to 80% of cases, or in PDGFRα kinase, representing approximately 5% to 10%.
Current therapies are unable to inhibit the full spectrum of primary and secondary mutations, which drives resistance and disease progression. Estimates for 5-year survival range from 48% to 90%, depending on the stage of the disease at diagnosis.
About Qinlock (ripretinib)
Ripretinib is an investigational KIT and PDGFRα kinase switch control inhibitor. Ripretinib was specifically designed to improve the treatment of patients with GIST by inhibiting a broad spectrum of mutations in KIT and PDGFRα. Ripretinib is a KIT and PDGFRα inhibitor that inhibits initiating and secondary KIT mutations in exons 9, 11, 13, 14, 17, and 18, involved in GIST, as well as the primary D816V exon 17 mutation involved in SM. Ripretinib also inhibits primary PDGFRα mutations in exons 12, 14 and 18, including the exon 18 D842V mutation.
The FDA approval was based on data from the international, multi-center INVICTUS clinical trial, in which 129 patients with GIST who previously received imatinib, sunitinib, and regorafenib were treated with Qinlock and compared to individuals not receiving additional treatment. These patients could receive Qinlock at the time of disease progression.
Patients treated with Qinlock delayed cancer progression by 5.3 months and the average survival duration was 15.1 months compared to 6.6 months.
The most common side effects were hair loss, fatigue, nausea, abdominal pain, constipation, muscle aches, diarrhea, decreased appetite, and vomiting.
Based on the positive INVICTUS data, the company submited a New Drug Application (NDA) to the U.S. Food and Drug Administration (FDA) for the treatment of patients with advanced GIST who have received prior treatment with imatinib, sunitinib and regorafenib in the first quarter of 2020 which led to FDA approval in May 2020.
References
Deciphera Pharmaceuticals Reports Positive Updated Phase 1 Data for Ripretinib in Gastrointestinal Stromal Tumors