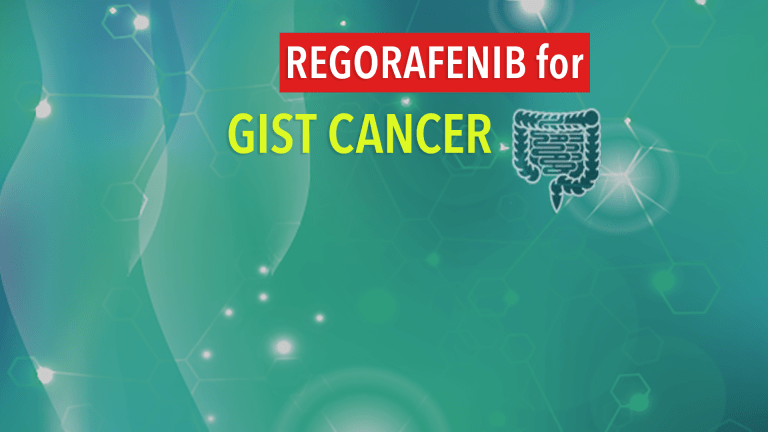 Regorafenib May Expand GIST Treatment Options
Regorafenib May Expand GIST Treatment Options
Among patients with gastrointestinal stromal tumors (GIST) that worsen in spite of standard treatment, the investigational drug regorafenib delays cancer progression. These results—from a Phase III clinical trial—were presented at the 2012 Annual Meeting of the American Society of Clinical Oncology.
GIST is a type of soft tissue sarcoma that develops in the stomach, small intestine, or other parts of the gastrointestinal tract. The targeted drugs Gleevec® (imatinib) and Sutent® (sunitinib) play an important role in the treatment of this condition.
Targeted therapies are anticancer drugs that interfere with specific pathways involved in cancer cell growth or survival. Some targeted therapies block growth signals from reaching cancer cells; others reduce the blood supply to cancer cells; and still others stimulate the immune system to recognize and attack the cancer cell. Depending on the specific "target," targeted therapies may slow cancer cell growth or increase cancer cell death.
Regorafenib is an investigational, targeted therapy that targets multiple biological pathways involved in cancer development. It is taken orally (by mouth).
To evaluate regorafenib for the treatment of GIST that has progressed (worsened) after standard therapy, researchers conducted a Phase III clinical trial. The study enrolled 199 patients with GIST that was inoperable or had metastasized (spread to other parts of the body). All of the patients had undergone prior treatment with Gleevec and Sutent.
Study participants were assigned to receive either a placebo (sugar pill) or regorafenib. In addition, all patients received best supportive care (care to manage symptoms).
Regorafenib significantly delayed cancer progression. Progression-free survival was 4.8 months among patients in the regorafenib group, but only 0.9 months among patients in the placebo group.
These results suggest that regorafenib is effective for the treatment of GIST that is resistant to other available therapies. Regorafenib is still investigational and has not yet been approved by the U.S. Food and Drug Administration.
Reference: Demetri GD, Reichardt P, Kang Y-K et al. Randomized phase III trial of regorafenib in patients (pts) with metastatic and/or unresectable gastrointestinal stromal tumor (GIST) progressing despite prior treatment with at least imatinib (IM) and sunitinib (SU): GRID trial. Paper presented at: 2012 Annual Meeting of the American Society of Clinical Oncology; June 1-5, 2012;Chicago,IL. Abstract LBA10008.