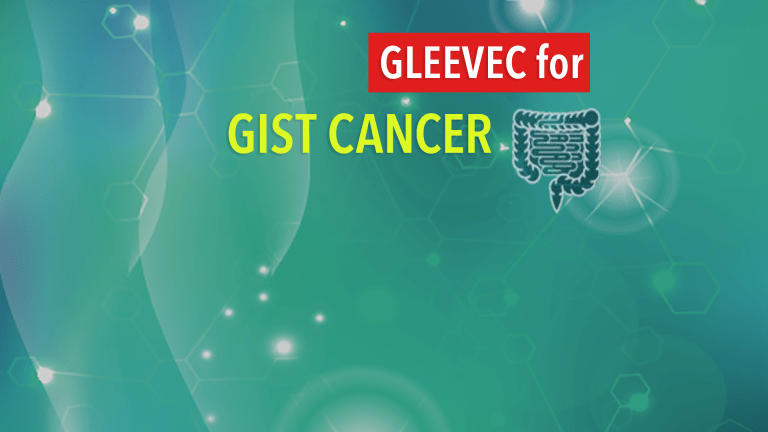 Protein Mutations May Predict Outcomes for GIST Patients Treated with Gleevec®
Protein Mutations May Predict Outcomes for GIST Patients Treated with Gleevec®
During a recent presentation at the 2005 annual meeting of the American Society of Clinical Oncology, researchers reported that mutations in the cell to cell communicators known as KIT, are strongly associated with response rates and time to progression in patients with gastrointestinal stromal tumors (GIST) who are treated with the drug Gleevec (imatinib mesylate).
Gastrointestinal stromal tumors are a distinct type of cancer that generally occurs in the stomach, but can form anywhere along the gastrointestinal tract. Standard treatment for GISTs includes surgery, chemotherapy and/or radiation therapy. However, GISTs tend to be aggressive in nature and resistant to radiation and chemotherapy, with only 4.8% of cases responding to chemotherapy. The majority of GISTs have a mutation in a protein known as KIT, which is responsible for the processes that regulate growth and multiplication of cells. Gleevec is a drug that is currently approved for the treatment of chronic myelogenous leukemia and GIST. The function of Gleevec is to bind to the mutated KIT to slow or stop proliferation of the malignant cells. Because patient outcomes and responses are highly variable, researchers sought to determine if profiling patients with KIT mutations would help provide a link between responders and non-responders after treatment with Gleevec.
In this recent study, researchers from two large oncology research organizations evaluated the different doses of Gleevec for the treatment of GIST. In an attempt to establish an association between KIT mutations and response to Gleevec, researchers obtained tumor samples from 324 patients diagnosed with GIST. Of the 324 patients, 280 were found to have KIT mutations. Certain mutations were associated with higher responses to Gleevec, although differences in responses were not altered by higher or lower doses of Gleevec. Additional analysis revealed that certain types of mutations affected the time to progression, with certain mutation resulting in longer periods of time to progression than other types of mutations.
Researchers concluded that certain KIT mutations are associated with significantly higher response rates and longer time to cancer progression intervals among patients treated with Gleevec. Additionally, this study indicates the importance of profiling patients in order to individualize therapy, which ultimately may provide a better outcome for the patient.
Reference: Heinrich M, Shoemaker J, Corless C, et al. Correlation of target kinase genotype with clinical activity in imatinib mesylate (IM) in patients with metastatic GI stromal tumors (GISTs) expressing KIT. Proceedings from the 2005 annual meeting of the American Society of Clinical Oncology. Presented May 16, 2005 at a plenary session. Abstract #7