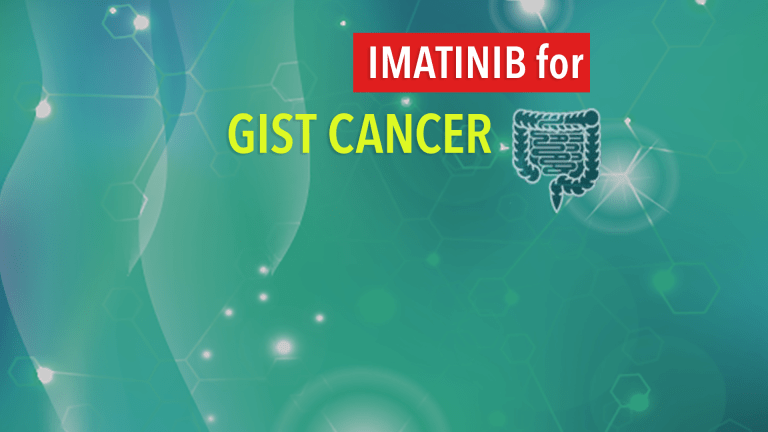 by Dr. C.H. Weaver M.D. updated 4/20201
Gleevec (Imatinib) is a precision cancer medicine that has been approved by the FDA for the treatment of Gastrointestinal stromal tumors (GIST) in both the adjuvant and advanced setting. Gleevec is well tolerated and significantly improves survival with data published in June of 2020 confirming a 10 year survival benefit.1-8
About GISTs
It is estimated that there are between 4,500–6,000 cases of GIST diagnosed annually in the United States. More than 90% of these cases are Kit-positive, meaning that the cancers contain a particular protein (Kit) that contributes to cancer growth. Gastrointestinal stromal tumors (GISTs) are a unique subset of cancers that are most often located in the stomach, but can arise anywhere in the gastrointestinal tract. GISTs arise from the cells of Cajal, or the "pacemaker" cells of the gastrointestinal tissue. Standard treatment for GISTs includes the surgical removal of the cancer, chemotherapy and/or radiation therapy. However, GISTs tends to be aggressive in nature and resistant to radiation and chemotherapy, with only 4.8% of cases responsive to chemotherapy. Patients with advanced GIST have an average survival of 9 to 20 months following standard treatment.
The majority of GISTs have a mutation (alteration) within a protein called KIT. KIT is involved in biological processes that facilitate the growth and multiplication of healthy cells. Normally, this growth process is kept under strict control; however, KIT mutations involved with GISTs lead to excessive, uncontrolled multiplication of cancer cells.
About Gleevec (Imatinib)
Gleevec is a precision cancer medicine that has been approved by the FDA for the treatment of Gastrointestinal stromal tumors (GIST) that have a KIT cancer driving mutation. Gleevec's binding action stops or slows the excessive growth of the cancer cells caused by the mutated KIT and has also been implicated in the direct death of cells containing mutated KIT.
Gleevec is generally well tolerated. The most frequent adverse reactions were diarrhea, fatigue, nausea, edema, decreased hemoglobin, rash, vomiting, and abdominal pain. More About Gleevec
Gleevec for Early Stage GIST-Extended Therapy Post-Resection Improves Survival in High-Risk GIST
The U.S. Food and Drug Administration has expanded the approval of Gleevec® (imatinib mesylate) to include the adjuvant (post-surgery) treatment of Kit-positive gastrointestinal stromal tumors in adults.2
Early stage GIST, or GIST that has not spread to distant sites in the body, is typically treated initially with surgery to remove the cancer. Unfortunately, the risk of recurrence is high, and GIST remains relatively resistant to chemotherapy and/or radiation therapy. Targeted drugs that inhibit the Kit protein, such as Gleevec prolong survival and reduce recurrence risk when administered after surgery.
The study that led to the approval of Gleevec for adjuvant (post-surgery) treatment of GIST was a Phase III clinical trial that involved more than 700 patients. After surgery to remove the cancer, patients were assigned to receive either Gleevec (400 mg/day) or placebo.
After a median follow-up of 14 months, 8.4% of patients treated with Gleevec had experienced a cancer recurrence or death compared with 19.8% of patients treated with placebo. This study suggested that Gleevec significantly reduced the risk of cancer recurrence after surgical removal of Kit-positive GIST, and led to FDA approval for this purpose.
Treatment with Gleevec® for 3 years following surgery appears to further improve survival compared with the standard one-year therapy for patients with GIST. Researchers from Scandinavia conducted a clinical study (The Scandinavian Sarcoma Group XVIII/AIO trial) to explore the effectiveness of longer therapy with Gleevec among patients with GIST. The study included 400 patients with early GIST who were at a high risk of experiencing a recurrence. Following surgery, one group was treated with Gleevec for 3 years while the other group was treated with Gleevec for one year.3
Survival was significantly improved for the group of patients treated with Gleevec for 3 years compared to those treated for only one year. At 5 years, survival was 92% for the 3-year group and 81.7% for the 1-year group.
Survival with no evidence of cancer recurrences (recurrence-free survival) was also improved in the group of patients treated with Gleevec for 3 years. Three years following surgery, recurrence-free survival was 65.5% in the 3-year group compared with 48% in the 1-year group.
By the end of therapy with Gleevec, 14% of the group treated for 3 years and 8% of the group treated for one year had discontinued therapy due to side effects.
The lead author of the study stated that although one year of postoperative Gleevec is currently the standard of care for early GIST, "these results are very compelling." Furthermore, the author stated that the optimal duration of therapy with Gleevec is not yet known, as trials evaluating longer treatment times have not yet been conducted.
A secondary analysis of this phase 3 trial showed that 3 years of adjuvant Gleevec therapy significantly prolonged survival without cancer recurrence at 10 years. Overall 79% survived cancer free following 3 years of treatment compared to 65% for those treated for one year.
Additionally, Dr Joensuu and colleagues noted that no new safety signals were detected. "Three years of treatment with adjuvant imatinib was associated with improved survival compared with 1 year in patients with high-risk GIST. Approximately 50% of deaths may be avoided during the first 10 years of follow-up after surgery with longer adjuvant Gleevec treatment," they concluded.8
Treatment of Advanced GIST
Researchers from Europe conducted a clinical trial evaluating increased doses of Gleevec in patients with advanced GIST. This trial included 133 patients who were initially treated with 400 mg of Gleevec and ultimately experienced a progression of their cancer. These patients were then treated with 800 mg of Gleevec. Overall, higher doses of Gleevec produced a partial regression of cancer or disease stabilization in nearly 30% of patients. The researchers concluded that patients with advanced GIST who stop responding to treatment with Gleevec may experience a response if treated with higher doses of the drug.5
​Researchers conducted a clinical trial to directly compare different doses of Gleevec® in the treatment of GIST. This trial included 946 patients with advanced GIST who were treated with either a lower dose of Gleevec® (400 mg) or a higher dose of Gleevec® (800 mg) and were directly compared. Approximately one-third of patients had received prior treatment with chemotherapy. Patients whose cancer progressed while being treated with 400 mg of Gleevec® were able to "cross over" and receive 800 mg. Overall, complete and partial disappearances of cancer, disease stabilization, and survival at one year were nearly identical between the two groups of patients. The estimated survival at two years was 74% for patients initially treated with 800 mg and 69% for those treated with 400 mg. In addition, there was an 18% reduced risk of a relapse in patients initially treated with 800 mg.
The researchers concluded that 800 mg of Gleevec® appears superior to 400 mg of Gleevec® in reducing the risk of a relapse and improving survival at 2 years in patients with GIST. However, the researchers caution that absolute improvements are difficult to measure, as patients initially treated with 400 mg were able to cross-over to receive 800 mg upon progression of their disease. Patients with GISTs who are to receive Gleevec® should speak with their physician about the risks and benefits of higher doses of Gleevec®.6
Does Therapy Need to be Continuous?​
According to an article published in the Journal of Clinical Oncology, interruption in treatment with Gleevec is not recommended for patients with GIST whose disease has appeared to stabilize. Because the disease is often stabilized while a patient is being treated with Gleevec, researchers have questioned whether disease stabilization would be maintained if these patients were taken off Gleevec for a period.To address the question of whether treatment with Gleevec may be intermittently stopped among patients with GIST whose cancer had been stabilized, researchers from France recently conducted a clinical trial to compare outcomes of patients who continuously receive treatment with Gleevec with those who stop treatment with Gleevec. This trial included 58 patients whose cancer had been stabilized for at least one year under treatment with Gleevec. One group of patients was treated with continuous (CONT) Gleevec, and another group was treated with interrupted (INT) Gleevec.
At last follow-up, of the 26 patients in the CONT group, only eight had experienced cancer progression, while 26 of the 32 patients in the INT group had experienced cancer progression.
There were no differences in overall survival or quality of life between the two treatment groups.
Twenty four of the 26 patients in the INT group who experienced cancer progression responded to subsequent treatment with Gleevec.
The researchers concluded that interruption in therapy with Gleevec for patients with GIST whose disease is stabilized for at least one year on treatment with Gleevec cannot be recommended unless patients experience severe side effects from therapy. The authors state specifically that "Imatinib interruption results in rapid progression in most patients with advanced GIST, and cannot be recommended in routine practice unless patient experience significant toxicity." 7
References:
The Lancet, Vol 358, No 9291, pp 1421-1423, 2001.
Novartis media release. Glivec receives US approval as first treatment to reduce risk of cancer returning in patients with gastrointestinal stromal tumors. Available at: . Accessed December 23, 2008.
Joensuu H, Eriksson M, Hatrmann J, et al. Twelve versus 36 months of adjuvant imatinib (IM) as treatment of operable GIST with a high risk of recurrence: Final results of a randomized trial (SSGXVIII/AIO). Paper presented at: 2011 Annual Meeting of the American Society of Clinical Oncology; June 3-7, 2011; Chicago, IL. Abstract LBA1.
DD
Zalcberg J, Verweijb J, Casali P, et al. Outcome of patients with advanced gastro-intestinal stromal tumours crossing over to a daily imatinib dose of 800mg after progression on 400mg. European Journal of Cancer. 2005; 41: 1751-1757.
Verweij J, Casali G, Zalcberg J, et al. Progression-free survival in gastrointestinal stromal tumours with high-dose imatinib: randomized trial. Lancet. 2004;364:1127-1134.
Blay J-Y, Le Cesne A, Ray-Coquard I, et al. Prospective multicentric randomized Phase III study of imatinib in patients with advanced gastrointestinal stromal tumors comparing interruption versus continuation of treatment beyond 1 Year: The French Sarcoma Group. Journal of Clinical Oncology. 2007; 25: 1107-1113.
GIST; JAMA Oncol. 2020 May 29. Epub ahead of print