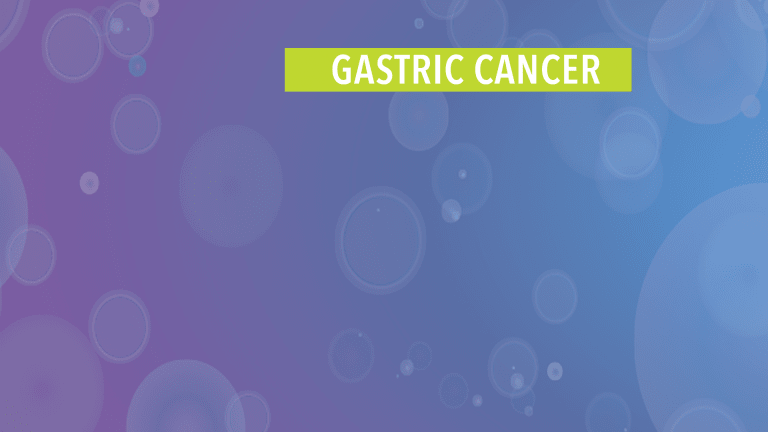 Treatment for Stage IV Gastric Cancer
Treatment of stage IV gastric cancer consists of surgery & systemic chemotherapy and newer precision cancer medicines.
Medically reviewed by Dr. C.H. Weaver M.D. Medical Editor updated 6/2021
​Patients with stage IV or metastatic gastric cancer have cancer that has spread to distant sites. Advanced gastric cancer is very difficult to treat; patients should consider participation in a clinical and being evaluated at a major cancer center that can offer multi-modality treatment involving medical oncologists, radiation oncologists, surgeons, gastroenterologists and nutritionists.
Surgery
For patients with Stage IV gastric cancer, surgery may be performed in order to reduce bleeding or to keep the cancer from obstructing the intestines or stomach.
Learn more about surgery for gastric cancer
Precision Cancer Medicines
The purpose of precision cancer medicine is not to categorize or classify cancers solely by site of origin, but to define the genomic alterations in the cancers DNA that are driving that specific cancer. Precision cancer medicine utilizes molecular diagnostic testing, including DNA sequencing, to identify cancer-driving abnormalities in a cancer's genome. Once a genetic abnormality is identified, a specific targeted therapy can be designed to attack a specific mutation or other cancer-related change in the DNA programming of the cancer cells. Precision cancer medicine uses targeted drugs and immunotherapies engineered to directly attack gastric cancer cells with specific abnormalities, leaving normal cells largely unharmed.
HER2 + Gastric Cancer
Herceptin® (trastuzumab) is a targeted therapy that interferes with specific pathways involved in the growth or spread of cancer. A protein known as HER2 (human epidermal growth factor receptor contributes to cancer growth and cancers that test positive for HER2 may be treated with a HER2-targeting drug called Herceptin® (trastuzumab). Herceptin is often used in combination with chemotherapy, and can prolong patient survival with advanced, HER2-positive gastric cancer.1
In a pivotal clinical trial HER2 + advanced gastric cancer patients were treated with chemotherapy or chemotherapy plus Herceptin. Chemotherapy consisted of a fluoropyrimidine (Xeloda® [capecitabine] or 5-FU) and cisplatin.
Overall survival was 13.8 months among patients treated with chemotherapy plus Herceptin compared with 11.1 months among patients treated with chemotherapy alone.
Patients whose tumors had the highest levels of HER2 appeared to derive the most benefit from Herceptin. Among patients with particularly high levels of HER2, overall survival was 16 months for those treated with chemotherapy plus Herceptin compared with 11.8 months for those treated with chemotherapy alone.
These results suggest that Herceptin improves survival among patients with HER-positive, advanced stomach cancer.2
On May 5, the U.S. Food and Drug Administration (FDA) granted accelerated approval to Keytruda in combination with Herceptin plus fluoropyrimidine- and platinum-containing chemotherapy for the first-line treatment of patients with advanced HER2-positive gastric or gastroesophageal junction adenocarcinoma based on analysis of the first 264 patients of the ongoing KEYNOTE-811 trial. Patients were treated with Herceptin + chemotherapy with or without Keytruda and directly compared. The response rate was improved to 74% from 52% for those treated with Keytruda and the duration of response was modestly improved - survival data are not yet available.
Keytruda (pembrolizumab) is a monoclonal antibody that helps to restore the body's immune system in fighting cancer. It creates its anti-cancer effects by blocking a specific protein used by cancer cells called the programmed death-1 (PD-1), to escape an attack by the immune system. Once PD-1 is blocked, cells of the immune system are able to identify cancer cells as a threat, and initiate an attack to destroy the cancer.
The KEYNOTE 059 clinical trial compared Keytruda, Keytruda + chemotherapy and chemotherapy alone in patients with advanced gastric cancer. Keytruda as a single drug was as good as chemotherapy but the combination was no better.3
These study results are consistent with those reported for Opdivo (nivulomab) another PD-1 inhibitor reported earlier this year and support an emerging role of immunotherapy for selected patients with gastric cancer.4
Lynparza is a poly ADP-ribose polymerase (PARP) inhibitor that blocks enzymes involved in repairing damaged DNA. Lynparza was initially approved for treatment of women with advanced ovarian cancer associated with defective BRCA genes in 2014.
In a Korean study 124 patients were treated with either oral Lynparza plus paclitaxel or placebo plus paclitaxel followed by maintenance monotherapy with Lynparza or placebo.
The combination of Lynparza/paclitaxel was generally well tolerated, with no unexpected side effects. The researchers reported significantly improved survival for the combination compared to placebo/paclitaxel in the overall study population. The combination also significantly improved survival versus placebo in patients with low ATM expression.5
Lonsurf consists of a thymidine-based nucleoside analog, trifluridine, and the thymidine phosphorylase (TP) inhibitor, tipiracil, which increases trifluridine exposure by inhibiting its metabolism by TP. Trifluridine is incorporated into DNA, resulting in DNA dysfunction and inhibition of cell proliferation.
Lonsurf was FDA approved based on data from the global "TAGS" clinical trial that compared Lonsurf plus best supportive care (BSC) to BSC alone in patients with previously treated advanced gastric cancer or GEJ adenocarcinoma following progression or intolerance to previous lines of standard therapy. The trial met its primary and secondary endpoints demonstrating prolonged overall survival for treatment with Lonsurf + BSC when compared to BSC alone.6
Cyramza (ramucirumab) is a type of targeted agent known as a monoclonal antibody. It blocks VEGFR-2 and starves tumors of nutrients needed to grow. The phase III trial known as the "REGARD" trial compared Cyramza to BSC and improved average overall survival to 5.2 months compared with 3.8 months in the placebo group. The estimated survival at six months was 41.8 percent in patients receiving Cyramza and 31.6 percent in the patients who received placebo.7
Chemotherapy
Chemotherapy can relieve symptoms and extend survival for some patients with advanced gastric cancer. Several chemotherapy regimens are available, and the choice of which to use depends in part on the patient's health. Chemotherapy may be used in combination with other treatments such as precision cancer medicine, radiation therapy, and/or surgery.
Radiation Therapy
Radiation therapy involves the use of a particular type of energy, known as ionizing radiation, to kill cancer cells. Radiation can play a role in managing the symptoms of advanced gastric cancer, and can also help to control problems such as bleeding or blockages.
Nutritional Support
Prior to any surgical procedure, adequate preparation of the patient is important to minimize complications. Many patients with gastric cancer are malnourished at the time of diagnosis. Aggressive nutritional support has not been shown to improve long-term survival, but it has been shown to improve survival in the immediate post-operative period. Feeding intravenously and/or through a naso-gastric tube can enhance nutrition before surgery.
Strategies to Improve Treatment
The progress that has been made in the treatment of gastric cancer has resulted from the use of multi-modality treatment and improved patient and physician participation in clinical trials. Currently, there are several areas of active exploration aimed at improving the treatment of gastric cancer.
New Chemotherapy Regimens: Development of new multi-drug chemotherapy treatment regimens that incorporate new or additional anti-cancer therapies for use as treatment is an active area of clinical research carried out in phase II clinical trials in patients with stage IV or recurrent gastric cancer. Clinical trials evaluating new chemotherapy combinations combined with precision cancer medicines are a major focus of research. For example that FOLFIRI (fluorouracil, leucovorin and irinotecan), commonly use for treatment of Colon or Pancreatic + Cyramza is reported to produce a response rate of 30%. (8)
Phase I Trials of Chemotherapy: New chemotherapy drugs continue to be developed and evaluated in phase I clinical trials. The purpose of phase I trials is to evaluate new drugs in order to determine the best way of administering the drug and to determine whether the drug has any anti-cancer activity in patients with gastric cancer. Phase I trials are usually performed in patients with recurrent or refractory cancer.
New Targeted Therapies: Several targeted therapies are being evaluated for the treatment of advanced gastric cancer. These targeted therapies include additional HER2-targeted drugs such as Tykerb® (lapatinib); other types of targeted therapies that have already been approved for other purposes, such as Avastin® (bevacizumab) and Afinitor® (everolimus); and new drugs that are being evaluated in several types of cancer.
References:
Bang Y-J, Van Cutsem E, Feyereislova A et al. Trastuzumab in combination with chemotherapy versus chemotherapy alone for treatment of HER2-positive advanced gastric or gastro-oesophageal junction cancer (ToGA): a phase 3, open-label, randomised controlled trial. Lancet. 2010; 376:687-697.
Van Cutsem E, Kang YK, Shen L et al. Trastuzumab added to standard chemotherapy (CT) as first-line treatment in human epidermal growth factor receptor 2 (HER2)-positive advanced gastric cancer (GC): efficacy and safety results from the Phase III ToGA trial. Presented at the Joint ECCO 15-34th ESMO Multidisciplinary Congress. Berlin, Germany, September 20-24, 2009. Abstract 7BA.
Abstract LBA28_PR 'KEYNOTE-059 Update: Efficacy and Safety of Pembrolizumab Alone or in Combination With Chemotherapy in Patients With Advanced Gastric or Gastroesophageal (G/GEJ) cancer.
Yung-Jue Bang, MD, PhD et al. online in the Journal of Clinical Oncology.
Shitara, K., Doi, T., Dvorkin, M., et al. Trifluridine/tipiracil versus placebo in patients with heavily pretreated metastatic gastric cancer (TAGS): a randomised, double-blind, placebo-controlled, phase 3 trial. The Lancet Oncology. 2018;19(11): 1437-1438.
Fuchs CS, Tomasek J, Yong CJ, et al. Ramucirumab monotherapy for previously treated advanced gastric or gastro-oesophageal junction adenocarcinoma (REGARD): an international, randomised, multicentre, placebo-controlled, phase 3 trial. The Lancet. Published early online October 3, 2013. doi:10.1016/S0140-6736(13)61719-5.
Lorenzen S, et al. Abstract 4023. Presented at: ASCO Annual Meeting; May 31- June 4, 2019; Chicago.