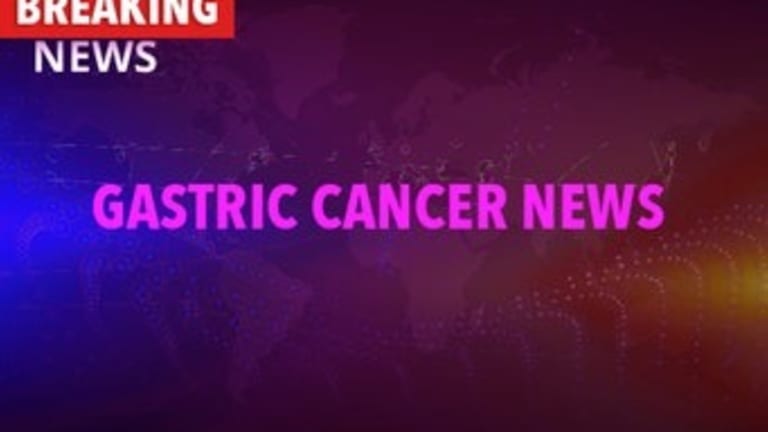 Phase II Trial of Taxotere® and Xeloda® for Metastatic Gastric Cancer
Phase II Trial of Taxotere® and Xeloda® for Metastatic Gastric Cancer
Phase II Trial of Taxotere® and Xeloda® for Metastatic Gastric Cancer
According to the results of a phase II clinical trial published in the Annals of Oncology, treatment of metastatic adenocarcinoma of the stomach or gastroesophageal junction with the chemotherapy drugs Taxotere® (docetaxel) and Xeloda® (capecitabine) reduced or eliminated detectable cancer in 39% of patients.
Gastric (stomach) cancer is the 14th most common cancer in the U.S. Approximately 90% of gastric cancers are classified as adenocarcinomas; the classification refers to the type of cell where the cancer developed. Only 10-20% of patients in the U.S. who are diagnosed with gastric cancer have early-stage cancer; the majority is diagnosed with advanced disease.
Metastatic gastric cancer refers to cancer that has spread to several and/or distant sites within the body. Treatment for metastatic gastric cancer is often not intended to cure the patient, but is rather aimed at improving their quality of life and extending their survival.
The main component of treatment for patients who cannot have their cancer surgically removed due to extent of spread or location of the cancer is chemotherapy. Researchers continue to evaluate and compare newer chemotherapy regimens for the treatment of metastatic gastric cancer in order to improve survival.
To evaluate the combination of Taxotere and Xeloda in the treatment of metastatic adenocarcinoma of the stomach or gastroesophageal junction (the area whether the esophagus joins the stomach), researchers conducted a phase II clinical trial among 44 patients. Median patient age was 57 years. Patients had not previously received treatment for metastatic disease. All patients were treated with Taxotere and Xeloda.
Two of the 44 patients (4.5%) experienced a complete disappearance of detectable cancer.
15 patients (34%) experienced a partial reduction in detectable cancer.
Median survival was 9.4 months.
Median time until cancer progression was 4.2 months.
There was one treatment-related death.
Grade 4 neutropenia (very low levels of neutrophils-a type of white blood cell) developed in more than half the patients.
The researchers conclude that the chemotherapy regimen of Taxotere and Xeloda warrants further study in patients with metastatic adenocarcinoma of the stomach or gastroesophageal junction.
Patients with metastatic adenocarcinoma of the stomach or gastroesophageal junction may wish to talk with their doctor about the risks and benefits of participating in a clinical trial further evaluating this or other novel therapeutic approaches. Two sources of information regarding ongoing clinical trials include the National Cancer Institute (www.cancer.gov) and www.cancerconsultants.com.
Reference: Giordano KF, Jatoi A, Stella PJ et al. Docetaxel and Capecitabine in Patients with Metastatic Adenocarcinoma of the Stomach and Gastroesophageal Junction: A Phase II Study from the North Central Cancer Treatment Group. Annals of Oncology. 2006;17:652-656.
Related News:
Taxotere® Approved for Advanced Gastric Cancer (3/24/06)
Addition of Taxotere® to Standard Chemotherapy Improves Survival in Advanced Gastric Cancer (11/3/05)
Copyright © 2018 CancerConnect. All Rights Reserved.