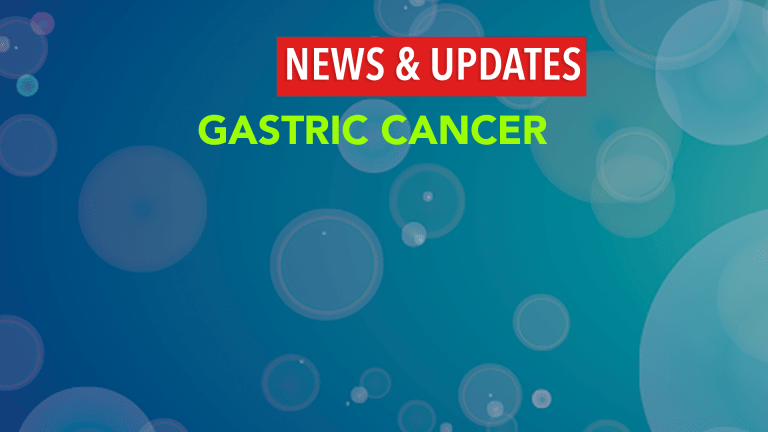 Zolbetuximab (IMAB362) in Advanced Stomach Cancer
Zolbetuximab Plus mFOLFOX6 Improves Survival in Claudin 18.2+ Gastric or GEJ Cancers
Clinical trials have demonstrated that Zolbetuximab (IMAB362)  which stimulates the immune system to attack a certain protein expressed by many stomach cancer cells, have demonstrated a significant improvement in survival compared to standard therapy among patients with this disease. 
About Gastric Cancer
Stomach cancer, often called gastric cancer, as well as cancers of the gastroesophageal junction (GEJ) (cancers arising from the location where the esophagus – tube that leads from the mouth to the stomach – and the stomach meet), occur in over 26,000 people in the United States every year.
Advanced gastric or GEJ cancers refer to cancer that has spread from its site origin to distant sites in the body. Standard therapy for these cancers results in suboptimal long-term survival rates, demonstrating a need for novel therapeutic approaches.
The current trial evaluating the addition of zolbetuximab to oxaliplatin, leucovorin, and fluorouracil (mFOLFOX6) chemotherapy is the second trial reported to delay cancer progression and prolong survival when used to treat cancer patients with Claudin 18.2 (CLDN18.2)–positive, locally advanced unresectable or metastatic gastric or gastroesophageal junction (GEJ) adenocarcinoma.
About Zolbetuximab
Researchers have identified a certain protein, called the Claudin 18.2 (CLDN18.2) protein that is expressed by several types of cancer cells, while not expressed by healthy cells.  Zolbetuximab is a chimeric IgG1 monoclonal antibody that binds to CLDN18.2 and mediates cell death through antibody-dependent cellular cytotoxicity and complement-dependent cytotoxicity.1-3
The SPOTLIGHT clinical trial enrolled 566 adult patients with locally advanced unresectable or metastatic gastric or GEJ cancers that were positive for CLDN18.2 and had not yet been treated with chemotherapy for advanced disease. Study participants were treated with mFOLFOX6 with or without intravenous zolbetuximab and directly compared.2
Researchers initially reported the results of FAST clinical trial, to evaluate the effectiveness of the addition of IMAB362 to chemotherapy in the treatment of patients with advanced gastric and GEJ cancers. The trial included 161 patients who had not received prior therapy, and whose cancer cells expressed CLDN18.2 proteins, as determined through laboratory processes.
One group of patients was treated with zolbetuximab plus the chemotherapy combination consisting of epirubicin, oxaliplatin, and capecitabine (EOX), while the other group of patients was treated with EOX only.
Median survival without progression of cancer was 7.9 months for those treated with zolbetuximab plus EOX, and 5.7 months for those treated with EOX only.
Median overall survival was 18.2 months for patients treated with zolbetuximab/EOX, compared with 15.5 months for those treated with EOX only.
The addition of zolbetuximab to EOX did not significantly increase severe side effects.
Twice as many patients survived three years who were treated with zolbetuximab compared to EOX.
The researchers of the trials concluded that the addition of zolbetuximab to standard chemotherapy significantly improves outcomes, including survival, among patients with advanced gastric or GEJ cancers that express the CLDN18.2 protein. Importantly, patients whose cancers express very high levels of CLDN18.2 proteins achieved an even greater benefit from therapy with zolbetuximab. Clinical trials are ongoing to provide further data on the effectiveness of zolbetuximab  in these types of cancers.
Reference: 
Al-Batran S-E, Schuler M, Zvirbule Z, et al. FAST: An international, multicenter, randomized, phase II trial of epirubicin, oxaliplatin, and capecitabine (EOX) with or without IMAB362, a first-in-class anti-CLDN18.2 antibody, as first-line therapy in patients with advanced CLDN18.2+ gastric and gastroesophageal junction (GEJ) adenocarcinoma. Proceedings from the 2016 annual ASCO meeting. Abstract # LBA4001. 

Astellas announces zolbetuximab meets primary endpoint in phase 3 SPOTLIGHT trial as first-line treatment in Claudin 18.2 positive, HER2-nergative locally advanced or metastatic gastric and gastroesophageal junction (GEJ) cancers. News release. Astellas Pharma Inc. November 16, 2022. Accessed November 16, 2022. http://bit.ly/3EDdEnb

Shitara K, Al-Batran E-R, Bang Y-J, et al. 198TiP SPOTLIGHT: phase III study of zolbetuximab + mFOLFOX6 versus placebo + mFOLFOX6 in first-line Claudin18.2+/HER2- advanced or metastatic gastric or gastroesophageal junction adenocarcinoma (G/GEJ). Ann Oncol. 2020;31(suppl 6):S1317. doi:10.1016/j.annonc.2020.10.462