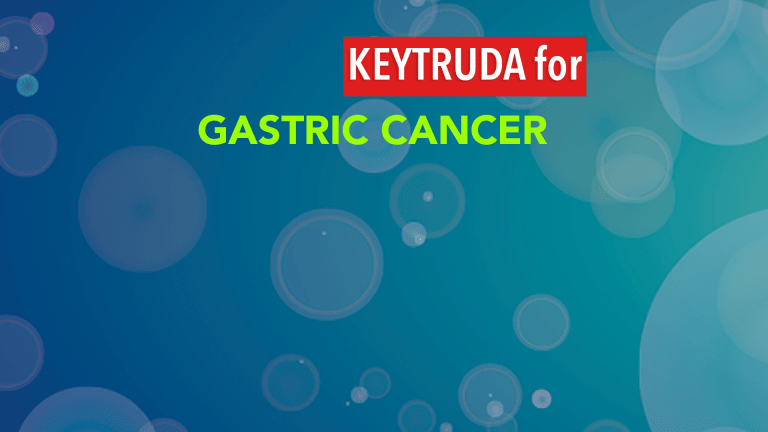 Keytruda Immunotherapy in Advanced Gastric Cancer
Keytruda immunotherapy combinations improves outcomes in PD-L1 positive gastric cancers and HER2 positive cancers.
Keytruda (pembrolizumab) was initially approved by the US Food and Drug Administration for treatment of patients with recurrent locally advanced or metastatic gastric or gastro-esophogeal junction (GEJ) adenocarcinoma with PD-L1-expressing tumors that had failed previous treatment with two or more prior lines of therapy – including fluoropyrimidine- and platinum-containing chemotherapy. Following FDA approval additional clinical trial results have been published that suggest Keytruda's main benefit is confined to individuals with high CPS scores in their cancer.1,2
About Keytruda
Keytruda is a monoclonal antibody that helps to restore the body's immune system in fighting cancer. It creates its anti-cancer effects by blocking a specific protein used by cancer cells called the programmed death-ligand 1 (PD-L1), to escape an attack by the immune system. Once PD-L1 is blocked, cells of the immune system are able to identify cancer cells as a threat, and initiate an attack to destroy the cancer.
About Gastric Cancer
Stomach cancer (gastric cancer), is the third leading cause of cancer-related deaths worldwide. Overall, the 5-year survival rate for patients with gastric cancer is 30.4%. However, once the cancer has spread from the stomach to distant sites in the body, the 5-year survival rate drops to 5%, indicating the need for novel treatment options. Very few new drugs have been approved for this disease in the past decade.
Some gastric cancers can be treated with precision cancer medicines that target specific genomic alterations like the human epidermal receptor (HER2) and PD-L1. All patients with gastric cancer should undergo genomic biomarker testing in order to determine if they are eligible to benefit from these treatments.
Keytruda Promising Alternative to Chemotherapy for Advanced Gastroesophageal Junction and Gastric Cancers
The KEYNOTE-062 phase III randomized clinical trial achieved its primary endpoint, showing that for patients with PD-L1-positive, HER2-negative, advanced gastric or gastroesophageal junction (G/GEJ) cancer, initial therapy with Keytruda resulted in similar overall survival to standard chemotherapy and improved survival for individuals with higher PD-L1 CPS scores.
Keytruda was initially given accelerated approval by the U.S. Food and Drug Administration in September 2017 for patients with recurrent, locally advanced or metastatic, gastric or GEJ cancer with tumors that express PD-L1 with a combined positive score (CPS) of one or more. The CPS is calculated based on the number of PD-L1 positive cells derived from biopsied tissue and the number of viable tumor cells.
About Keynote 062 Clinical Trial
The Keynote 062 clinical trial enrolled 763 previously untreated patients with either gastric or GEJ cancer who were HER2-negative and had PD-L1 expression. PD-L1 expression was assessed via CPS, and all patients had a PD-L1 CPS of one or greater, and 281 (37% of the enrollees) had a score of 10 or more. Patients were treated with either Keytruda, Keytruda + chemotherapy, or chemotherapy alone, and directly compared.
The study found that overall Keytruda produced similar outcomes as chemotherapy resulting in an average overall survival of approximately 11 months in individuals with a PD-L1 CPS of one or greater.
For patients with PD-L1 CPS greater than 10 the median overall survival was 17.4 months for those treated with Keytruda compared with 10.8 months for those receiving chemotherapy. After 2 years, 39% of people taking Keytruda were alive compared with 22% of those taking chemotherapy. The addition of chemotherapy to Keytruda did not further improve survival.
FDA Approves Keytruda-Herceptin Combination for HER2-Positive Gastric, Gastroesophageal Cancer
The US Food and Drug Administration on granted accelerated approval to Keytruda) combined with Herceptin and chemotherapy as a first-line treatment for patients with locally advanced or metastatic, HER2-positive gastric or gastroesophageal junction (GEJ) cancer.
Approval was based on the Phase III Keynote-811 trial, in which 264 patients with HER2-positive gastric or GEJ cancer were treated with the Herceptin-chemotherapy with or without Keytruda. The overall response rate among patients treated with Keytruda improved to 74% compared with 52% for those not receiving Keytruda. The median duration of response was 10.6 months with Keytruda compared with 9.5.
Keynote 059 in recurrent gastric cancer.
The phase II KEYNOTE-059 clinical trials is one of the largest studies to investigate immunotherapy in recurrent or metastatic gastric cancer.
Keynote 059 included three groups: 1) 259 patients with metastatic gastric cancer who were treated with keytruda alone, after pretreatment with two or more lines of chemotherapy; 2) 25 patients with newly diagnosed metastatic gastric cancer who received a combination of keytruda and chemotherapy; 3) 31 patients with newly diagnosed metastatic gastric cancer who received keytruda alone.
The investigators reported an overall objective response rate of 12% with keytruda alone in the pretreated patients and the patients who expressed PD-L1 were more likely to respond than those who did not, with objective response rates of 16%.
In patients with newly diagnosed metastatic cancer, both the combination therapy and keytruda alone were safe and showed some promising activity. These study results are consistent with those reported for Opdivo (nivulomab) another PD-1 inhibitor reported earlier this year and support an emerging role of immunotherapy for selected patients with gastric cancer.
References
Abstract LBA28_PR 'KEYNOTE-059 Update: Efficacy and Safety of Pembrolizumab Alone or in Combination With Chemotherapy in Patients With Advanced Gastric or Gastroesophageal (G/GEJ) cancer.
abstracts.asco.org/239/AbstView_239_251955.html