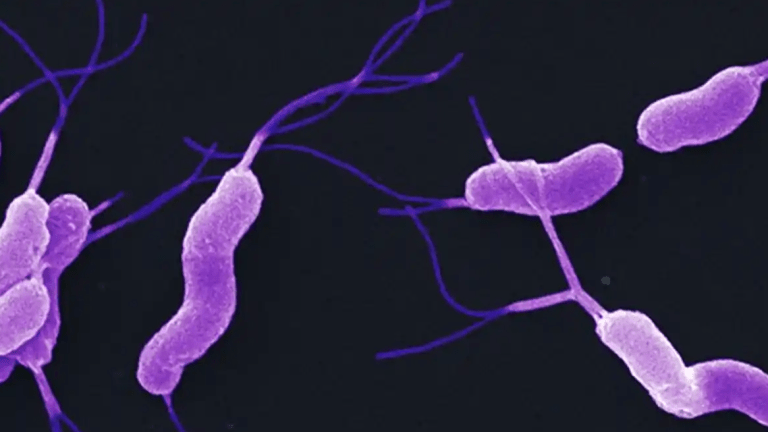 Helicobacter Pylori Infection and Gastric Cancer
Helicobacter Pylori bacterial infection associated gastric (stomach) cancer risk is reduced by antibiotic treatment.
by Dr. C. H. Weaver M.D. updated 5/2022
This bug loves our guts — living silently in most folks, causing ulcers in others — but a new meta-analysis suggests that eliminating it entirely may help prevent stomach cancers.
The bacteria on the hit list is called Helicobacter pylori, or H. pylori — a strain that's coexisted with humans for tens of thousands of years, residing today in the bellies of roughly two-thirds of all people. It's also the primary cause of gastric cancers, the world's fifth most common malignancy.
Permanently wiping out H. pylori with a brief blitz of two common weapons — antibiotics plus an acid-suppressing medication like Prilosec or Prevacid — may cut the risk of stomach cancers according to a paper published in the Cochrane Library. The authors analyzed six clinical trials spanning nearly 6,500 patients who were treated for H. pylori.
"The findings of this systematic review and meta-analysis add to the increasing evidence that eradicating H. pylori in the general population has the potential to prevent gastric cancer," said co-author Dr. Paul Moayyedi, who researches H. pylori testing and treatment at McMaster University in Hamilton, Ontario.
Among trial participants who were given one to two weeks of antibiotics and gastric-acid suppressing medicine, 1.6 percent later developed gastric cancer, the meta-analysis found. Among the participants who were given no treatment or a placebo, 2.4 percent later developed gastric cancer.
Four of the trials reviewed by Moayyedi and colleagues were conducted in China and one was done in Japan. Those nations have two of the highest stomach cancer rates in the world.
Additional support was reported in the New England Journal of Medicine in February 2020 and comes from a clinical trial where 844 individuals treated with H Pylori killing antibiotics were compared to a similar group of individuals with a family history of gastric (stomach) cancer not receiving treatment.
By 9.2 years after beginning treatment 2.7% of the 844 not treated developed gastric cancer compared to a rate of 1.2% for those who received antibiotic therapy. Only 70% of participants experienced H Pylori eradication with antibiotic therapy, their cancer rate dropped even further to 0.8%, reducing the odds of developing stomach cancer by 73%.
A simple breath test can show whether antibiotic therapy has worked. In the 10% to 30% of the cases where the bacteria are still present, different antibiotics can be tried.
Stomach Cancer Rates are Declining
In the U.S., prevalence of stomach cancer has declined by an average of 1.5 percent per year for the past decade, making it the 16th most common cancer among Americans, reports the National Cancer Institute. In 2014, nearly 11,000 Americans were expected to die from the disease, while 22,000 people were expected to be diagnosed.
Risk factors for stomach cancer, the NCI says, include smoking, a family history, a diet high in salted or smoked foods, and a diet low in fruits and vegetables. But at the top of the NCI's risk list: H. pylori infection.
"This study supports previous analyses that have found that antibiotic treatment to remove this risk factor can reduce a person's gastric cancer risk, especially if treated early," said Sarah Talarico, a researcher at Fred Hutchinson Cancer Research Center.
In fact, noninvasive tests for detecting and genotyping H. pylori will make it easier for scientists and physicians to screen populations at high risk of gastric cancer, determining antibiotic resistance and checking whether treatment was successful, Talarico said.
Current exams used to hunt for H. pylori in people include breath tests that require patients to swallow the human waste product urea, biopsies of the stomach lining, and blood draws that only show if someone has H. pylori antibodies, not a current infection. A stool test can detect H. pylori in feces.
Talarico has a patent pending for a noninvasive stool test that will provide genetic information about any H. pylori strain it locates, revealing, for example, if the bug has certain genes that boost the risk of gastric cancer, or if the strain is resistant to an antibiotic.
A spiral-shaped bacterium that's long survived the gut's harsh, acidic habitat, H. pylori is believed to spread mouth to mouth or through contaminated food or water. Infection is more common among people who live in highly congested areas with poor sanitation.
"I think eradicating Helicobacter is an excellent preventative strategy for gastric cancer," said Dr. Nina Salama, a Fred Hutch microbiologist who studies H. pylori.
"The tricky part is doing effective eradication because H. pylori is difficult to treat — there's increasing antibiotic resistance, and there's no vaccine," Salama said. "That's the real challenge."
And, there may be consequences to annihilating an organism with which humans have co-evolved. For example, there seems to be an association between the belly bug and a lower rate of esophageal cancer.
Does bug thwart another cancer?
People who tested positive for H. pylori had a significantly decreased incidence of aneuploidy — a measure of genomic instability that predicts someone's progression to esophageal cancer —according to a study co-authored by Salama and fellow Fred Hutch researchers in June and published online in PLOS ONE.
Questions remain, the Hutch authors acknowledged, about whether the esophagus and the stomach are host to separate communities of microbes like H. pylori or if microbial communities in both locations are extensions of each other.
"So, without really knowing the mechanism, it's hard to know whether it's good or bad to eradicate H. pylori or not," Salama said. "But the other thing to consider is that while esophageal cancer (specifically, adenocarcinoma), is a rapidly increasing cancer, it's still a very rare cancer.
"Even in the U.S., a lot more people die of stomach cancer than esophageal adenoma. So, in places with high-risk populations — East Asia, Costa Rica, or Columbia — places that have really high incidence of gastric cancer, eradicating H. pylori is kind of a no-brainer."
According to a study recently published in the New England Journal of Medicine, infection with the bacteria Helicobacter pylori (H. pylori) appears to be the main cause of gastric cancer.
Gastric cancer (stomach cancer) is characterized by the presence of cancer cells in the tissues of the stomach, which is located in the upper abdomen. Gastric cancer is currently the second leading cause of cancer death worldwide.
Many studies have uncovered an association between H. pylori infection and gastric cancer; however, researchers continue to work to establish a more definitive link between the two. Researchers in Japan conducted a prospective, long-term study of 1,526 patients who had duodenal ulcers, gastric ulcers, gastric hyperplasia or nonulcer dyspepsia at the time of enrollment.
Upon enrollment, all patients in the study underwent endoscopy, biopsy, histologic examination, a rapid urease test and serologic testing. The histologic examination, rapid urease test and serologic testing were used to determine that 1,246 patients had evidence of H. pylori infection and 280 had no evidence of H. pylori infection. The average follow-up for patients in this study was 7.8 years.
The results of the study indicated that 36 of the 1,246 H. pylori-positive patients developed gastric cancer, compared with none of the 280 H. pylori-negative patients. Furthermore, H. pylori-positive patients with severe gastric atrophy, corpus-predominant gastritis and intestinal metaplasia were at significantly higher risk for gastric cancer. Some H. pylori-positive patients with nonulcer dyspepsia (4.7%), gastric ulcers (3.4%) and gastric hyperplastic polyps (2.2%) developed gastric cancer. None of the 275 patients with duodenal ulcers developed gastric cancer.
The researchers concluded that H. pylori infection is associated with the development of gastric cancer. The results of this study support previous findings that most patients with gastric cancer are infected with H. pylori. Individuals with a family history of gastric cancer may wish to be tested for H. pylori, as this bacterial infection is easily eradicated and may prevent the development of this cancer.
In Gastric Cancer Antibiotics Following Surgery Reduce Risk of Second Gastric Cancer
Among patients diagnosed with gastric (stomach) cancer, a combination of antibiotics against the bacterium Helicobacter pylori (H. pylori) significantly reduces the risk of developing a second gastric cancer. These results were recently published in Lancet Oncology.
The prevalence of gastric cancer has been steadily declining in the United States but is still the leading cause of cancer in Asia, accounting for 18% of cancer deaths in Japan. Worldwide gastric cancer is the second leading cause of cancer deaths. Several factors have been associated with an increased risk of developing gastric cancer. These include:
Infection with H. pylori bacteria
Smoking
High nitrate consumption
Low dietary vitamin A and C
Consumption of smoked foods
Poor drinking water
Lack of refrigeration
Many studies have indicated that eradication of the H. pylori infection may decrease the risk of developing gastric cancer, leading to the proposal that eradication of the infection could reduce the risk of a recurrence of gastric cancer. Patients with H. pylori are routinely treated with antibiotics in the United States and Europe. Chinese researchers have reported that eradication of H. pylori infection decreases the risk of gastric cancer in most persons but not in persons who have precancerous sites.
Researchers from Japan recently conducted a clinical trial to further evaluate the effects of treatment with antibiotics following surgery designed to eradicate H. pylori infections in patients with gastric cancer. The trial included 544 patients already diagnosed with early gastric cancer; they had had their cancer surgically removed. Patients were then treated with either antibiotics (amoxicillin and clarithromycin) for one week or no further therapy. With three years of follow up, the incidence of a second gastric cancer was reduced by 70% among patients treated with antibiotics.
Voquezna Triple, Dual Pak Approved for H. Pylori Infection Treatment
The Food and Drug Administration (FDA) has approved Voquezna™ Triple Pak™ (vonoprazan, amoxicillin, clarithromycin) and Voquezna™ Dual Pak™ (vonoprazan, amoxicillin) for the treatment of Helicobacter pylori (H. pylori) infection in adults based on data which compared the Triple and Dual Pak with lansoprazole in combination with amoxicillin and clarithromycin in 1046 adults with H. pylori infection. H. pylori eradication rates were 84.7% and 78.5% with Voquezna Triple and Dual Pak.4
These results appear to confirm the effectiveness of use of antibiotics to eradicate H. pylori in order to reduce gastric cancers. Patients diagnosed with gastric cancer may wish speak with their physician regarding their individual risks and benefits of treatment with antibiotics.
References:
Fukase K, Kato M, Kikuchi S, et al. Effect of eradication of Helicobacter pylori on incidence of metachronous gastric carcinoma after endoscopic resection of early gastric cancer: an open label, randomized controlled trial. Lancet Oncology. 2008;372:392-397.
New England Journal of Medicine, Vol. 345, No. 11, pp. 784-789, 2001
bit.ly/30SlpAl The New England Journal of Medicine, online January 29, 2020.
Phathom Pharmaceuticals announces FDA approval of Voquezna™ Triple Pak™ (vonoprazan, amoxicillin, clarithromycin) and Voquezna™ Dual Pak™ (vonoprazan, amoxicillin) for the treatment of H. pylori infection in adults. News release. Phathom Pharmaceuticals, Inc. Accessed May 3, 2022. https://www.globenewswire.com/news-release/2022/05/03/2435147/0/en/Phathom-Pharmaceuticals-Announces-FDA-Approval-of-VOQUEZNA-TRIPLE-PAK-vonoprazan-amoxicillin-clarithromycin-and-VOQUEZNA-DUAL-PAK-vonoprazan-amoxicillin-for-the-Treatment-of-H-pylo.html
Copyright © 2018 CancerConnect. All Rights Reserved.