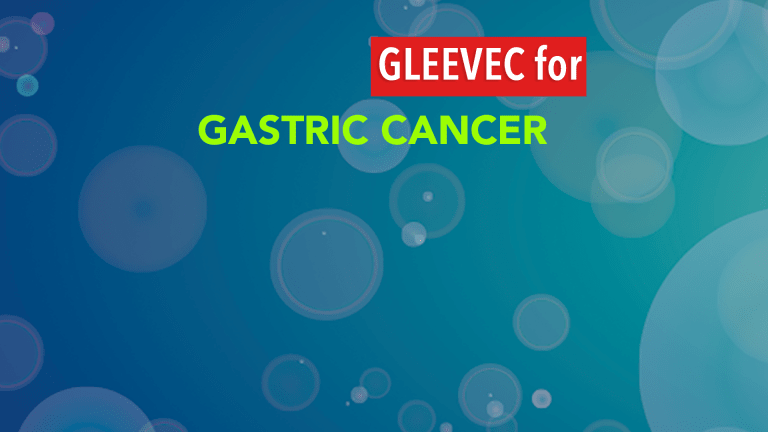 Gleevec® Reduces Risk of Recurrence After Surgery for Localized Stromal Tumors
Gleevec® Reduces Risk of Recurrence After Surgery for Localized Gastrointestinal Stromal Tumors
Among patients with localized gastrointestinal stromal tumors, adjuvant (post-surgery) treatment with the targeted therapy Gleevec® (imatinib mesylate) reduces the risk of cancer recurrence. These results were published in The Lancet.
Gastrointestinal stromal tumors (GIST) are a relatively rare but aggressive type of soft-tissue sarcoma. These cancers are most commonly found in the stomach or small intestine.
It is estimated that there are between 4,500–6,000 cases of GIST diagnosed annually in the United States. A majority of these cases are Kit-positive, meaning that the cancer cells contain an abnormal form of the Kit protein that contributes to cancer growth.
Early GIST, or GIST that has not spread to distant sites in the body, is often treated initially with surgery to remove the cancer. Unfortunately, the risk of recurrence is high, and GIST remains relatively resistant to chemotherapy and/or radiation therapy. Targeted drugs that inhibit the Kit protein, such as Gleevec, offer an important new approach to treating these cancers.
Gleevec was first approved in 2001 for the treatment of Philadelphia chromosome-positive chronic myelogenous leukemia. Since that time it has been approved for several other uses, including the treatment of Kit-positive GIST.
The study that led to the approval of Gleevec for adjuvant (post-surgery) treatment of GIST was a Phase III clinical trial that involved more than 700 patients. After surgery to remove the cancer, patients were assigned to receive either Gleevec (400 mg/day) or placebo. Patients have now been followed for a median of 19.7 months.
After one year survival without cancer recurrence was 98% among patients treated with Gleevec compared with 83% among patients treated with placebo.
Gleevec was generally well tolerated. The most common serious side effects were dermatitis, abdominal pain, and diarrhea.
This study suggests that adjuvant Gleevec significantly reduces the risk of cancer recurrence after surgical removal of localized, Kit-positive GIST.
Reference:
DeMatteo RP, Ballman KV, Antonescu CR et al. Adjuvant imatinib mesylate after resection of localized, primary gastrointestinal stromal tumour: a randomized, double-blind, placebo-controlled trial. The Lancet[early online publication]. March 19, 2009.