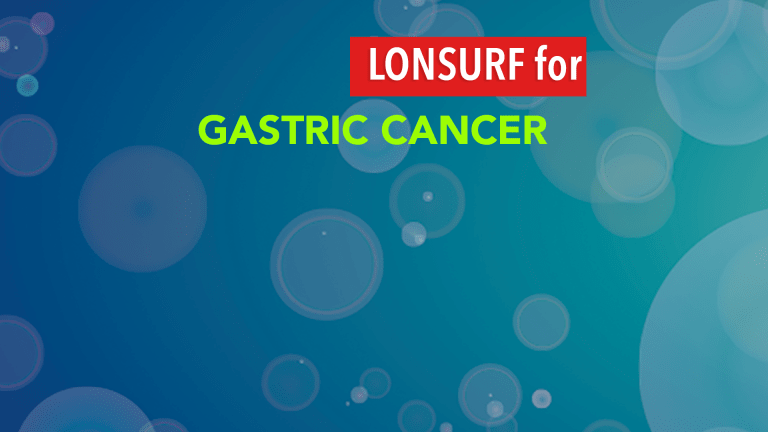 FDA Approves Lonsurf® Treatment for Advanced Gastric Cancer
Lonsurf represents a new treatment option for gastroesophageal junction and gastric cancer.
by Dr. C.H. Weaver M.D. 3/2019
The United States Food and Drug Administration (FDA) has approved Lonsurf® (trifluridine/tipiracil)) as a treatment for adult patients with metastatic gastric or gastroesophageal junction adenocarcinoma previously treated with at least two prior lines of chemotherapy that included a fluoropyrimidine, a platinum, either a taxane or irinotecan, and if appropriate, HER2/neu-targeted therapy.
About Lonsurf
Lonsurf consists of a thymidine-based nucleoside analog, trifluridine, and the thymidine phosphorylase (TP) inhibitor, tipiracil, which increases trifluridine exposure by inhibiting its metabolism by TP. Trifluridine is incorporated into DNA, resulting in DNA dysfunction and inhibition of cell proliferation.
The approval for Lonsurf follows an FDA Priority Review designation and is based on data from a global, randomized, Phase III TAGS clinical trial evaluating Lonsurf plus best supportive care (BSC) versus BSC alone in patients with previously treated advanced gastric cancer or GEJ adenocarcinoma following progression or intolerance to previous lines of standard therapy.
The trial met its primary and secondary endpoints demonstrating prolonged overall survival for treatment with Lonsurf + BSC when compared to BSC alone. Full results from the TAGS trial were presented at the European Society of Medical Oncology (ESMO) 2018 Congress with a simultaneous publication in [The Lancet Oncology.](https://www.thelancet.com/journals/lanonc/article/PIIS1470-2045(18%2930739-3/fulltext)(1)
About Gastric Cancer
Gastric cancer is the fifteenth most commonly diagnosed cancer in the United States (U.S.).3 In 2018, there were an estimated 26,240 individuals diagnosed with gastric cancer in the U.S.3 Approximately 35 percent of individuals with gastric cancer are diagnosed at an advanced stage and metastatic gastric cancer is associated with a five-year survival rate of about 5 percent with currently available therapies.4 Standard chemotherapy regimens for advanced gastric cancer include fluoropyrimidines, platinum derivatives, and taxanes (with ramucirumab), or irinotecan. After failure of first- and second-line therapies, subsequent treatment options are limited.
References
Shitara, K., Doi, T., Dvorkin, M., et al. Trifluridine/tipiracil versus placebo in patients with heavily pretreated metastatic gastric cancer (TAGS): a randomised, double-blind, placebo-controlled, phase 3 trial. The Lancet Oncology. 2018;19(11): 1437-1438. [https://www.thelancet.com/journals/lanonc/article/PIIS1470-2045(18)30739-3/fulltext. Accessed December 2018](https://www.thelancet.com/journals/lanonc/article/PIIS1470-2045(18%2930739-3/fulltext.%20Accessed%20December%202018)..
LONSURF [US prescribing information]; Princeton, NJ: Taiho Oncology, Inc.; 2017. 2017.
National Cancer Institute Surveillance Epidemiology and End Results Program. Cancer Stat Facts: Stomach Cancer. https://seer.cancer.gov/statfacts/html/stomach.html. Accessed January 3, 2019.