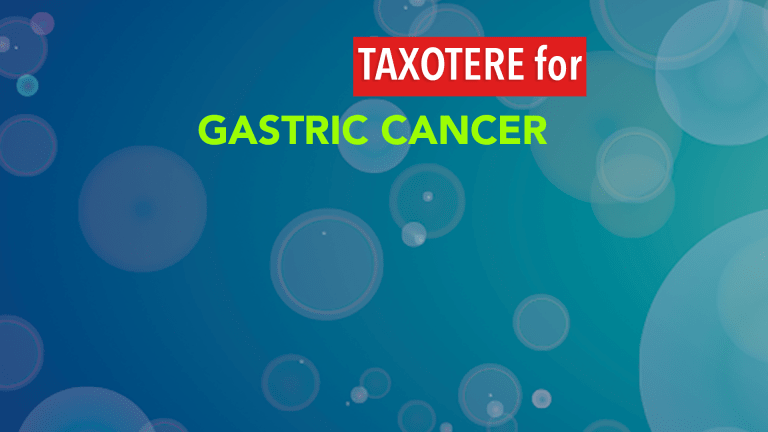 Addition of Taxotere® to Platinol®/5-FU as Initial Therapy Gastric Cancer
Addition of Taxotere® to Platinol®/5-FU as Initial Therapy in Advanced Gastric Cancer Improves Survival
According to results recently published in the Journal of Clinical Oncology, the addition of Taxotere® (docetaxel) to Platinol® (cisplatin) and 5-fluorouracil improves survival compared to Platinol/5-FU alone as initial therapy for advanced gastric cancer. These results were also presented at the 2005 annual Chemotherapy Foundation Symposium.
Gastric (stomach) cancer is the 14th most common cancer in the U.S., but is the second most common cause of cancer-related deaths world-wide.
Approximately 90% of gastric cancers are classified as adenocarcinomas, which refers to the type of cell where the cancer developed. Only 10–20% of patients in the U.S. who are diagnosed with gastric cancer have early-stage cancer; the majority is diagnosed with advanced disease.
Metastatic gastric cancer refers to cancer that has spread to several and/or distant sites within the body. Treatment for metastatic gastric cancer is often not intended to cure the patient, but is rather aimed at improving their quality of life and duration of survival.
The main component of treatment for patients who cannot have their cancer surgically removed due to extent of spread and/or location of the cancer is chemotherapy. There are several standard chemotherapy regimens for metastatic gastric cancer. Researchers continue to evaluate and compare newer chemotherapy regimens in order to improve survival for patients with this disease.
To evaluate whether the addition of the chemotherapy drug Taxotere improves survival when used with a standard chemotherapy combination of 5-fluorouracil and cisplatin, researchers at the MD Anderson Cancer Center conducted a phase III clinical trial among 457 patients with previously untreated advanced gastric cancer. Nearly all patients (97%) had metastatic cancer.
Compared to treatment with 5-FU and cisplatin (CF regimen), treatment with the combination of Taxotere, 5-FU, and cisplatin (DCF regimen) resulted in several improved treatment outcomes:
Cancer progression was delayed for 5.6 months with DCF, compared to 3.7 months with CF.
At two years overall survival was roughly twice as high with DCF (18% versus 9%).
Serious adverse effects of treatment were also higher among patients receiving DCF. They included low white blood cell levels (neutropenia) and diarrhea.
The researchers concluded that compared to treatment with CF, treatment with DCF results in better survival as initial therapy among patients with advanced gastric cancer. Because of the risk of neutropenia among patients treated with DCF, preventive treatment with granulocyte-colony stimulating factor may be warranted. Patients with advanced gastric cancer may wish to speak with their physician regarding their individual risks and benefits of treatment including Taxotere.
References:
[1] Van Cutsem E, Moiseyenko V, Tjulandin S, et al. Phase III Study of Docetaxel and Cisplatin Plus Fluorouracil Compared With Cisplatin and Fluorouracil As First-Line Therapy for Advanced Gastric Cancer: A Report of the V325 Study Group. Journal of Clinical Oncology. 2006; 24: 4991-4997.
[2] Ajani J, et al. Investigation of docetaxel to assess its impact on overall survival, time-to-progression, clinical benefit, and quality of life in patients with advanced gastric cancer. Proceedings from the 23rd annual Chemotherapy Foundation Symposium. New York, NY. November, 2005. Abstract #1.