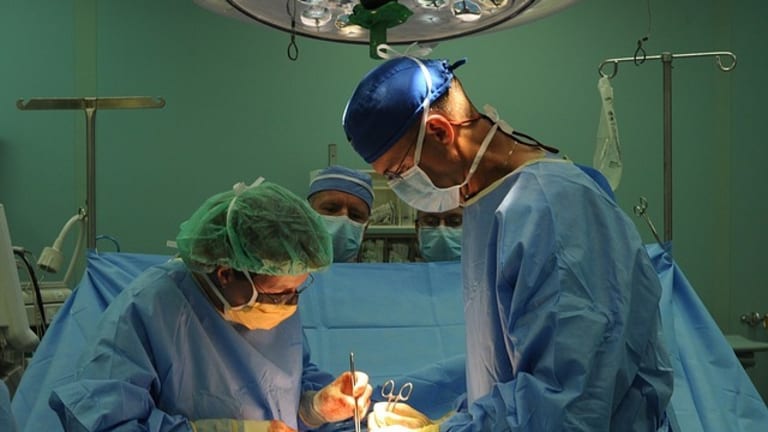 Surgical Treatment and Endoscopic Mucosal Resection for Esophageal Cancer
Surgeon experience, hospital volume and minimally invasive surgical techniques all contribute to improving outcomes.
by Dr. C.H. Weaver M.D. updated 10/2020
Treatment of esophageal cancer often involves esophagectomy, which is surgical removal of the entire esophagus. Although surgery is regarded as the only curative option for resectable esophageal cancer, it does carry the risk of significant complications. More than half of patients who undergo open esophagectomy experience complications. (1-9)
If you've been diagnosed with esophageal cancer and will undergo surgery, the hospital you choose and the experience your surgeon has in performing surgery for esophageal cancer could affect your outcome. In addition you may also be able to benefit from newer minimally invasive surgery which has fewer complications and improves quality of life compared to open esophagectomy. (9) Minimally invasive esophagectomy usually involves several small incisions and a camera to see inside the body, whereas open esophagectomy involves fewer (but larger) incisions and is a more invasive procedure.
The esophagus is a muscular tube that transports food from the back of the mouth to the stomach. Treatment options for esophageal cancer consist of chemotherapy, radiation, endoscopic ablation techniques and/or an esophagectomy. Surgery for esophageal cancer often involves surgical removal of the entire esophagus, a procedure called an esophagectomy.
During an esophagectomy the surgeon removes the affected part of the esophagus and surrounding lymph nodes, followed by reconstruction. Esophagectomy is a major surgery and has historically been associated with significant complication rates, prolonged hospital stays, and higher mortality rates. Esophagectomy is associated with significant side effects and requires major lifestyle changes. Following esophagectomy patients may have certain diet limitations and an inability to sleep horizontally.
Survival after surgery for esophageal cancer continues to improve as a result of physician training and improvements in surgical technique. (7) In addition, surgeons have developed less invasive surgical approaches with fewer complications that can be used to treat some patients. Several factors including the type of hospital, surgeon volume and surgeon experience may impact the likelihood of a successful surgery.
About Endoscopic Mucosal Resection
An increasing number of patients with early-stage esophageal cancer or high-risk Barrett's esophagus appear to be effectively treated with esophagus-sparing surgery and/or ablation and progress continues to optimize this approach in appropriate individuals. The National Comprehensive Cancer Network recently changed their guidelines for treating early-stage esophageal cancer; replacing the former gold standard of esophagectomy with an esophagus-sparing technique called endoscopic mucosal resection, (EMR) which can be combined with ablation.
Patients with esophageal tumors that appear superficially and do need invade deep into the esophagus can undergo EMR – definitive resection of the cancer or dysplastic tissue in which the esophagus is accessed via the mouth.
EMR avoids a full-thickness injury to the esophagus and is easier for patients to tolerate than esophagectomy performed by open surgery. Esophagectomy is a 6-hour operation that requires several days of postoperative recovery in the hospital and is associated with significant side effects. EMR is an outpatient procedure that requires patients to tolerate only 45 minutes of anesthesia and is associated with a better quality of life. Pathological interpretation of the resected tissue determines if EMR needs to be followed by esophagectomy.
Endoscopic ablation is used in combination with EMR for patients with superficial cancers or as the sole treatment for selected patients with dysplastic Barrett esophagus. Ablation may be performed by either radiofrequency ablation or cryoablation. Radiofrequency ablation delivers heat energy to the lining of the esophagus, leading to tissue destruction and is administered by a balloon catheter, by a metal plate mounted at the tip of an endoscope, or by other devices. Cryoablation uses cold gases, such as liquid nitrogen or carbon dioxide, dispensed from the end of a probe to freeze and kill abnormal cells.
Individuals with suspected esophageal cancer or dysplastic Barrett esophagus should make sure they discuss these novel surgical techniques with their treating physician to see if they can avoid esophagectomy and benefit from EMR with ablation. (8)
Choosing A Surgeon
Surgeon experience and specialty training are important determinants of survival in patients undergoing esophagectomy. Surgeon training (or specialty) can also improve outcomes in surgery for esophageal cancer. Thoracic surgeons have specialty training and are certified by the American Board of Thoracic Surgery. Studies have shown that mortality rates are reduced among patients treated for esophageal cancer by thoracic surgeons compared with those treated by surgeons without specialty training.
Doctors who treat more patients with a particular condition are considered "high volume" doctors. Studies have reported that high-volume doctors have better patient outcomes for the specific conditions they treat. Research has shown that esophageal cancer is among the cancers for which this is true; meaning that if you plan to undergo surgery for esophageal cancer, your chances of an optimal outcome are improved if the procedure is performed by a high-volume surgeon in a high-volume hospital.

Researchers from the several institutions in the U.S. conducted a study to evaluate possible associations between survival, surgeon training, and hospital volume in patients undergoing surgery for esophageal cancer. This study included over 1,900 patients in the national Medicare population who underwent surgery. Patients who had surgery performed by thoracic surgeons (those with specialty training and certified by the American Board of Thoracic Surgery) and those treated in hospitals that performed a large annual volume of these procedures had significantly improved survival compared with their counterparts. (4)
Mortality rates were reduced by 37% among patients who were treated by a thoracic surgeon compared to those treated by a surgeon without specialty training.
Patients who were treated by surgeons without special training, but who had performed a high volume of procedures, had mortality rates similar to those treated by thoracic surgeons.
Mortality rates were 24.3% for patients treated at hospitals in which a low volume of procedures have been performed.
Mortality rates were 11.4% for patients treated at hospitals in which a high volume of procedures have been performed.
Researchers in Sweden conducted a study of 1,335 patients with esophageal cancer who underwent esophageal resection. While there appeared to be no relationship between hospital volume and long-term survival, there was an association with surgeon volume and long-term survival. In fact, patients who underwent surgery with surgeons who performed a high volume of the surgery (both annually and in total) had better outcomes—a 22% lower long-term mortality compared with patients who were operated on by surgeons with a low annual and total operation volume. (3)
Specialized Hospitals
The number of esophagectomies performed at an institution appears to directly affect mortality (death) rates for patients undergoing this procedure. Since esophageal cancer is a rare cancer, typically only large-volume hospitals treat enough patients with esophageal cancer to become proficient.
Researchers from the Netherlands analyzed data from differing hospitals involving patients who had undergone an esophagectomy to determine if a correlation existed between the hospital at which the patient was treated and hospital mortality rates. They found that hospital mortality rates for patients were 12.1% in low-volume centers (1-10 procedures per year), 7.5% in medium-volume centers (11-20 procedures), and 4.9% in high-volume centers (greater than 50 per year).
Many patients live far from large facilities that perform large volumes of specific procedures; travel and housing during the procedure and follow-up can be a large burden for patients and their caregivers. Patients with esophageal cancer whose treatment will include an esophagectomy should however try to be treated at a large-volume hospital in order to receive the highest chance of an optimal outcome.
The Impact of Age
Because an esophagectomy can be associated with major complications, many doctors believe that elderly persons cannot tolerate the surgery and therefore do not recommend this option. Researchers at the Beth Israel Deaconess Medical Center and other cancer centers however have reported that advanced age alone should not be a limiting factor in using aggressive surgical treatment for esophageal cancer.
The researchers at Beth Israel Deaconess treated 505 persons with esophageal cancer between 1970 and 1997; 147 of these individuals were 70 years of age or older. The 5-year survival rate was 24% in the elderly group, and 22% in the younger group suggesting that the age of a patient should not be considered a limiting factor when considering the use of aggressive surgical intervention as a treatment option for persons with esophageal cancer. (5)
French researchers have also reported the outcomes of 89 persons age 70 years or older, who underwent an esophagectomy as treatment for cancer of the esophagus and compared their findings from these elderly persons with those from a younger group of 451 persons who also underwent an esophagectomy for cancer of the esophagus. The results showed that the rates of surgical complications (25%) and of deaths occurring after surgery (8%) in the older patients did not differ from those of the younger patients. Survival rates did not differ between the 2 age groups. (6)
These studies suggest that elderly persons with cancer of the esophagus can undergo an esophagectomy without an increased risk for surgical complications or a related diminished survival time because of their age.
References:
Cancer, Vol 91, No 8, pp 1574-1578, 2001.
Steyerberg EW, Neville BA, Koppert LB, et al. Surgical mortality in patients with esophageal cancer: development and validation of a simple risk score. Journal of Clinical Oncology. 2006;24:4277-4284.
Derogar M, Sadr-Azodi O, Johar A, et al. Hospital and surgeon volume in relation to survival after esophageal cancer surgery in a population-based study. Journal of Clinical Oncology. Published early online: January 7, 2013. doi: 10.1200/JCO.2012.46.1517.
Dimick J, Goodney P, Orringer M, Birkmeyer J, et al. Specialty Training and Mortality After Esophageal Cancer Resection. Annals of Thoracic Surgery. 2005;80:282-286.
Journal of the American College of Surgery, Vol 187, No 4, pp 345-351, 1998.
Annals of Thoracic Surgery, Vol 63, No 5, pp 1423-1427, 1997.
Rouvelas I, Zeng W, Lindblad M et al. Survival After Surgery for Oesophageal Cancer: A Population-Based Study. Lancet Oncology. 2005;6:864-70.
Ngamruengphong S, Wolfsen HC, Wallace MB. Survival of patients with superficial esophageal adenocarcinoma after endoscopic treatment vs surgery. Clinical Gastroenterology and Hepatology. 2013; 11(11): 1424-1429.
Biere SS, van Berge Henegouwen MI, Maas KW, et al. Minimally invasive versus open oesophagectomy for patients with oesophageal cancer: a multicentre, open-label, randomised controlled trial. The Lancet. 2012; 379: 1887-1892.