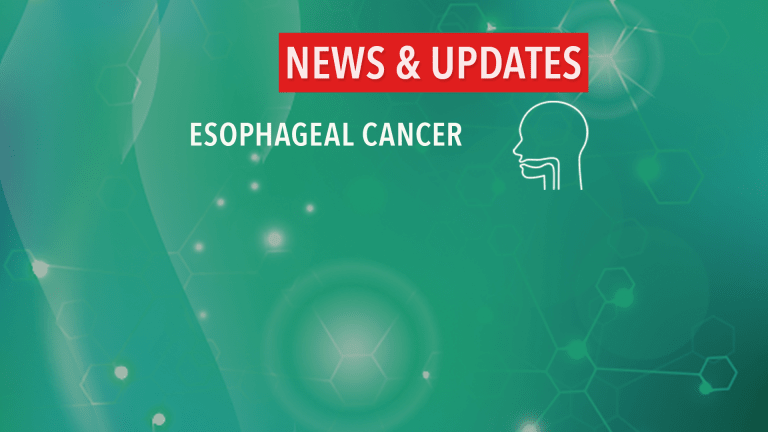 Selected Subsets of Patients with Esophageal Cancer Respond to Iressa®
Selected Subsets of Patients with Esophageal Cancer Respond to Iressa®
Among patients with advanced esophageal cancer, treatment with Iressa® (gefitinib) produced better results in women, in patients with high expression of the epidermal growth factor receptor (EGFR), and in patients with squamous cell cancer. These results were published in the Journal of Clinical Oncology.
The esophagus is a multi-layered, hollow tube that connects the throat and stomach. Most cancers of the upper two thirds of the esophagus arise from squamous cells and are called squamous cell or epidermoid cancers. Cancers of the lower esophagus most often arise from columnar epithelium and are called adenocarcinomas.
In the recent past, squamous cell cancers made up more than 80% of all esophageal cancers. Over the past two decades, there has been a dramatic increase in the incidence of adenocarcinomas. Most of the adenocarcinomas of the lower esophagus are thought to arise in the setting of Barrett's esophagus.
Current treatments for esophageal cancer include surgery, radiation, chemotherapy, or a combination of these options. Because survival after treatment for advanced esophageal cancer remains poor, researchers continue to evaluate new treatments.
Iressa is an anticancer agent that selectively blocks the epidermal growth factor receptor (EGFR). EGFR is a protein involved in the growth and replication of a cell. In some cancers, the EGFR may not be working properly; this leads to excessive replication of the cancer cell. Iressa is taken orally and binds to a portion of EGFR to inhibit cancer cell growth.
To evaluate response to Iressa among patients with advanced esophageal cancer, researchers in The Netherlands conducted a phase II clinical trial. The study enrolled 36 patients with advanced esophageal cancer who had relapsed after chemotherapy. Patients received 500 mg per day of Iressa and were evaluated for response every eight weeks.
One patient experienced a partial reduction in detectable cancer.
10 patients (28%) had cancer that remained stable.
17 patients (47%) had cancer that got worse.
8 patients (22%) could not be evaluated.
Median overall survival time was 164 days.
Response to treatment (either improvement or stabilization of cancer) was more common among women, among patients with squamous cell cancer, and among patients with high tumor EGFR expression.
The most common side effects of treatment were diarrhea and rash.
The researchers conclude that overall, Iressa produces modest treatment effects in patients with advanced esophageal cancer. Response to treatment was better, however, among women, patients with high EGFR expression, and patients with squamous cell cancer.
Patients with advanced esophageal cancer may wish to talk with their doctor about the risks and benefits of participating in clinical trial to explore new therapeutic approaches. Two sources of information regarding ongoing clinical trials include the National Cancer Institute (www.cancer.gov).
**Reference:**Janmaat ML, Gallegos-Ruiz M, Rodriguez JA et al. Predictive Factors for Outcomes in a Phase II Study of Gefitinib in Second-Line Treatment of Advanced Esophageal Cancer Patients. Journal of Clinical Oncology. 2006;24:1612-1619.