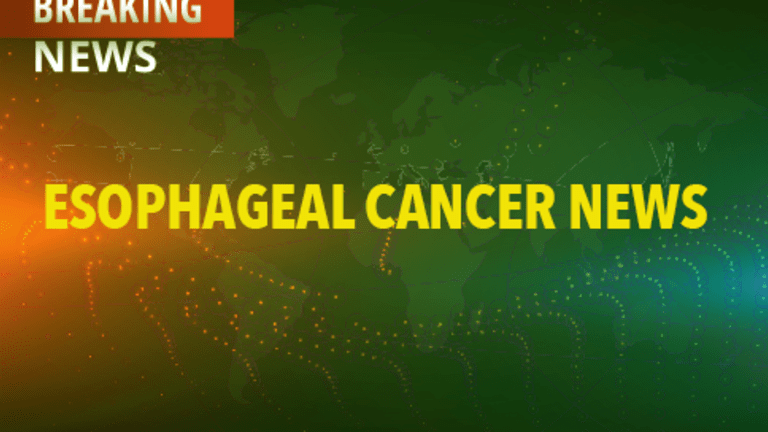 Outcomes Defined for Inoperable Stage III Squamous Cell Cancer of the Esophagus
Survival of patients with esophageal cancer is dependent on the extent of spread (stage) at the time of diagnosis.
Patients with cancer that has spread locally beyond the esophagus (stage III) are rarely cured with surgery or radiation therapy and treatment is usually for palliation of symptoms. Recently, chemotherapy has been utilized before surgery in attempts to improve outcomes.
Doctors in Italy treated 163 patients with stage III esophageal cancer of squamous cell type. All received cisplatin and fluorouracil chemotherapy before surgery. The goal was to produce a down staging or reduction in the amount of cancer allowing surgery to be more easily performed. Re-staging suggested a lower stage of cancer was achieved in 62% of patients after chemotherapy. Eighty-five patients (52%) underwent resection surgery. Twelve per cent of patients died of complications of surgery. Surgery removed all visible cancer in 52 of these 85 patients and cancer was left behind in the remainder. Complete pathologic response was observed in 6 patients. The overall 5 year survival for all 163 patients was 11%. For those who underwent surgical resection the 5 year survival was 20% with an average survival of 16 months. None of the patients not responding to chemotherapy survived 4 years. The 5 year survival rate for the 52 patients who had complete surgical removal of cancer was 29%.
These doctors thought that these results were superior to surgery alone for the treatment of patients with stage III squamous cell cancer of the esophagus. Newer drug combinations and combining chemotherapy with radiation therapy are also being evaluated in this group of patients. (
Annals of Surgery, Vol 226, No 6, pp 723-724, 1997)
Copyright © 2018 CancerConnect. All Rights Reserved.