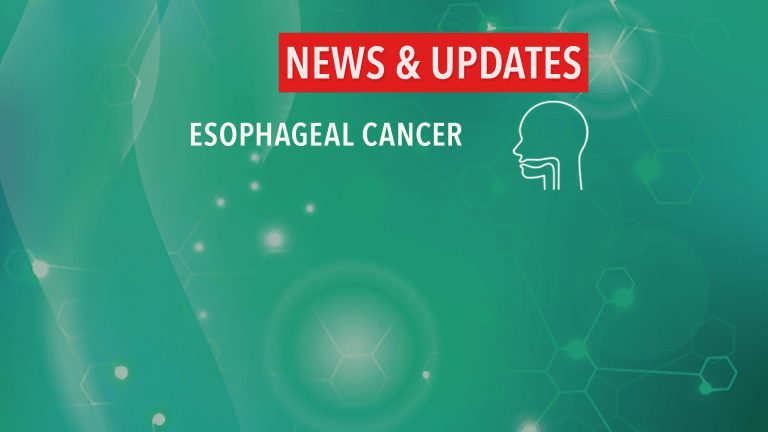 Gemzar®/Cisplatin Appears Promising in Advanced Esophageal Cancer
Gemzar®/Cisplatin Appears Promising in Advanced Esophageal Cancer
According to a recent article published in the BritishJournal of Cancer, the treatment combination consisting of chemotherapy agents Gemzar® (gemcitabine) and cisplatin (Platinol®) has significant anticancer activity in patients with advanced, inoperable esophageal cancer.
The esophagus is a multi-layered, hollow tube that connects the throat and stomach, allowing transportation of food and fluids. The prognosis for esophageal cancer depends on three factors: the stage (extent of spread) at which disease is diagnosed, the size of the tumor, and the patient's general health. Current treatments include surgery, radiation, chemotherapy, or a combination of these options.
Due to the extent of spread of the cancer or overall health, patients with advanced esophageal are often unable to undergo the surgical removal of their cancer. Standard therapy for inoperable esophageal cancer is chemotherapy with or without radiation therapy. Researchers continue to evaluate novel chemotherapy combinations in order to improve survival for patients with this disease.
Researchers from England recently conducted a clinical trial to evaluate the treatment combination consisting of the Gemzar and cisplatin in patients with inoperable, advanced esophageal cancer. This study included 42 patients; data is available for 32 of the participants.
Gemzar/cisplatin appears to have activity in advanced esophageal cancer:
Partial or complete reduction of cancer occurred in 45% of patients.
Nearly 30% of patients achieved a stabilization of their disease.
Median survival was 11 months.
Squamous cell cancer achieved greater anticancer responses (71%) compared to adenocarcinoma (33%)-referring to the type of cell within the esophagus where the cancer started.
Fatigue, nausea, vomiting, and low levels of white blood cells were the most common side effects.
The researchers concluded that the chemotherapy combination Gemzar plus cisplatin has promising activity in inoperable esophageal cancer, particularly squamous cell cancer. The authors state that future trials are warranted to compare this treatment regimen with other standard chemotherapy regimens for the treatment of this disease.
Reference: Millar J, Scullin P, Morrison A, et al. Phase II Study of Gemcitabine and Cisplatin in Locally Advanced/Metastatic Oesophageal Cancer. British Journal of Cancer. 2005;93:1112-1116.