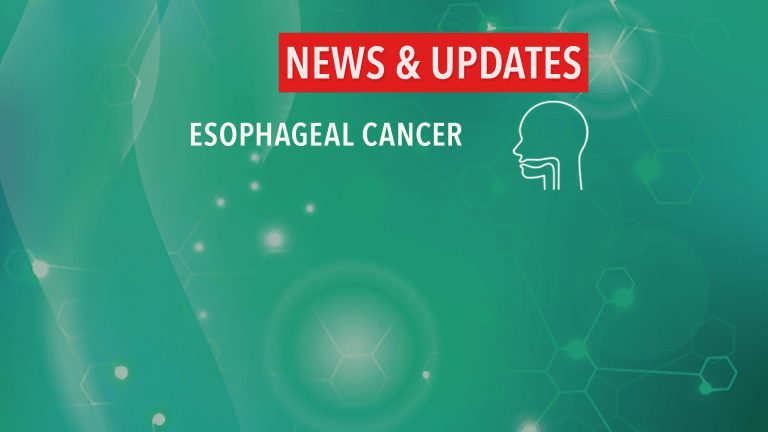 Esophagitis Increases Risk of Esophageal Cancer
Esophagitis Increases Risk of Esophageal Cancer
According to an early online publication in the American Journal of Gastroenterology, individuals with esophagitis have a significantly increased risk of developing esophageal cancer.
The esophagus is a muscular tube that carries food from the mouth to the stomach. Esophagitis refers to inflammation, irritation, or swelling of the esophagus. Esophagitis is most often caused by gastroesophageal reflux disease (GERD), a condition in which acids from the stomach enter back into the esophagus; however, it may also be caused from excessive vomiting, surgery, certain medications, or infections of the esophagus that most commonly occur in individuals with compromised immune systems.
Once cancer of the esophagus has spread from its site of origin, cure rates are not favorable. Individuals who are identified as having a high risk of developing esophageal cancer may be screened frequently. This allows disease to be detected and treated in its earliest stages, when it is most curable. There are two main types of esophageal cancer: adenocarcinoma and squamous cell carcinoma; the distinction refers to the type of cell within the esophagus where the cancer originated.
Researchers from Denmark recently conducted a clinical study to evaluate a possible association between esophagitis and the risk of esophageal cancer. This study included data from patients with previously diagnosed esophagitis from five population-based databases in Denmark from 1974 to 2002.
11,129 patients were previously diagnosed with esophagitis.
The risk of esophageal cancer (adenocarcinoma) was increased five-fold among patients with esophagitis compared to those without esophagitis.
The majority of esophageal cancers (adenocarcinoma) occurred in patients with Barrett's esophagus (condition in which the lining of the esophagus is damaged-often caused by GERD).
The researchers concluded that a diagnosis of esophagitis appears to significantly increase the risk of developing esophageal cancer. Patients with esophagitis should speak with their physician regarding the risks and benefits of specific screening measures for esophageal cancer.
Reference: Lassen A, Hallas J, Muckadell, O. Esophagitis: Incidence and Risk of Esophageal Adenocarcioma-A Population-Based Cohort Study. American Journal of Gastroenterology. Early online publication April 28, 2006. DOI: 10.1111/j.1572-0241.2006.00550.x.