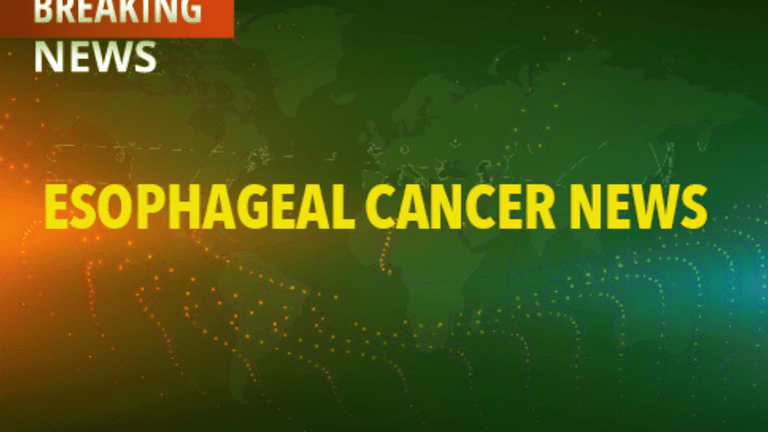 Combined Chemotherapy, Radiation Therapy and Surgery is Superior to Surgery
Combined Chemotherapy, Radiation Therapy and Surgery is Superior to Surgery Alone for the Treatment of Esophageal Cancer
Cancer of the esophagus is a difficult cancer to cure because it has usually spread away from the esophagus at the time of diagnosis. In patients with apparently localized disease the majority will be found to have cancer involving the lymph nodes at surgery. The 5 year survival rates following radiation therapy or surgery are less than 10%. Uncontrolled clinical trials, however, have suggested that the addition of chemotherapy to radiation therapy and surgery may improve survival.
Physicians in Ireland performed a clinical trial in which 58 patients with adenocarcinoma of the esophagus were treated with combined therapy and 55 were treated with surgery alone. Combination therapy consisted of cisplatin and fluorouracil chemotherapy and radiation therapy given before surgery. The results of the 2 treatment programs were then directly compared.
Five patients in the combined treatment group and 2 in the surgery alone group died in the hospital. However, only one death was directly due to side effects from chemotherapy and radiation therapy. Twenty-five percent of patients achieved a complete pathological response after chemotherapy and radiation therapy. The average survival was 16 months for patients receiving combined treatment and 11 months for those receiving surgery alone. The three year survival rate was 32% for patients receiving combined therapy and 6% for patients receiving surgery alone.
This study clearly shows that combined modality treatment was superior to surgery alone for the treatment of adenocarcinoma of the esophagus when cancer was confined to the esophagus and local lymph nodes. The one flaw in this study is that 10 patients entered on the combined treatment arm were withdrawn from the study because complications developed during chemotherapy or radiation while only one patient was withdrawn from the surgery alone arm. This suggests that not all patients will be in suitable condition to tolerate this approach. (
New England Journal of Medicine, Vol 335, No 7, pp 462-467, 1996)
Copyright © 2018 CancerConnect. All Rights Reserved.