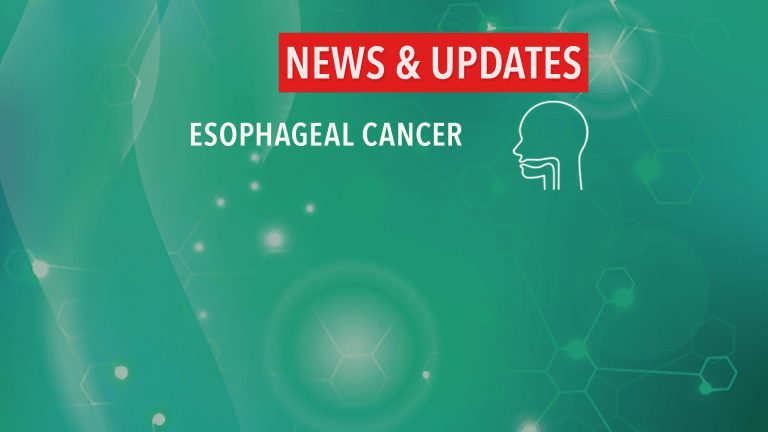 Chemotherapy & Radiation Therapy May Replace Surgery in Early Esophageal Cancer
Chemotherapy and Radiation Therapy May Replace Surgery in Early Esophageal Cancer
According to an article recently published in the International Journal of Radiation Oncology, Biology, Physics, treatment with a combination of chemotherapy plus radiation therapy may provide similar outcomes when compared to surgery in very early stages of esophageal cancer. Further studies are needed to confirm these findings. The combination chemotherapy-plus-radiation approach may also preserve the esophagus.
The esophagus is a tube that connects the back of the throat to the stomach. Early esophageal cancer refers to cancer that has not spread from its site of origin. Patients with esophageal cancer often undergo the surgical removal of their cancer; however, this treatment approach can be associated with subsequent difficulty in eating or drinking, possible disfigurement, and the removal of the esophagus.
Researchers from Japan recently conducted a clinical trial to assess the feasibility of treatment with chemotherapy and radiation in patients with early esophageal cancer. This study included 63 patients who were treated between 1992 and 2003. Patients had the earliest stages of esophageal cancer and were treated with the chemotherapy agents Platinol® (cisplatin) and 5-fluorouracil, as well as radiation therapy in the form of brachytherapy (small radioactive "seeds" implanted at the site of cancer).
Overall, chemotherapy plus radiation therapy appeared promising in this group of patients:
At 5 years, patients with the earliest stage of esophageal cancer (T1a-cancer spread only to the outermost layer of tissue) had a cancer-free survival rate of 84.4%. Those whose cancer had spread to the layer of tissue underneath the outermost layer (T1b) had a cancer-free survival rate of 50.5%.
At 5 years, overall survival for all patients was 66.4% and cancer-free survival was 63.7%.
The esophagus was preserved in nearly 90% of individuals.
Survival rates were equivalent to historic reports of patients with this disease who were treated with surgery.
The researchers concluded that treatment with chemotherapy and radiation therapy appears to provide equivalent outcomes as surgery in the treatment of early esophageal cancer; however, the vast majority of patients treated with chemotherapy and radiation therapy were able to keep their esophagus. Future trials directly comparing these two treatment approaches are warranted in patients with this stage of disease.
Reference: Yamada K, Murakami M, Okamoto Y, et al. Treatment results of chemoradiotherapy for clinical stage I (T1N0M0) esophageal carcinoma. *International Journal of Radiation Oncology, Biology and Physics.*2006; 64: 1106-1111.