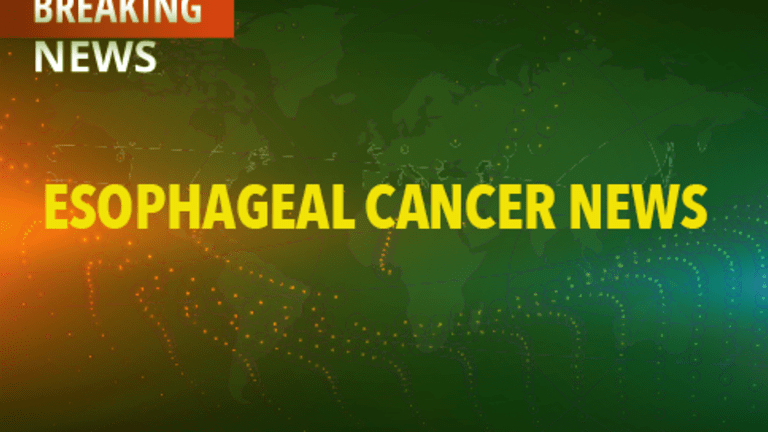 Chemotherapy before Surgery May Not Improve Survival over Surgery Alone
Treatment of stage I-II esophageal cancer with chemo and surgery produces similar outcomes to surgery alone
Chemotherapy before Surgery May Not Improve Survival over Surgery Alone
by C.H.Weaver M.D. (04/2018)
Squamous Cell Cancer of the Esophagus: Chemotherapy Plus Radiation Therapy before Surgery May Not Improve Survival over Surgery Alone
For persons who have cancer of the esophagus, treatment options often include surgery or radiation therapy, sometimes with chemotherapy, depending on the stage (or extent) of disease. For persons with stage I or stage II disease, treatment often consists of surgery alone. Because cancer of the esophagus can sometimes recur (return) after surgery, researchers continue to develop new strategies to improve the effectiveness of treatment and prolong the survival time for persons with this disease. Researchers in France studied the use of chemotherapy and radiation therapy before surgery, but found that survival time was not improved over that for surgery alone.
Cancer of the esophagus is characterized by the presence of cancerous cells in the esophagus, the tube that connects the throat to the stomach. There are different types of cancer of the esophagus, including squamous cell cancer and adenocarcinoma. Treatment options for persons with esophageal cancer depend on the stage of disease. In stage I disease, the cancer has invaded the surface lining, but not the muscular tissue, of the esophagus. Stage IIA disease consists of cancer that has invaded into or through the muscle tissue of the esophagus, but not into other nearby structures. Stage IIB disease refers to cancer that has spread to nearby lymph nodes, but not to other nearby structures. Surgery to remove the cancer is usually a primary treatment for persons with stage I and II esophageal cancer, but studies of other innovative approaches are underway.

Researchers in France treated 297 persons who had stage I or II squamous cell-type esophageal cancer. The patients were assigned to receive either A) chemotherapy and radiation therapy followed by surgery or B) surgery alone. The results showed that, although persons in the chemotherapy and radiation group had fewer recurrences of cancer than those in the surgery alone group, these persons also had more deaths after the surgery. Therefore, the survival time was not improved for those receiving chemotherapy and radiation, with the average survival time being 18.6 months for both treatment groups. Approximately 35% of patients were alive after 3 years. The researchers noted that the presence of cancerous cells in the lymph nodes resulted in an inability to surgically remove all of the cancer as well as a poorer outcome with this treatment.
These researchers concluded that chemotherapy plus radiation therapy given before surgery may reduce the risk of cancer recurrence, but does not result in any prolongation of survival time because of the severity of associated side effects. Individuals with cancer of the esophagus may wish to talk with their doctor about the risks and benefits of surgery or of participating in a clinical trial in which promising new treatment regimens are being studied.
(New England Journal of Medicine, Vol 337, No 3, pp 161-167, 1997)
Copyright © 2018 CancerConnect. All Rights Reserved.