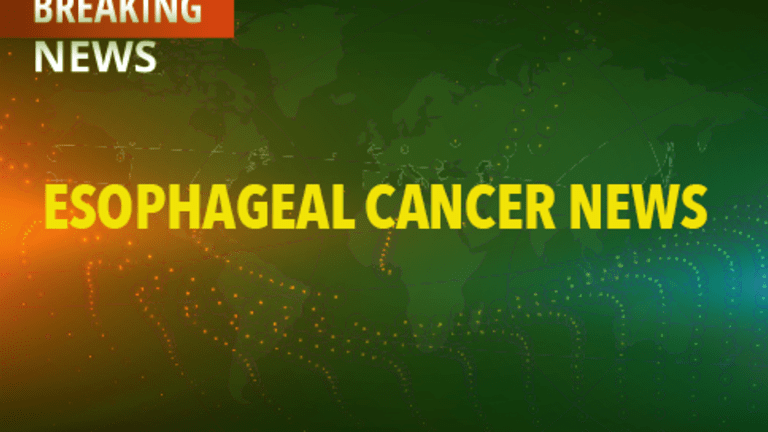 Chemotherapy before Surgery May Improve Survival over Surgery
Chemotherapy before Surgery May Improve Survival over Surgery Alone for Certain Persons with Cancer of the Esophagus
The treatment of cancer of the esophagus, the tube that connects the throat to the stomach, usually includes surgery or radiation therapy, sometimes with chemotherapy. However, surgery is often not as helpful for persons who have locally advanced cancer of the esophagus (stages II and III) because the cancer has spread outside the esophagus. Many researchers are studying the use of chemotherapy initially to shrink the cancer sufficiently to allow subsequent surgery, and researchers in Hong Kong say that this strategy may improve survival times for a certain subset of persons with this disease.
Researchers continue to study new therapies to treat persons with advanced esophageal cancer, with the goal of providing better alleviation of the symptoms of disease, improved quality of life, and prolonged survival time. Researchers in Hong Kong treated 147 persons with locally advanced squamous cell-type stage II or III esophageal cancer (cancer that had spread outside the esophagus). Seventy-four patients were assigned to receive chemotherapy with cisplatin and fluorouracil followed by surgery, and 73 patients were assigned to receive surgery alone. Of those assigned to the chemotherapy group, 89% actually went on to have the surgery. In those assigned to the surgery alone group, 95% underwent the surgery.
The results showed that 58% of persons receiving the chemotherapy had a significant response to the treatment; 7% had a complete response. Surgery to cure the cancer was performed in 67% of those who first had chemotherapy and in only 35% of those who had only the surgery. The average survival time was 17 months for those in the chemotherapy group and 13 months for those in the surgery alone group. However, specifically in persons who responded to the chemotherapy, the median survival time was 42 months, a significant improvement over the 14 months observed in the control group that received surgery alone.
From these findings, the researchers concluded that chemotherapy given before surgery may benefit a subset of patients who have a response to the chemotherapy. Individuals with stage II or III squamous cell-type cancer of the esophagus may wish to talk with their doctor about the risks and benefits of receiving chemotherapy before surgery or of participating in a clinical trial in which other promising new treatment regimens are being studied. Sources of information on ongoing clinical trials that can be discussed with a doctor include a comprehensive, easy-to-use service provided by the National Cancer Institute (
cancer.gov) and the Clinical Trials section and service offered by Cancer Consultants.com (
Journal of Thoracic and Cardiovascular Surgery, Vol 114, pp 210-217, 1997)
Copyright © 2018 CancerConnect. All Rights Reserved.