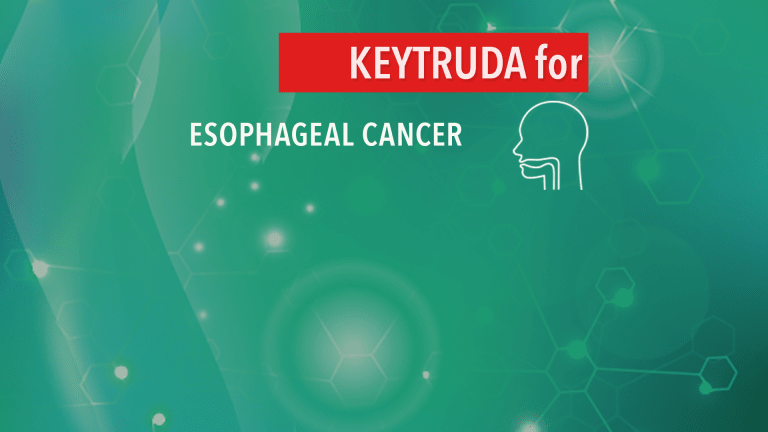 Checkpoint Inhibitors Improve Treatment of Esophageal Cancer
Checkpoint Inhibitors Opdivo and Keytruda improve survival and delay esophageal cancer recurrence.
by C.H. Weaver M.D. updated 6/2022
Immunotherapy medications called checkpoint inhibitors are changing how doctors treat esophageal cancer. The checkpoint inhibitors Opdivo (nivolumab) and Keytruda (pembrolizumab) were both initially reported to produce overall response rates of 30% in patients with PD-L1–positive, advanced esophageal cancers. A pivotal trial published in the New England Journal of Medicine shows that Opdivo doubles survival duration when used in early stage disease and results from the Keynote 181 clinical trial confirmed that Keytruda reduces the risk of death by 31% compared to treatment with chemotherapy in patients with esophageal or esophagogastric junction cancer or adenocarcinoma of the esophagus who progressed after initial standard chemotherapy.1,6,8
About Keytruda and Opdivo
Keytruda and Opdivo are monoclonal antibodies that belong to a class of drugs called checkpoint inhibitors that work to restore the body's immune system in fighting cancer. They create their anti-cancer effect by blocking a specific protein used by cancer cells called the programmed death-ligand 1 (PD-L1), to escape an attack by the immune system. Once PD-L1 is blocked, cells of the immune system are able to identify cancer cells as a threat and initiate an attack to destroy the cancer.
About Esophageal Cancer
The esophagus is a muscular tube that food and liquids pass through on their on their way to the stomach. Each year in the United States, more than 17,000 people are diagnosed with cancer of the esophagus and more than 15,000 die of the disease.2 Patients with advanced esophageal squamous cell carcinoma have a poor prognosis and few treatment options after first-line therapy – new treatments are sorely needed.
Although many people with esophageal cancer are diagnosed with advanced disease, treatment has slowly improved, and survival rates are getting better. During the 1960s and 1970s, only about 5% of patients survived 5 years after being diagnosed. Now, about 20% of patients survive at least 5 years. The high death rate associated with esophageal cancer is largely attributed to the fact that the disease is often diagnosed once it has already become advanced, and few good treatment options exist. There is a very substantial unmet need for effective and well-tolerated treatments for patients with advanced esophageal carcinoma.
Checkpoint Inhibitors for Early Stage Esophageal Cancer
The phase 3 CheckMate -577 clinical trial evaluated the Checkpoint Inhibitor Opdivo in patients with surgically resected esophageal or gastroesophageal junction (GEJ) cancers following neoadjuvant chemoradiation therapy (CRT) and complete surgical resection. The addition of adjuvant treatment with Opdivo doubled the average survival duration without cancer progression from 11 to 22 months when administered after surgical removal of esophageal or gastroesophageal junction cancer and combined chemo-radiation therapy.
Keytruda + Chemotherapy Improves Overall Survival in Locally Advanced or First-Line Metastatic Esophageal Cancer
On March 22, 2021, the FDA approved Keytruda in combination with platinum and fluoropyrimidine-based chemotherapy, for the treatment of patients with metastatic or locally advanced esophageal or gastroesophageal (GEJ) carcinoma.
The approval of Keytruda was based on the KEYNOTE clinical trial which evaluated 749 patients with metastatic or locally advanced esophageal or GEJ junction carcinoma who were not candidates for surgical resection or definitive chemoradiation. Patients were treated with cisplatin and fluorouracil chemotherapy with or without Keytruda. The addition of Keytruda improved overall survival on average from 9.8 to 12.4 months and delayed cancer progression by about a month.
The phase 3 KEYNOTE-590 clinical trial compared Keytruda in combination with cisplatin plus 5-FU chemotherapy to chemotherapy alone as the initial or "first line" treatment in 749 patients with locally advanced or metastatic adenocarcinoma or squamous cell carcinoma of the esophagus. The addition of Keytruda immunotherapy improved survival duration and delayed cancer recurrence compared to chemotherapy alone.6
At the first interim analysis, after a median follow-up of 10.8 months, Keytruda in combination with chemotherapy
Produced an overall response to treatment of 45% versus 29.3% for chemotherapy.
Demonstrated superior survival - the median survival duration was 12.4 months in the Keytruda combination arm versus 9.8 months for chemotherapy. In patients with ESCC whose tumors expressed PD-L1 (CPS ≥10), the median OS was 13.9 months in the Keytruda combination arm versus 8.8 months for chemotherapy alone.
Delayed cancer progression reducing the risk of disease progression or death by 35% or more than a third.
Treatment-related side effects led to discontinuation of treatment in 19.5% of patients in the Keytruda combination arm and 11.6% of patients in the chemotherapy arm.
Metastatic Esophageal Cancer
The FDA has approved Opdivo in combination with fluoropyrimidine- and platinum-containing chemotherapy and nivolumab plus Yervoy as a first-line treatment for adult patients with unresectable advanced or metastatic esophageal squamous cell carcinoma (ESCC), irrespective of PD-L1 status in May 2022.
The CheckMate -648 clinical trial compared Opdivo plus Yervoy and Opdivo plus fluorouracil and cisplatin chemotherapy to fluorouracil plus cisplatin chemotherapy alone in patients with unresectable advanced or metastatic esophageal squamous cell carcinoma. Study results updated at ASCO 2021 demonstrate that the Opdivo combinations improves survival duration and delay cancer progression compared to chemotherapy alone.9 The median survival duration with Opdivo was 13.2 months compared to 10.7 months with chemotherapy alone, translating to a 39% reduction in the risk of death and in patients with a PD-L1 expression of 1% or higher, the median survival with Opdivo/chemotherapy was 15.4 months compared with 9.1 months with chemotherapy alone.10
Keytruda Treatment of Recurrent Esophageal Cancer
The KEYNOTE-028 clinical trial initially evaluated Keytruda in patients with 20 different types of PD-L1–positive advanced solid tumors and reported an overall response to treatment of 30% in esophageal cancer. For patients with squamous cell carcinoma the rate was 28%, and for those with adenocarcinoma it was 40%.1
In order to confirm the encouraging results with Keytruda in Keynote-028 the phase 3 Keynote-181 clinical trial was designed to assess Keytruda monotherapy in the second-line treatment of advanced or metastatic esophageal or esophagogastric junction carcinoma.
Keynote 181 directly compared Keytruda to chemotherapy in ~ 600 individuals with esophageal cancer that had recurred after initial chemotherapy treatment. Patients were treated with Keytruda or a the investigator's choice of Taxol (paclitaxel) Taxotere (docetaxel). or Camptosar (irinotecan). The PD-L1 IHC 22C3 pharmDx kit was used to determine PD-L1 status.
Among patients whose cancer expressed PD-L1 CPS ≥10 the average survival was 10.3 months with Keytruda compared to 6.7 months in the control arm.(4)
The KEYNOTE‑180 clinical trial included 121 patients with locally advanced or metastatic esophageal cancer progressing on or after ≥2 previous systemic therapies. Twenty percent of patients with PD-L1 CPS ≥10 responded to treatment and responses lasted from 4.2 to over 25 months. Over half of these patients responded to treatment over a year.4
Camrelizumab Improves Survival Over Chemo in Esophageal Cancer
The results of a phase 3 clinical trial suggest that second-line camrelizumab treatment can significantly improves overall survival in patients with advanced or metastatic esophageal squamous cell carcinoma. Camrelizumab is another "checkpoint inhibitor" monoclonal antibody directed against the cell surface receptor programmed death-1 (PD-1, PCD-1,). Camrelizumab binds to and blocks the binding of PD-1, expressed on immune cells and prevents the activation of PD-1 and its downstream signaling pathways restoring immune function of cytotoxic T lymphocytes (CTLs) and cell-mediated immune responses against cancer cells.
Between May, 2017, and July, 2018, a total of 457 patients with advanced or metastatic esophageal squamous cell carcinoma who had failed prior treatment were enrolled in a study performed in 43 hospitals across China. Patients were treated with either camrelizumab or a Taxotere (docetaxel) irinotecan chemotherapy regimen and directly compared.
Average survival duration was 8.3 months for camrelizumab treated patients compared to 6.2 months for those treated with chemotherapy. The most frequently documented sided effects were anemia and diarrhea.5
References:
Doi T, et al "Safety and antitumor activity of the anti–programmed death-1 antibody pembrolizumab in patients with advanced esophageal carcinoma" J Clin Oncol 2018; DOI: 10.1200/JCO.2017. 74.9846.
American Cancer Society. Cancer Facts and Figures 2015. Available here.
US Food and Drug Administration. FDA approves pembrolizumab for advanced esophageal squamous cell cancer. Updated July 31, 2019. Accessed July 31, 2019.
Lancet Oncol. 2020 May 13. Epub ahead of print
US Food and Drug Administration. FDA approves pembrolizumab for esophageal or GEJ carcinoma. www.fda.gov/drugs/resources-information-approved-drugs/fda-approves-pembrolizumab-esophageal-or-gej-carcinoma. Accessed March 23, 2021.

Chau I, Doki Y, Ajani JA, et al. Nivolumab (NIVO) plus ipilimumab (IPI) or NIVO plus chemotherapy (chemo) versus chemo as first-line (1L) treatment for advanced esophageal squamous cell carcinoma (ESCC): first results of the CheckMate 648 study. J Clin Oncol. 2021;39(suppl 15):LBA4001. doi:10.1200/JCO.2021.39.15_suppl.LBA4001