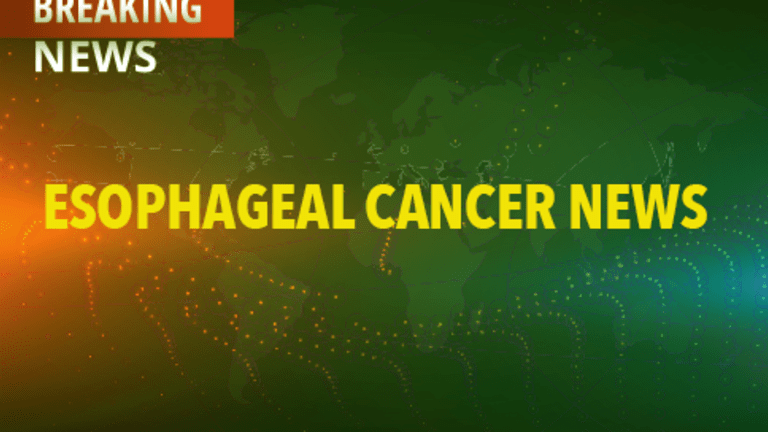 Antioxidants May Decrease Risk of Developing Cancer of the Esophagus
According to Swedish investigators high intake of anti-oxidants may reduce cancer risk
Antioxidants May Decrease Risk of Developing Cancer of the Esophagus
Cancer of the esophagus, or esophageal cancer, is relatively uncommon, but it is one of the most deadly of all cancers. The esophagus is a muscular tube that conveys food from the back of the throat to the stomach. There are two main types of esophageal cancer, adenocarcinoma and squamous cell, which are named according to the type of cell within the esophagus the cancer originated. Persons who smoke or have reflux disease (a condition in which acid and other contents from the stomach escape back into the lower esophagus) are considered to be at high-risk for developing cancer of the esophagus. Although efforts to improve treatment strategies are ongoing, only 5% of persons diagnosed with esophageal cancer survive more than 5 years. Since strategies to control or eradicate this cancer result in such poor outcomes, it is essential to develop preventative measures to decrease the risk of persons developing cancer of the esophagus.
Researchers in Sweden recently conducted a study involving over 1,000 people to evaluate the association between dietary intake of antioxidants and the incidence of cancer of the esophagus. Individuals with a high intake of the antioxidants vitamin C, beta-carotene and vitamin E showed up to a 50% decreased risk of developing both types of cancer of the esophagus compared to those individuals with a low intake of these vitamins. When these antioxidants were taken individually, vitamin C and beta-carotene showed more of a reduced risk in the development of esophageal cancer than vitamin E.
The results from this study suggest that a high intake of vitamin C, beta-carotene and vitamin E may reduce the risk of developing cancer of the esophagus, even in persons who smoke and/or have reflux disease. Persons at high-risk for developing cancer of the esophagus may wish to speak with their doctor about the risks and benefits of increasing their dietary intake of antioxidants or about the participation in a clinical trial utilizing other preventative strategies. Two sources of information on ongoing clinical trials that can be discussed with a doctor include a comprehensive, easy to use listing service provided by the National Cancer Institute (cancer.gov) and eCancerTrials.com. eCancerTrials.com performs personalized searches on behalf of their patients. (International Journal of Cancer, Vol 87, No 5, pp 750-754, 2000) Copyright © 2018 CancerConnect. All Rights Reserved.