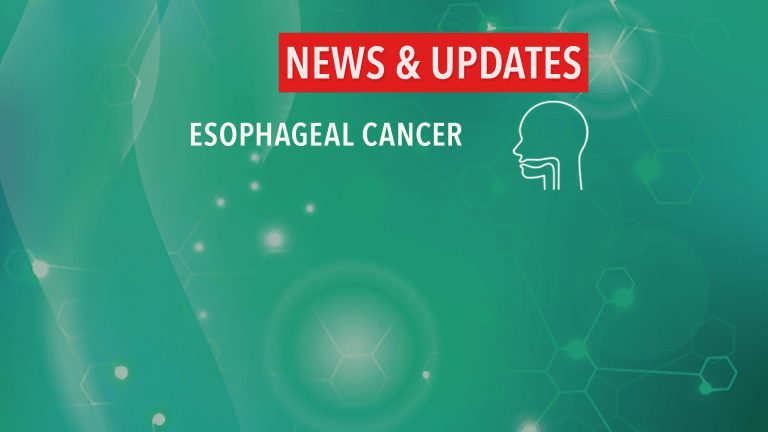 Advexin® Promising for Inoperable, Refractory Esophageal Cancer
Advexin® Promising for Inoperable, Refractory Esophageal Cancer
According to a press release by Introgen Therapeutics, Inc., the vaccine Advexin® appears promising as single-agent therapy in patients with inoperable esophageal that has stopped responding to standard therapies.
The esophagus is a multi-layered, hollow tube that connects the throat and stomach, allowing transportation of food and fluids. The prognosis for esophageal cancer depends on four factors:
The stage (extent of spread) when disease is diagnosed
The size of the tumor
The sites to which the cancer has spread
The patient's general health
Current treatments include surgery, radiation, chemotherapy, or a combination of these options.
Cancer that has stopped responding to standard therapies is referred to as refractory cancer. Treatment options for patients with refractory esophageal cancer remain limited, and long-term outcomes are not favorable. Researchers continue to evaluate novel treatment strategies in order to improve survival for patients with this disease.
The p53 gene is found in most cells; some of its activity suppresses the growth of cancer cells. However, in many cancers, the p53 gene is mutated so that it does not stop the growth of the cancer cells. In such cases, researchers have been evaluating ways to "activate" the normal actions of the p53 genes in patients with cancer.
Advexin is a vaccine that is injected directly into the sites of cancer. The vaccine delivers a functioning p53 gene into these cancerous areas. To produce Advexin, the p53 gene is inserted into a common virus (adenovirus) that has been rendered unable to produce illness in humans. Once injected into the patient, the virus inserts itself into the DNA of the cancer cells; the p53 gene can then begin its normal function of inhibiting excessive growth or spread of the cancer cells.
Researchers from Japan recently conducted a small clinical trial to evaluate Advexin for the treatment of refractory esophageal cancer. This trial included 10 patients who were not eligible for surgery and had stopped responding to standard therapies. Patients were treated with Advexin as a single agent.
Advexin produced promising results:
60% of patients experienced disease stabilization for more than one year.
One patient remained alive and progression-free for nearly 4 years following treatment with Advexin.
One patient who was not able to swallow upon entering the trial was able to swallow liquids and meals after two injections of Advexin.
Advexin was well tolerated.
The researchers concluded that Advexin provides long-lasting anticancer responses while being well tolerated in patients with refractory, inoperable esophageal cancer. Advexin is still in the clinical trials processes and is not yet approved by the U.S. Food and Drug Administration (FDA).
Patients with refractory esophageal cancer may wish to speak with their physician regarding their individual risks and benefits of participating in a clinical trial further evaluating Advexin or other novel promising treatment approaches.
Reference: Introgen Therapeutics, Inc. Phase I/II Clinical Data Demonstrate Safety and Antitumor Activity of Introgen's ADVEXIN(R) in Patients With Advanced Esophageal Cancer. Available at: . Accessed March 2006.