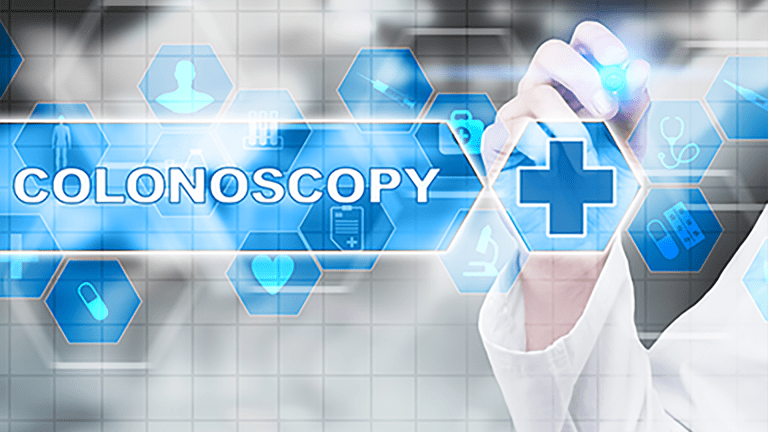 Screening Colonoscopy Reduces Deaths from Colorectal Cancer
Colonoscopy explained, understand the risks and benefits and answers to frequently asked questions about colonoscopy.
Medically reviewed by Dr. C.H. Weaver M.D. Medical editor 10/2022
Findings from a large European study suggesting that screening colonoscopy only cuts the risk of colon cancer by about a fifth have raised questions about the role of the procedure in detecting earl- stage colon cancer. The study published in the October 2022 New England Journal of Medicine found an 18% reduction in developing colon cancer and no statistically significant reduction in the likelihood of colon cancer death when it compared individuals "invited" to undergo colonoscopy with those who were not.12
The major problem with the study is that only 42% of the people who were invited to get colonoscopies received one. People in the study who did the colonoscopy had a 31% reduction in colon cancer risk and a 50% reduction in risk of dying.
Apparently for a colonoscopy to be effective, you must have it done!
A colonoscopy remains the preferred method for detecting early colon cancer and is recommended every 5-10 years beginning at age 40-50 years for average-risk individuals. Studies show that colonoscopy reduce the risk of colorectal cancer by 40% to 69% and reduce the risk of death from the disease by 29% to 88%.12
During a colonoscopy, a flexible tube attached to a camera is inserted through the rectum, allowing physicians to examine the internal lining of the colon and rectum for cancer or precancerous polyps. If polyps are identified, they can be removed during the colonoscopy.
According to the results of another study published in the New England Journal of Medicine, the identification and removal of polyps during screening colonoscopy substantially reduces the risk of death from colorectal cancer, providing support for use of colonoscopy as a colorectal cancer screening test. The study evaluated information from 2,602 people who had precancerous (adenomatous) polyps removed during colonoscopy. During more than 15 years of follow-up, people who had had colorectal polyps removed during colonoscopy were roughly half as likely to die of colorectal cancer as people in the general population.1
What to Expect During a Colonoscopy
The anticipation of colonoscopy is often worse than the actual exam. Knowing what to expect can eliminate unnecessary anxiety. There are two phases of colonoscopy: the preparation and the exam.
Preparation: Bowel preparation (cleansing) is a critical component of the procedure. It is important to clean out the colon completely because any residue can obscure the view of the colon and rectum during the exam. Bowel preparation varies slightly among different medical centers, but in general here's what you can expect:
Five days before exam: Stop eating nuts and seeds. Stop taking iron supplements.
Two days before exam: Avoid vegetables, pulpy fruits, oatmeal and cereal with high fiber, nuts, and small seeds such as sesame seeds.
24 hours before exam: Switch to a clear-liquid diet. Avoid solid food and alcohol until after the exam.
Bowel cleansing: The physician will prescribe a liquid cleansing solution that you will drink the evening before the exam. You'll want to drink plenty of water and stay near the bathroom. Numerous trips to the bathroom can cause anal irritation. Speak with your doctor or nurse about tips for managing this irritation. Sometimes wiping with medicated wipes or swabbing the anus with petroleum jelly can help.
The Exam: The colonoscopy exam will take anywhere from 20 to 60 minutes. When you arrive at the medical center, you'll sign consent forms and change into a hospital gown. In the exam room, you will be hooked up to an intravenous (IV) line as well as blood pressure and blood oxygen monitoring devices. The physician will deliver pain relievers and a sedative through the IV. During the procedure you'll be in "conscious sedation," which is a pleasant, relaxed state in which you don't feel a thing. In fact, you will likely have no memory of the procedure itself.
After the Exam: After the procedure you'll be moved to a recovery room, where the IV is removed and you are given time to wake up. Most people feel fine after waking up. You might feel woozy or have a dry mouth, and you may have some gas that causes mild discomfort. You'll be able to walk out of the medical center on your own, but you'll need someone to drive you home as a result of the sedation. In fact, you'll want to take it easy and avoid driving for the rest of the day.
Answers to FAQ's About Colonoscopy
Following a normal colonoscopy, how often should a colonoscopy be performed?
Individuals who have normal results on their colonoscopy don't need to undergo another colonoscopy for at least 5 years according to a report published in the New England Journal of Medicine.
Researchers from Indianapolis conducted a clinical trial to evaluate the time interval between repeat colonoscopies among patients with normal results from an initial colonoscopy. This trial included 1,256 individuals who underwent re-screening at an average of 5.34 years following their original colonoscopy.
None of these patients had colorectal cancer identified on their follow-up colonoscopy.
16% of patients had non-cancerous tumors on repeat colonoscopy; however, advanced non-cancerous tumors were found in only 1.3% of patients.
The researchers concluded: "Our findings support a re-screening interval of 5 years or longer after a normal colonoscopic examination." All patients, however, should discuss their individual risks and benefits of repeat colonoscopy screening.2
Does colonoscopy ever miss cancers?
Colonoscopy may miss more colon cancers than once believed, particularly small cancers in the fold of tissues or at the anal entrance. Previous studies evaluating virtual colonoscopy always compared results of the procedure to optical colonoscopy. In a clinical study 1,233 participants underwent both optical colonoscopy and virtual colonoscopy and results were compared for both types of procedures.
Prior to the study, it was believed that the miss rate of lesions >1cm with optical colonoscopy was 0-6%. After both optical and virtual colonoscopy, results were evaluated and it was determined that approximately 10% of polyps were missed by optical colonoscopy. The majority of these polyps were located on a fold in the tissue or near the anal entrance. Despite these findings, however, optical colonoscopy remains the gold standard for detecting and diagnosing colorectal diseases and significantly improves survival in colorectal cancer when used as a screening tool.4
Does physician experience matter?
Physicians with more training perform more effective colonoscopies. A trial conducted at 15 different medical centers in Korea indicates that a physician must perform at least 150 colonoscopies to be considered competent at the procedure. Various medical training programs currently recommend that trainees perform at least 100–200 colonoscopies in order to be considered competent in screening and diagnostic colonoscopy.
In the current study, researchers sought to further define the adequate training level for technical competence in performing colonoscopy. During an eight-month period, 24 first-year gastroenterologist trainees (fellows) in 15 medical centers were evaluated. A total of 4,351 colonoscopies were performed and evaluated during this time period. The goal of the study was to evaluate the success rate for completing the colonoscopy and performing colonoscopy in less than 20 minutes.5
Results of the study revealed an overall success rate of 83.5%.
Success rates were notably improved after 150 procedures, rising incrementally from 71.5% to 98.7% after each 50 cases.
Researchers concluded that competent screening and diagnostic colonoscopy generally requires that physicians have performed at least 150 cases. Patients planning to undergo colonoscopy may wish to inquire about their physician's level of experience.
What are the risks associated with colonoscopy?
Perforation (a tear through the colon wall caused by a colonoscopy procedure) occurs in less than one in 1,000 patients undergoing a colonoscopy according to researchers from the Mayo Clinic who evaluated data in an attempt to understand the rate of perforations associated with colonoscopies. The data included 258,248 colonoscopies.
The rate of perforation was only 0.7%.
Blunt injuries, poor bowel preparation, corticosteroid use, and younger age increased the incidence of adverse effects associated with colonoscopy.
These data indicate that the risk of perforations during a colonoscopy remains very low, but that the risk factors associated with perforations are important to understand. Patients with any of the factors associated with an increased risk of perforation may wish to speak with their physician regarding their individual risks and benefits of undergoing a colonoscopy.6
Anesthesia Increases Colonoscopy Risks
Colonoscopy can be performed with anesthesia or without and a study published in the journal Gastroenterology has reported that sedation increases the risk of complications.7
The study authors analyzed administrative claims data from Truven Health Analytics MarketScan Research Databases from 2008 through 2011 and identified 3,168,228 colonoscopy procedures in men and women, aged 40–64 years old. Colonoscopy complications were measured within 30 days and included colonic (ie, perforation, hemorrhage, abdominal pain), anesthesia-associated (ie, pneumonia, infection, complications secondary to anesthesia), and cardiopulmonary outcomes (ie, hypotension, myocardial infarction, stroke).
Nationwide, 34.4% of colonoscopies were conducted with anesthesia services. Anesthesia use was associated with a 13 percent increase in the risk of any complications. The increased risk was associated specifically with an increased risk of perforation, hemorrhage, abdominal pain, complications secondary to anesthesia, and stroke.
The study authors concluded that the overall risk of complications after colonoscopy increases when individuals receive anesthesia services. The widespread adoption of anesthesia services with colonoscopy should be considered within the context of all potential risks and patients should discuss the risks and benefits of using anesthesia during colonoscopy for their situation.
Age and Illness Increase Colonoscopy Risks
Although the risk of complications from colonoscopy is low, risk increases among the very elderly and among those with certain chronic health conditions.8
To explore the safety of colonoscopy and whether safety varies by the age and health of the patient, researchers evaluated information from 53,220 Medicare beneficiaries aged 66 to 95 who underwent colonoscopy.
The researchers found that a serious gastrointestinal event (perforation or bleeding within 30 days of colonoscopy) occurred in 6.9 per 1,000 colonoscopies. Although this risk was low, it varied by age. The risk of a serious gastrointestinal event was more than twice as high among persons aged 85 and older than among persons between the ages of 66 and 69.
These results are consistent with recommendations from the U.S. Preventive Services Task Force (USPSTF). The USPSTF recommends against colorectal cancer screening among adults over the age of 85 because the risks are likely to outweigh the benefits.
In addition to varying by age, the risk of serious gastrointestinal events also varied by the health of person being screened. People with a history of stroke, chronic obstructive pulmonary disease, atrial fibrillation, or congestive heart failure were more likely than people without these conditions to experience a serious gastrointestinal event following colonoscopy.
This study suggests that the overall risk of colonoscopy complications among Medicare beneficiaries is low. Nevertheless, risk increases with age and with certain chronic health problems. People who are candidates for colorectal cancer screening may wish to talk with their doctor about which colorectal cancer screening test is best for them.
Very Elderly May Derive Less Benefit from Colonoscopy
According to the results of a study published in the Journal of the American Medical Association, the increase in life expectancy that results from screening colonoscopy is smaller for very elderly patients than for younger patients.
Colorectal cancer is the second leading cause of cancer-related deaths in the U.S. The disease develops in the large intestine, which includes the colon (the longest part of the large intestine) and the rectum (the last several inches).
Cure rates for colorectal cancer are high when the disease is detected and treated early. Currently, it is recommended that people 50 years of age or older and those at a high risk for colorectal cancer be screened for the disease.
Screening methods include testing for blood in the stool (fecal occult blood test), flexible sigmoidoscopy, colonoscopy, and barium enema. Colorectal cancer screening can detect cancer at an early stage, and can also prevent cancer by allowing physicians to detect and remove precancerous polyps.
During a colonoscopy, a lighted instrument called a colonoscope is used to view the rectum and the entire colon. Pictures and samples of tissue (biopsies) may be taken for further evaluation by the physician. Because colonoscopy has been reported to have a higher complication rate in very elderly patients, and because very elderly patients have a shorter life expectancy than younger patients, it's possible that very elderly patients will derive fewer benefits from screening colonoscopy than younger patients.
To compare the effect of screening colonoscopy on the life expectancy of older and younger patients, researchers conducted a study among patients in three age groups: 50-54, 75-79, and 80 or older. All patients underwent screening colonoscopy. None of the patients experienced complications from the procedure.
Colorectal polyps were detected more frequently in older patients: polyps were detected by colonoscopy in 14% of patients between the ages of 50 and 54, 27% of patients between the ages of 75 and 79, and 29% of patients age 80 or older.
In spite of the more frequent detection of polyps in older patients, the increase in life expectancy that resulted from colonoscopy was smaller for older patients than for younger patients. Among patients between the ages of 50 and 54, the average gain in life expectancy that resulted from screening colonoscopy was roughly 10 months. In contrast, among patients aged 80 or older, the average gain in life expectancy was roughly one-and-a-half months.
The researchers conclude, "Screening colonoscopy in very elderly patients should be performed only after careful consideration of the potential benefits, risks, and patient preferences."
Follow-Up Colonoscopies Underused After Polypectomy
Follow-up colonoscopy remains significantly underused in the 5-year interval after a polypectomy (removal of polyps).
Cancers of the colon and rectum, sometimes referred to together as colorectal cancer, often begin with the development of an adenomatous polyp. These polyps often take 10 to 15 years to transform into cancer.
Recommendations vary, but in general, individuals who have polyps removed are recommended to undergo a follow-up colonoscopy in five years. In order to measure adherence to this recommendation, researchers used data from Medicare claims in 12,998 patients aged 71 and older with a claim for colonoscopy with polypectomy or hot biopsy from 2001 to 2004. In addition, the researchers evaluated Medicare claims from the previous five years to obtain data about previous examinations, and to estimate a comorbidity score.3
The results indicated that at the end of the five-year follow-up period, only 33.5 percent of patients had received another colonoscopy and 24.2 percent underwent repeat polypectomy. The results were in startling contrast to what the researchers expected, which was an overuse of colonoscopy. Instead, they found a significant under use of follow-up colonoscopy.
In general, patients with an identified history of polyps should come back in five years, but the researchers found that only about one-third of patients adhere to that recommendation.
Understanding The Colonoscopy Procedure - In Depth
A colonoscopy is a type of exam that your doctor uses to check the lining of your large intestine (colon) for signs of cancer, abnormal areas that could turn into cancer, or causes of gastrointestinal problems. To see inside your colon, your doctor (typically, a gastroenterologist who specializes in the gastrointestinal system) will place a thin flexible tube into your anus and slowly move the tube into the rectum and colon. This instrument, called a colonoscope, has a lens and light attached to it that sends images of your colon to a video screen.
Before Colonoscopy
How to Prepare for a Colonoscopy
You can help your doctor get the best results from a colonoscopy by preparing for it the way your doctor recommends. By following preparation instructions, you can help your doctor view your colon clearly. You'll be asked to follow a clear liquid diet for 24 to hours 72 (one to three days) before the procedure and take a form of laxative in scheduled doses. Your doctor will tell you what type of laxative to take and when to it.
On a clear liquid diet, you can only consume:
Fat-free bouillon or broth
Strained fruit juice, no pulp
Water
Plain coffee
Plain tea
Regular and diet sodas
You might also be able to eat gelatin or popsicles in any color except red or purple. But be sure to check with your doctor first.
If you don't follow your doctor's preparation instructions, your colonoscopy results may not be accurate. This may cause your doctor to miss early warning signs of colon cancer or other conditions, and you may have to undergo a repeat colonoscopy.
You'll go to hospital or clinic for a colonoscopy. When you make your appointment, be sure to ask what time you need to arrive the day of the procedure. You'll need to get there early enough to check in and be ready. Colonoscopy is an outpatient procedure, so you'll plan to go home afterwards.
Before you have your colonoscopy, your doctor will want to discuss your medical history and any medical conditions you may have. He or she will also want a list of all the medications you are taking, including prescriptions and any over-the-counter medications, supplements, or herbal remedies you are taking. Also tell your doctor if you have any allergies.
What Happens the Day of a Colonoscopy
After you check in at the hospital or clinic, you'll be taken to room to prepare for the colonoscopy. You'll be given an intravenous (IV) line. A doctor will use this IV line to give you medications to help you relax during the procedure. He or she can also use the IV line to give you fluids, if needed, during the procedure.
Before the colonoscopy you'll also be fitted with tools to monitor your vital signs during the procedure. These tools include patches for an electrocardiogram, or EKG, which are placed on your chest, arms, or legs. An EKG records the electrical activity of your heart. You'll also be fitted with an automatic blood pressure cuff on your arm and a pulse oximeter on your finger. The pulse oximeter checks the oxygen levels in your blood.
During Colonoscopy
What Happens During a Colonoscopy
In general, most people tolerate colonoscopy well and don't experience much pain. You may feel pressure, bloating, or cramping during the procedure. Typically, your doctor will give you a sedative or painkiller to help you relax and better tolerate the examination. You will lie on your side or back while your doctor slowly moves the colonoscope along your large intestine to examine the lining. Your doctor will examine the lining again as he or she slowly removes the colonoscope. To help guide the colonoscope, healthcare providers might gently press on your abdomen or have you change position to your back or your other side for a short time during the procedure.
The procedure itself usually takes less than 45 minutes, but you should plan on a total of two to three hours for waiting, preparation, and recovery.
In some cases, the doctor cannot pass the colonoscope through the entire colon to where it meets the small intestine. Your doctor will tell you if this happens and whether any additional testing is necessary.
If the Colonoscopy Shows Something Abnormal
If your doctor thinks an area needs to be examined more, he or she might pass an instrument through the colonoscope to get a biopsy (a small sample of the colon lining) to be analyzed. Biopsies are used to identify many conditions, and your doctor will often take a biopsy even if he or she doesn't suspect cancer. If colonoscopy is being performed to identify sites of bleeding, your doctor might control the bleeding through the colonoscope by injecting medications or by cauterization (sealing off bleeding vessels with heat treatment) or with small clips.
Your doctor might also find polyps (abnormal growths; see next section) during colonoscopy, and he or she will most likely remove the polyps during the examination. These procedures are called polypectomies and don't usually cause any pain. There are many ways that a polyp can be removed, depending on its size and shape. Your doctor may destroy tiny polyps with a process called fulguration (burning) or by removing them with wire loops called snares or with biopsy instruments. Your doctor will use a technique called snare polypectomy to remove larger polyps. With this technique, he or she will pass a wire loop through the colonoscope and remove the polyp from the intestinal wall using an electrical current. This should not cause any pain.
After the polyp is removed, it is passed through the colonoscope and sent to the laboratory for examination.
After any treatments are finished, the doctor will slowly pull out the colonoscope through your rectum.
Polyps: What They Are and Why Are They Removed
Polyps are abnormal growths in the colon lining that are usually benign (noncancerous), but can turn into cancer. They vary in size from a tiny dot to several inches. Your doctor can't always tell if a polyp is cancerous or not by its outer appearance. He or she will usually remove the polyps to examine them more closely. Because cancer begins in polyps, removing them during colonoscopy is an important step in preventing colorectal cancer.
After the Colonoscopy
You will be looked after in the hospital or clinic until most of the effects of the sedatives have worn off. You might have some cramping or bloating because of the air that's gets into the colon during the examination. This should disappear quickly when you pass gas. Your physician will explain the results of the examination to you, although you'll probably have to wait for the results of any biopsies performed. If you have been given sedatives during the procedure, someone must drive you home and stay with you. Even if you feel alert after the procedure, your judgment and reflexes could be impaired for the rest of the day.
After the colonoscopy your doctor might tell you to restrict your diet, your home medications, or your activities. If you've had polyps removed, your doctor may recommend even more restrictions and that you alter your activities for seven days after the colonoscopy. Recommendations when polyps have been removed include: avoid blood thinners, limit travel, don't lift more than five pounds, and don't run or do other high-impact activity.
Recommendations are different for each patient, so make sure you carefully follow your doctor's instructions. You'll probably be told not to drive (or operate heavy machinery) until the day after your colonoscopy. Then, unless otherwise instructed, you should be able to return to normal activity. This includes eating and drinking like normal. However, you may be asked to avoid drinking alcohol until 24 hours after the colonoscopy.
There are certain symptoms you need to watch for after a colonoscopy. Call your doctor immediately if you experience any of the following symptoms during the 24 hours following a colonoscopy:
Chills or fever
Rectal bleeding (more than a tablespoon)
Swelling or redness at your IV site
Severe abdominal pain or bloating (Mild abdominal pain and bloating is expected after a colonoscopy.)
Possible Complications of Colonoscopy
Colonoscopy and polypectomy are generally safe when performed by doctors who have been specially trained and are experienced in these procedures. One possible complication is a perforation, or tear, through the bowel wall. Perforation can require surgery. Sometimes there's minor bleeding at the site of biopsy or polypectomy. Bleeding can stop naturally or be controlled through the colonoscope; it rarely requires follow-up treatment. Some patients might have a reaction to the sedatives or complications from heart or lung disease. Although complications after colonoscopy are uncommon, it's important to recognize early signs of possible complications. Contact your doctor if you notice severe abdominal pain, fever and chills, or rectal bleeding. Note that bleeding can occur several days after the procedure.
Most Frequently Asked Questions About Preparing for a Colonoscopy
Why can't I eat or drink anything several hours before my colonoscopy?
Our first concern is your health and safety. You will be given sedatives to help you relax during your colonoscopy, and these medications affect your body's ability to hold food and liquid in your stomach. If you eat or drink several hours before (actual time varies by doctor) your colonoscopy, there is a risk that food or liquid will travel up into your esophagus, where you could breathe it into your lungs. Your procedure will have to be rescheduled if you do not follow the preparation instructions provided by your doctor.
Do I have to drink all of the solution to cleanse my colon? 
Try your best to drink all of the solution. Remember that the purpose is to clean out your entire digestive tract. If your colon is not clean, your doctor can't do a thorough exam. You may have to reschedule your test for another day.
What if I start vomiting while drinking the solution?
If you develop symptoms of nausea or vomiting, stop the prep for a few minutes, then resume the process. Go slower and drink one 8 oz. glass every 30 minutes instead of every 15 minutes.
Why should I get up so early in the morning the day of the procedure to take some of the laxative?
Studies have shown that patients who take a dose of laxative six hours before the procedure tend to have cleaner colons. This minimizes your chances of having to reschedule your procedure or repeat your procedure sooner than the recommended guidelines (typically, every 5–10 years).
What about the medications I regularly take?
You need to tell your doctor about all medical conditions and any drugs, vitamins, or nutritional supplements that you take regularly. If you are taking prescription blood thinners (such as Coumadin® [warfarin], Pradaxa® [dabigatran etexilate], or Plavix® [clopidogrel]), please talk to your prescribing doctor at least seven days before your procedure. Please continue all medications unless your doctor tells you otherwise.
What medications should I stop taking during the prep process and why?
You'll receive directions about all the medications that you need to discontinue. If you have questions about a specific medication, call your prescribing doctor for additional directions.
What medical conditions may affect my procedure?
If you have a history of constipation, cirrhosis, stroke, dementia, heart disease, or kidney disease, make sure you tell your doctor before your procedure.
I hear that the preparation is hard. What can I do to make it easier?
To make it easier to empty your bowel before the colonoscopy, following these guidelines:
Cut down on heavy solid foods two days before the procedure and start introducing lighter meals to your diet.
Recommended foods during the two days before a colonoscopy include: light meat that is easily digestible (such as chicken without skin); potatoes without skin; eggs; steamed white fish
Avoid the following high-fiber foods: fruits; nuts; red meat; brown rice; raw vegetables (such as salad); dairy products (such as cheese)
Avoid any heavy meals
I am diabetic and my blood sugar will go too low if I do not eat any solid foods. What should I do?
Drink liquids with sugar the day before your procedure and do not stick to sugar-free drinks. You must consume 150–200 calories of carbs when you are on a liquid diet to maintain your blood sugar. To avoid having to reschedule your procedure, do not eat any solid foods during your preparation.
Should I continue to take my diabetic medications the day before my procedure?
Since you are on a liquid diet, you may need to adjust your medication the day before your procedure. Details will be included in your instructions. Check your blood sugar regularly during your preparation. If your blood sugar is too high, you may not be able to receive anesthesia for your procedure.
How do I prepare for a colonoscopy if I am constipated?
If you are constipated, you may need to be on a liquid diet two days before your procedure. You may also need to take additional laxatives to prepare for your colonoscopy. Before the procedure, make sure your doctor knows that you are constipated.
References:
Zauber AG, Winawer SJ, O'Brien MJ et al. Colonoscopic polypectomy and long-term prevention of colorectal-cancer deaths. New EnglandJournal of Medicine. 2012;366:687-9.
Imperiale T, Glowinski E, Lin-Cooper C, et al. Five-year risk of colorectal neoplasia after negative screening colonoscopy. New EnglandJournal of Medicine. 2008;359:1218-1224.
Cooper GS. Underuse of Colonoscopy for Polyp Surveillance in Medicare Beneficiaries. Presented at the 2012 Digestive Disease Week Annual Meeting; May 19-22, 2012; San Diego. Abstract #Tu1178.
Pickhardt P, Nugent P, Mysliwiec P, and et al. Location of adenomas missed by optical colonoscopy. Annals of Internal Medicine. 2004; 141: 352-359.
Lee, S., Chung, I., Kim, S., et al. An adequate level of training for technical competence in screening and diagnostic colonoscopy: a prospective multicenter evaluation of the learning curve. Gastrointestinal Endoscopy. 2008; 67(4) 683-689.
Warren JL, Kld single institution. Archives of Surgery. 143:701-707. 2008.
Risks Associated With Anesthesia Services During Colonoscopy; Karen J. Wernli, Alison T. Brenner,Carolyn M. Rutter ,John M. Inadomi.
Warren JL, Klabunde CN, Mariotto AB et al. Adverse events after outpatient colonoscopy in the Medicare population. Annals of Internal Medicine. 2009;150:849-857.
Lin OS, Kozarek RA, Schembre DB et al. Screening Colonoscopy in Very Elderly Patients: Prevelance of Neoplasia and Estimated Impact on Life Expectancy. JAMA. 2006;295:2357-2365.
Jonas DE, Russell LB, Sandler RS, et al. Patient time requirements for screening colonoscopy*. American Journal of Gastroenterology* [early online publication]. June, 2007.