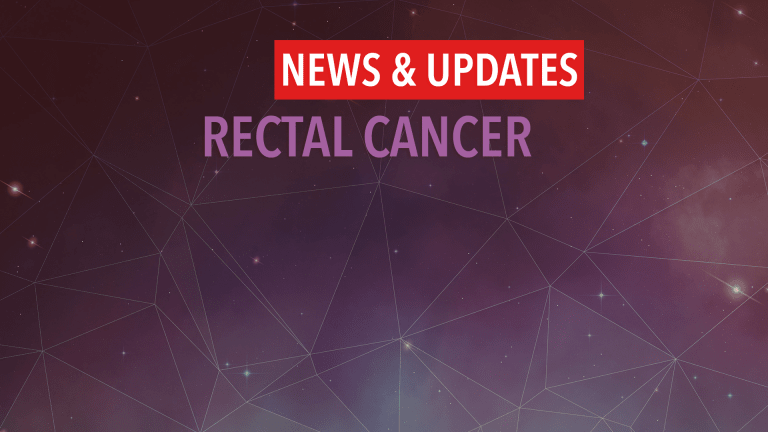 P27 Marker May Predict Recurrence in Rectal Cancer
P27 Marker May Predict Recurrence in Rectal Cancer
According to the results of a recent study published in the Annals of Surgical Oncology, measurement of the p27 marker after preoperative chemotherapy and radiation may help predict recurrence-free survival (RFS) in patients with rectal cancer.
Rectal cancer is a disease in which malignant cells arise from the cells of the rectum. The rectum is part of the digestive system and is the final 6 inches of the large intestine. Current treatments for rectal cancer include surgery, chemotherapy, and radiation. Some of the factors that influence the choice of treatment include the risk of whether or not the cancer will recur, the extent of the cancer, the general health of the patient and whether or not the cancer has recurred after previous treatment. Compared to surgery alone, chemotherapy and radiation given before surgery (neoadjuvant) has been shown to improve patient outcomes in patients with locally advanced rectal cancer.
P27 is one member of a large family of cell cycle regulators, which is thought to play a role in cell death. Mutations within the p27 gene have been implicated in the development and/or progression of cancer and are an area of intense research in oncology. The focus of this study was to evaluate the use of markers for the prognosis of residual rectal cancer after the patient received preoperative chemotherapy and radiation.

This study was conducted at Memorial Sloan-Kettering Cancer Center in New York and included 67 patients with locally advanced rectal cancer. All of the patients had received 5-flourouracil (5FU)-based chemotherapy and radiation prior to surgery. During surgery, residual tumor tissue was removed and analyzed for the stage of the disease and lymph node invasion, as well as for 4 different types of markers including p27. Patients were then followed for an average of 69 months. The overall recurrence-free survival was 74%. Recurrence-free survival rates were significantly worse for patients found to have positive p27 expression, higher-grade tumors, and positive lymph nodes.
Researchers concluded that positive expression of p27 in rectal cancer after combined treatment with chemotherapy and radiation is a negative predictor of recurrence-free survival. This type of information may be useful in identifying patients who may be resistant to standard treatments and may benefit from investigational approaches. Patients are encouraged to speak to their physician regarding treatment options.
Reference: Moore H, Shia J, Klimstra D, et al. Expression of p27 in Residual Rectal Cancer After Preoperative Chemoradiation Predicts Long-Term Outcome. Annals of Surgical Oncology . 2004; 11: 955-961.