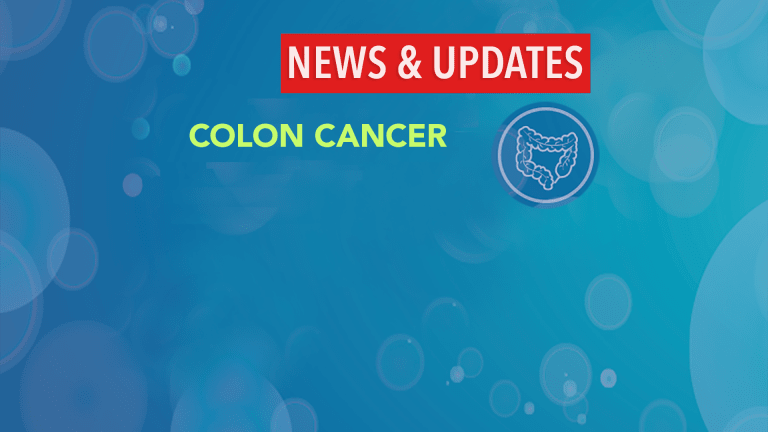 Opdivo + Yervoy Immunotherapy for Patient with dMMR or MSI-H Advanced CRC
Opdivo + Yervoy Immunotherapy prolongs survival in dMMR or MSI-H colon cancer-patients may avoid chemotherapy.
by Dr. C.H. Weaver M.D. updated 4/3019
Data from the phase 2 CheckMate -142 trial evaluating Opdivo (nivolumab) and Yervoy (ipilimumab) for the treatment of patients with DNA mismatch repair deficient (dMMR) or microsatellite instability-high (MSI-H) metastatic colorectal cancer (CRC) presented at the 2018 Gastrointestinal Cancers Symposium and simultaneously published in the Journal of Clinical Oncology have led to their approval bu the US FDA for the treatment of MSI-H or dMMR metastatic colorectal cancer that has progressed following treatment with a fluoropyrimidine, oxaliplatin, and irinotecan. .
About Colorectal Cancer and dMMR or MSI-H Colorectal Cancer
Colorectal cancer is cancer that develops in the colon or the rectum, which are part of the body's digestive or gastrointestinal system. Colorectal cancer is the third most common form of cancer, with a worldwide incidence of 1.4 million cases, and is the fourth most common cause of cancer deaths. In the U.S., CRC is the second leading cause of cancer-related deaths among men and women combined, with more than 135,000 individuals expected to be diagnosed annually.
DNA mismatch repair deficiency (dMMR) occurs when the proteins that repair mismatch errors in DNA replication are missing or non-functional, which leads to MSI-H tumors in certain types of cancer, including CRC. Approximately 15% of CRC patients and 5% of metastatic CRC patients have dMMR or MSI-H biomarkers. Patients with dMMR or MSI-H metastatic CRC are less likely to benefit from conventional chemotherapy and typically have a poor prognosis. Routine testing to determine dMMR or MSI-H status should be conducted for all CRC patients.
About Opdivo
Opdivo is a programmed death-1 (PD-1) immune checkpoint inhibitor that is designed to uniquely harness the body's own immune system to help restore anti-tumor immune response. By harnessing the body's own immune system to fight cancer, Opdivo has become an important treatment option across multiple cancers.
The Opdivo plus Yervoy (I-O) combination was evaluated in 119 patients with recurrent and metastatic MSI-H and non-MSI-H colorectal cancer. Overall 49% of all patients enrolled in the trial responded to treatment. Among all patients, 4.2% achieved a complete response, and 45% achieved a partial response. The median duration of response was not reached in these 58 responders, 83% had responses of 6 months or longer, and 19% had responses of 12 months or longer. 
According to the study authors "Opdivo plus Yervoy provide durable clinical benefit in patients with dMMR or MSI-H metastatic colorectal cancer. The combination of Opdivo and Yervoy may represent an important advance for these distinct biomarker-defined patients, who historically have poorer outcomes compared to metastatic colorectal cancer patients whose tumors are mismatch repair proficient or microsatellite stable."
References:
Opdivo (nivolumab) in Combination with Yervoy (ipilimumab) Demonstrates Clinical Activity in Previously Treated Patients with dMMR or MSI-H Metastatic Colorectal Cancer