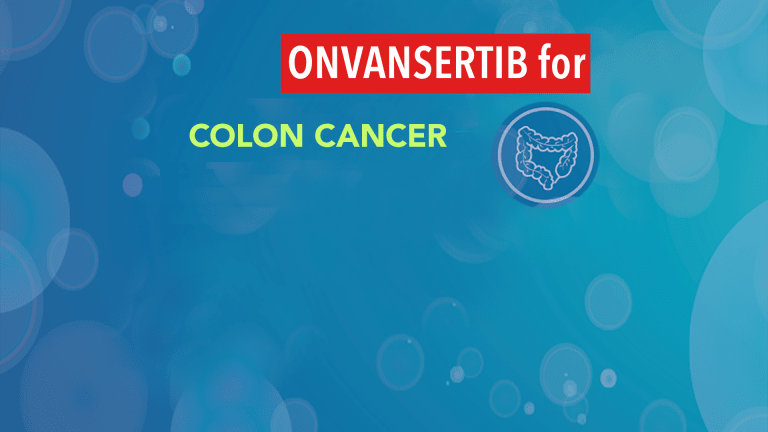 Onvansertib Precision Medicine Being Developed for KRAS mutant Colon Cancers
Onvansertib gets FDA fast track approval-Initial data released at ESMO 2020 demonstrates effectiveness in KRAS patients.
by Dr. C.H. Weaver M.D. 9/2020
The U.S. Food and Drug Administration (FDA) granted Fast Track Designation to onvansertib, an orally administered highly - selective Polo-like Kinase 1 (PLK1) inhibitor that is being developed in patients with KRAS-mutated metastatic colorectal cancer (mCRC).
RAS is an oncogene —a gene that encodes proteins that function as switches to turn on various genes for cell growth and division. Mutations in the RAS genes result in permanently "turned on" switches that in turn result in uninhibited cell division, which can lead to cancer. There are three types of RAS oncogenes, designated NRAS, GRAS, and KRAS. Although mutations in all three can cause cancer. KRAS mutations are the most common oncogenic alteration in all of human cancers and there are currently no effective treatments available for patients with KRAS-mutant cancers. KRAS cancer driving mutation are present in NSCLC adenocarcinomas, colorectal cancers as well as smaller percentages of several other difficult-to-treat cancers.
About Onvansertib
Onvansertib is a first-in-class highly - selective adenosine triphosphate competitive inhibitor of the serine/threonine polo-like-kinase 1 (PLK1) enzyme, which is over-expressed in multiple cancers including leukemias, lymphomas and solid tumors. Onvansertib is being developed by Cardiff Oncology who recently announced an Expanded Access Program (EAP) to access onvansertib in combination with standard-of-care FOLFIRI and bevacizumab for second-line treatment of patients with KRAS-mutated metastatic colorectal cancer who are not be able to participate in the ongoing clinical trial.
The FDA Fast Track is a designation granted by the FDA and is intended to facilitate development and expedite review of drugs to address an unmet medical need in the treatment of a serious life-threatening condition, and for which nonclinical or clinical data has demonstrated the potential of the drug to address this medical need.
Onvansertib in combination with standard-of-care FOLFIRI and Avastin® (bevacizumab) is being evaluated for safety and effectiveness as second-line treatment of patients with KRAS-mutated mCRC. The trial will enroll up to 44 patients with a KRAS mutation and histologically confirmed metastatic and unresectable disease. In addition, patients must have failed treatment or be intolerant of FOLFOX (fluoropyrimidine and oxaliplatin) with or without bevacizumab. The trial is being conducted at the USC Norris Comprehensive Cancer Center and The Mayo Clinic Arizona.
Initial data confirming the effectiveness of onvansertib and durability of response in KRAS-mutated metastatic colorectal cancer was released at the European Society of Medical Oncology (ESMO) Virtual Congress in September 2020. Overall 10 of 11 (91%) of patients treated with onvansertib in combination with FOLFIRI/ achieved disease control with only 1 patient progressing in while on treatment.
5 (45%) of patients achieved a partial response with 1 patient going on to curative surgery.
8 of 11 (73%) of patients demonstrated durable response ranging from 6 months to over 12 months, and 4 patients remain on treatment.
All the responses were associated with different KRAS mutation variants, including the 3 most common that comprise nearly 80% of mutations in CRC.
Treatment was safe and well tolerated with no major or unexpected toxicities attributed to Onvansertib.
The Expanded Access Program (or compassionate use) is a program recognized by the FDA as a follow-on to their granting Fast Track Designation to onvansertib. An EAP provides a potential pathway for patients with a serious or life-threatening condition to gain access to an investigational drug for treatment outside of a clinical trial, particularly when no comparable or satisfactory alternative therapy options are available. The Cardiff Oncology EAP is intended for use in combination with FOLFIRI and bevacizumab for the second-line treatment of patients with KRAS-mutated mCRC that have progressed on prior FOLFOX (with or without bevacizumab) therapy.
Requests for expanded access to onvansertib must be made by a U.S. licensed, treating physician. Physicians can learn more about the onvansertib expanded access program protocol at clinicaltrials.gov and can request access for a patient by sending an e-mail to CRDF-01E@cardiffoncology.com