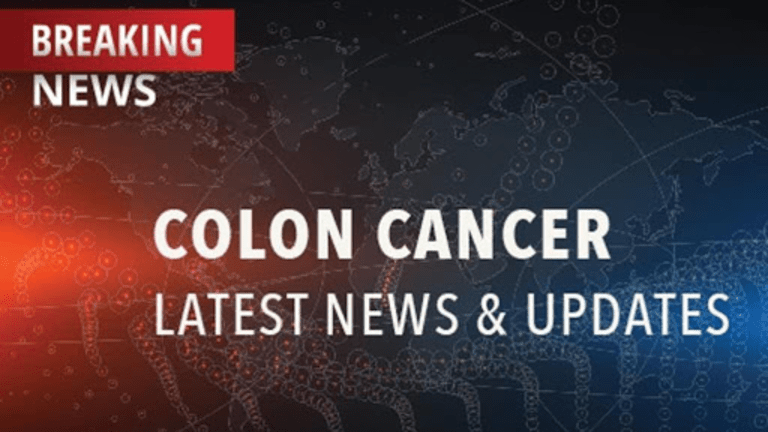 Novel Agent ZD 9331 Halts Cancer Growth in Patients with Colorectal Cancer
Novel Agent ZD 9331 Halts Cancer Growth in Patients with Colorectal Cancer.
ZD 9331 halts cancer growth in patients with advanced colorectal cancer that have failed standard chemotherapy, according to results presented at the 25th Annual European Society of Medical Oncology Meeting.
Colorectal cancer is cancer involving both the colon and rectum, the last few feet of the large intestine. Standard treatment options involve surgical removal of the cancer followed by chemotherapy, radiation and/or biological therapy. Two chemotherapy agents that are typically utilized following surgery for colorectal cancer are 5-fluorouracil (5-FU) and Camptosar®. Patients who experience a cancer recurrence following surgery and treatment with these chemotherapy agents are left with few alternative treatment options.
ZD9331 is a novel biological agent that is still being evaluated in clinical trials. ZD9331 inhibits the progression of cancer by blocking a key enzyme (protein) called thymidylate synthase (TS). In order for cancer cells to replicate, new DNA is needed for every cell. TS facilitates a biological conversion which creates a compound necessary for the formation of new DNA. Recent reports have indicated that elevated levels of TS in colorectal patients are associated with a poor prognosis.ZD9331 blocks TS so that new DNA cannot be formed. Without new DNA, new cancer cells cannot form.
A recent clinical trial was conducted to evaluate ZD9331 in 81 patients with colorectal cancer. Thirty-seven patients in this clinical trial had stopped responding to initial therapy with 5-FU and 44 patients had failed initial therapy with 5-FU and second-line therapy with Camptosar®. All patients had a local recurrence of their cancer and/or were not surgical candidates. No patients receiving ZD9331 as second-line therapy achieved a disappearance of their cancer, however, 73% achieved a stabilization of their disease for an average of over 4 months. Five percent of patients receiving ZD9331 as third-line therapy achieved a partial disappearance of their cancer and nearly half had a stabilization of their disease for an average of over 4 months. Overall survival for both groups of patients was approximately 190 days.

These results indicate that ZD9331 has activity in patients with colorectal cancer that have failed one or two previous therapies. Future clinical trials will involve the combination of ZD9331 and other treatment modalities earlier in the course of the disease in an attempt to provide optimal treatment outcomes for patients with this disease. Patients with colorectal cancer may wish to speak with their physician about the risks and benefits of participating in a clinical trial further evaluating ZD9331 or other promising therapeutic approaches. Two sources of information about ongoing clinical trials include comprehensive, easy-to-use listing services provided by the National Cancer Institute (cancer.gov) and eCancerTrials.com. eCancerTrials.com also provides personalized clinical trial searches on behalf of patients. (Proceedings from the 25thEuropean Society of Medical Oncology, Hamburg, Germany, 2000)
American Society of Clinical Oncology, Abstract 914, 1997
Copyright © 2018 CancerConnect. All Rights Reserved.