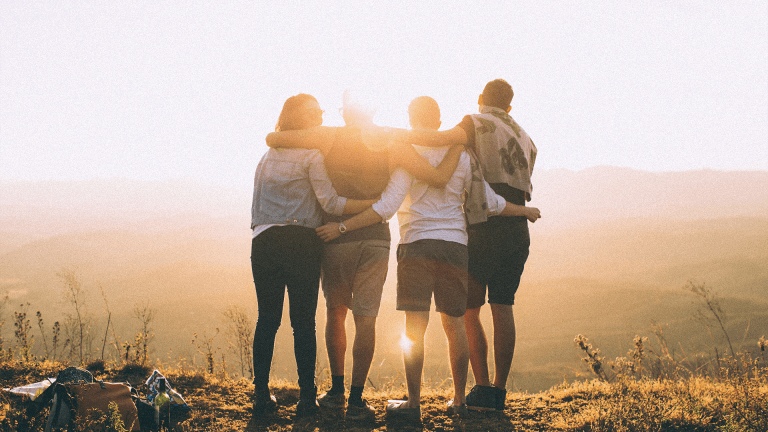 March is Colon Cancer Awareness Month - Survivor Profiles
Learn from Katie Couric and those who beat colon cancer as they share their experiences.
An interview with Katie Couric
An interview for Women Magazine with Katie Couric about her personal story and commitment to Stand Up to Cancer and colon cancer advocacy.
by Diana Price, Medically Reviewed by Dr. C.H. Weaver M.D. 03/2022
Women: You have previously hosted the Stand Up To Cancer [SU2C] event, which you also co-produced. Can you describe the personal motivation that inspired you to help establish this groundbreaking advocacy effort?
Couric: My initial motivation for getting involved in cancer advocacy, as your readers may know, was losing my husband, Jay, to the disease when he was only 42. I co-founded the National Colorectal Cancer Research Alliance with the Entertainment Industry Foundation to support research and to increase awareness of screening's potentially lifesaving role. We soon saw what a powerful force television could be in the fight against this disease; after the Today show broadcast my colonoscopy, the number of people having this test rose 20 percent.
Kristen Fanti
Kristen Fanti already knew all about living with a debilitating illness when she was diagnosed with colon cancer at age 21. Diagnosed with ulcerative colitis, a chronic inflammation of the large intestine, at age three, Kristen had learned to adapt to the challenges of the disease as doctors struggled to get her symptoms under control. Still, her cancer diagnosis, which followed a prophylactic colectomy surgery intended to control the ulcerative colitis, was a shock: "When the surgeon mentioned the words 'cancer' and 'chemotherapy,' I was numb and scared," Kristen says.
A senior in college at the time, Kristen underwent six months of chemotherapy, which made her tired and dehydrated, caused peripheral neuropathy in her fingers and toes, and changed the taste of all her favorite foods. Determined to stay in school and graduate on time, Kristen continued with her studies, bolstered by her supportive family, her work in campus ministry, and by roommates and friends who called her "Chemo Girl" and helped her find humor in the difficult situation. "I could never have done it all without their support and laughter," she says. "On my worst days, I would think about them or daydream about peaceful places."
Despite finishing treatment and graduating on time with a degree in economics, Kristen knew the experience had changed her. "I had a nagging feeling that economics was not the right fit for me," she says. "The medical environment had become comfortable; I saw nurses going to work and wanted that to be my job. I even started having dreams at night that I was a nurse." Inspired, Kristen returned to school and within two years earned a nursing degree and lined up a job at NewYork-Presbyterian Hospital in the inpatient oncology unit.
Now five years out of treatment, Kristen sees her oncologist annually for follow-up testing but is healthy and living happily in New York City. She loves her job as an oncology nurse and feels that her cancer diagnosis directed her toward what she was meant to do: "I firmly believe that everything happens for a reason; and while it's crazy, having cancer helped me realize my calling in life."
Carol Kelly
Carol Kelly, 67, was looking forward to watching the big game in February when stomach pain and diarrhea sent her to the emergency room the night before the Super Bowl. Though she had been living with irritable bowel syndrome, she knew that these symptoms were different.
In fact, a colonoscopy led to a diagnosis of colon cancer. Though Carol lives in St. Petersburg, Florida, where she was working full-time and volunteering, she chose to travel to New York, where the majority of her family live, for the chemotherapy treatments that followed initial surgery to remove the tumors detected during the colonoscopy. Once in New York, her treatment was interrupted by the discovery of a hole in her heart, which had to be surgically repaired, and by a gall bladder attack, which required additional treatment.
Throughout the various ordeals of her cancer journey, Carol felt enormous support from her children—she is a mother of seven—and has remained positive and pragmatic about her diagnosis. "With today's medicine I did not feel it was the end of the world," Carol says, "and I explained as much to my children and grandchildren." If she faces a recurrence, she says, "I will deal with it then."
Carol hopes her own children will learn from her experience to be proactive about their health. "If men and women, including my own children, take a proactive approach and get the tests needed (such as a Pap test, colonoscopy, and mammogram), this can be a first line of defense."
Looking to return home to Florida soon and resume her active lifestyle, Carol will not forget the truth that cancer has reaffirmed: "Life is a precious gem," she says. "Make every day count, even the rainy ones."
Kathleen Tevlin - Nulty
An avid runner, Kathleen Tevlin - Nulty has completed six marathons in the past eight years, so when the then-42-year-old mother of three noticed that her running speed had slowed considerably and that she was exhausted at the end of each run, she went to the doctor. The result: Stage III colon cancer.
"I had no typical symptoms," Kathleen says. Beyond the changes in her running and fatigue level, she had noticed only some shortness of breath and acid reflux, but nothing that would lead her to think of colon cancer. Still, in November doctors removed a 3-centimeter mass from her colon, along with 20 lymph nodes, five of which were cancerous.
Kathleen underwent chemotherapy following her initial surgery, using her experience as an athlete to see her through. "I think running prepared me for my treatments: some days you have a great run and other days you feel like you can't even make it through the first mile."
Throughout her journey Kathleen found sustaining support from her husband, who she says was her emotional rock. "I never would have made it through this year without him." Friends who kept her laughing and parents and in-laws who were on hand to help also buoyed her spirits and allowed her to continue to care for her children.
Having completed treatment and eager to get back to running and on with life, Kathleen does not feel that cancer offered her any particularly illuminating insights—she was aware of the blessings in her life before her diagnosis. "I already knew I had a wonderful life, an amazing family, and fantastic friends. I didn't need to find meaning or purpose from cancer; I already had that."
Erica Paul
In June intense pain on her right side propelled then-26-year-old Erica Paul to visit her general practitioner. Her doctor referred her to a gastroenterologist, who ordered a colonoscopy. The test revealed a large, bleeding, malignant mass in her sigmoid colon, which had metastasized to her liver—Stage IV colon cancer.
Living in Virginia at the time, Erica was far from her family in Michigan. Though they traveled back and forth to help her through treatment, it was her boyfriend, Michael, who became her primary caregiver. The experience brought the couple even closer, and they were married. "It was the best day of my life," Erica says of her wedding day, "and one that I didn't think I would live to experience."
Erica says that the challenges presented by her diagnosis have led her to "discover my inner strength and to never give up hope." Though she is scared at times, Erica does her best to focus on the present. "I have learned that I cannot worry about things I cannot control. I try to enjoy every day despite the challenges it may bring."
Focusing on the blessings in her life, including her friends and family—who formed the Team Fabulous Foundation to help Erica cover the cost of her treatment—and working with a counselor to cope with the "new normal" of her post-diagnosis life have helped her immensely.
Currently undergoing radioembolization treatment targeting her liver tumors, Erica is scanned every eight weeks. Her treatment schedule doesn't allow for much advance planning, she says, but she is optimistic about the future. "Colon cancer is not a death sentence. I plan to surpass the five-year survival rate. You have to believe in yourself and you can live a long, meaningful, happy life with cancer."