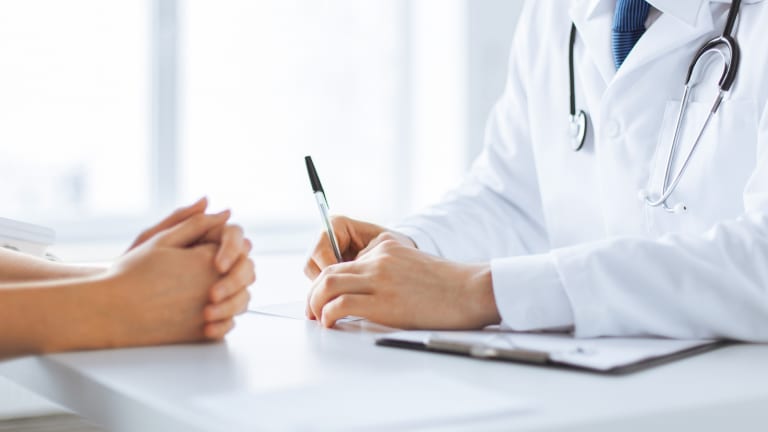 Diagnosed with Colon Cancer: 10 Tips on How to Get The Most From Your Doctor
Ten things every patient with colon cancer should consider in order to get the best possible treatment
Be Your Own Advocate
Inform yourself about colon cancer before you see your doctor. There are many recent advances including NGS testing, the role of ctDNA, and an expanding array of precision cancer medicines. Make sure you understand your stage, range of treatment options, and the potential role of precision cancer medicines. All treatment is discussed based on stage and NGS-biomarker testing for precision medicines. You can begin to learn about colon cancer here and receive the CancerConnect Colorectal cancer newsletter.
Strongly consider a second opinion
Treatment advances based on genomics are rapidly occurring and the doctors most aware of this are at major cancer centers. The more you can learn about your diagnosis and your treatment options, the better chance you have of receiving the best treatment. Getting a second opinion from a colon cancer expert will help you understand ALL available treatment options, and provide reassurance to you and your family that you are receiving the most appropriate therapy.
Ask about the role of precision medicines
Unlike traditional chemotherapy, which attacks any cell in the body that is rapidly dividing, precision cancer medicines target specific genetic alterations that allow cancer cells to grow. Most or all colon cancers result from abnormal genes or gene regulation. The strategy of precision cancer medicine is to define abnormalities at the most basic genetic level. These abnormalities in the DNA are called genomic alterations and they are responsible for driving cancer cell growth. 
 By identifying the genomic changes and knowing which genes are altered in a patient, cancer drugs that specifically attack that gene (or the later consequences of that gene) can be used to precisely target the cancer and avoid affecting healthy cells. ALL newly diagnosed patients should have genomic biomarker testing performed. Make sure your doctor tests for HER2, PD-1, MSI, BRAF and other markers especially if you have advanced colorectal cancer.
Join an on line support community
An on line community can be a great resource to help find a doctor, share information and learn about treatment choices with other individuals in your situation. 
When an individual is facing a diagnosis of colorectal cancer, the whole family needs information and support to cope with this difficult event. People with colorectal cancer and their family members should feel comfortable asking their health professionals, including their physicians and nurses, for educational and support resources. Treatment centers often have nurses or social workers available to provide counseling and referrals to support groups and other resources.
Bring written questions to your visit
A doctor's visit is stressful, it is much easier to bring a list of written questions to ensure they all get answered and none are forgotten. Bring someone with you to take notes or consider using a recorder so you can listen and engage your doctor carefully. Being able to "replay the conversation is very helpful.
Be organized
It's not unusual for patients to be treated by multiple doctors. To stay on top of the treatment routine, it's critical to record notes from doctor appointments, questions/answers for your physician, dates of appointments, test results blood cell counts, medications and dosing schedules, prescription refills and other information.
Make sure you understand the treatment outcomes
Your doctor should be able to tell you what you chance of survival/cure is if you elect to receive no treatment then explain how each proposed treatment improves upon that outcome. If you don't know the expected outcome of no treatment vs the proposed treatment how can you possibly decide what to do?
Ask about clinical trials
Ongoing research is being conducted to find new treatments for colon cancer. When new treatments are discovered, they must be developed in humans. By learning about clinical trials you can identify opportunities that advance the treatment of colon cancer and possibly benefit your personal prognosis. Learn more about the role of clinical trials.
Build your colorectal cancer treatment team
For anyone diagnosed with colorectal cancer, the first step is to gather the right people to ensure that you'll receive the best treatment possible. Research has shown that people with colorectal cancer are more likely to get the best results if they have a good team of medical specialists taking care of them.
So who plays on the team? Ideally, your roster—or multidisciplinary team—will include doctors and other professionals who specialize in the treatment of colorectal cancer as well as family and friends who can help you navigate the treatment process.
You, of course, are the starring player. In addition, specialized physician members of your team might include gastroenterologists, surgeons, medical oncologists, radiation oncologists, interventional radiologists, pathologists, and radiologists. A patient's disease location or unique treatment plan will determine which specialists become part of the team.
In addition, oncology nurses, oncology social workers, mental health professionals, dieticians, and patient navigators—all fulfill extremely important roles in helping patients and caregivers throughout the cancer process with supportive care and access to available resources.
The key to success in therapy is communication among all the professionals involved. Cancer centers, university clinics, and community clinics throughout the country commonly practice using this team-based approach. Some physicians practice independently, however, and may not be affiliated with a particular center. If this is the case, a patient or caregiver can bring members of the treatment team together to help get the best possible care.
Make sure you have an overall care coordinator
Everyone needs a single point of contact is responsible for your overall care. This can be your oncologist, your primary care doctor, or a specialized nurse navigator. Without a "quarterback" the potential for miscommunication, and frustration is considerable. Make sure you have one primary contact that is your advocate!