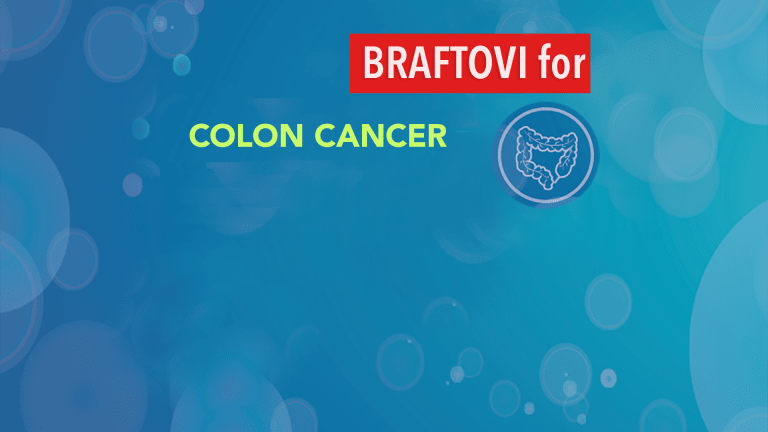 Braftovi™ Improves Survival in BRAF Positive Advanced Colorectal Cancer
BEACON clinical trial defines new treatment for BRAF V600E - mutant colorectal cancer leading to Braftovi FDA approval.
by Dr. C.H. Weaver M.D. Medical Editor updated 4/2022
The NCCN added a new precision cancer medicine treatment regimen to their treatment guidelines for colorectal cancer (CRC) with the BRAFV600 genetic mutation. The new treatment combines 2 drugs; the BRAF inhibitor Braftovi™(encorafenib) and cetuximab.1 Study results were updated at ESMO and in the J Clin Oncol. March, 2019,2,3 leading to US Food and Drug Administration approval in April 2020.9
About BRAF V600 + Colorectal Cancer
In the U.S. an estimated 142,250 patients will be diagnosed with cancer of the colon or rectum in 2020, and approximately 50,000 are estimated to die of their disease. BRAF mutations are estimated to occur in 10% to 15% of patients with CRC and represent a poor prognosis for these patients. The risk of mortality in CRC patients with the BRAF V600E mutation is more than two times higher than for those with wild-type BRAF.4,5,6
The BRAF gene is involved in telling healthy cells when to grow and form new cells, but it is also known to go wrong, or mutate, in several types of cancer. The BRAF V600 kinase is a pathway in cells that is active in cellular replication and spread. BRAF V600 mutations (either V600K or V600E) result in unchecked cellular replication and spread, resulting in the growth of cancer cells. BRAF inhibitor drugs have already proved effective in treating patients. However, these 'first generation' BRAF inhibitors do not work on all BRAF mutated cancers and patients still develop resistance to the treatment.
About Braftovi™ + Mektovi
Braftovi™ is an oral small molecule BRAF kinase inhibitor and Mektovi® (binimetinib) is an oral small molecule MEK inhibitor which target key enzymes in the MAPK signaling pathway. Inappropriate activation of proteins in this pathway has been shown to occur in many cancers including melanoma, colorectal cancer, non-small cell lung cancer, thyroid and others. In the U.S., Braftovi™ + Mektovi® are approved for the treatment advanced melanoma and colon cancers with a BRAF V600E or BRAF V600K mutation, as detected by an FDA-approved test.7,8
About BEACON CRC Clinical Trial
The BEACON clinical trial evaluated treatment with Braftovi™+ Mektovi® and cetuximab in patients with BRAFV600E-mutant mCRC whose disease has progressed after one or two prior regimens. The BEACON trial directly compared Braftovi™ in combination with cetuximab with or without Mektovi to cetuximab and irinotecan-based therapy. The trial was conducted at over 200 investigational sites in North America, South America, Europe and the Asia Pacific region.
Data leading to the FDA approval was presented at the ESMO 20th World Congress on Gastrointestinal Cancer. The results of the ongoing BEACON clinical trial demonstrated that:
The drug combinations of were generally well-tolerated with no unexpected side effects.
Both the 3 and 2 drug combinations significantly improved survival compared to treatment with Folfiri or Camptosar + cetuximab. Survival was marginally better with 3 drugs compared to 2 but with slightly more side effects.
Average overall survival was 15.3 months with a median follow-up duration of 18.2 months (range, 16.6-19.8 months) and the one-year overall survival rate was 62%.
Several precision cancer medicines are now available for the treatment of advanced colon cancer targeting specific genetic mutations. Braftovi™ + Mektovi® represent a significant advance in precision therapies targeting the hard to treat BRAFV600E-mutation and will expand the treatment options for this poor prognosis group of patients.
Strategies to Improve Treatment of BRAF mutated Colon Cancer
Earlier use of Precision Medicines: An ongoing study (ANCHOR-CRC) is investigating the effects of triplet therapy as first line treatment for patients with metastatic BRAF V600E-mutant colorectal cancer.
PLX8394 is a 'next generation' BRAF inhibitor, designed to avoid this resistance and work against cancers with a wider range of BRAF mutations. In a preliminary study 75 patients were treated with PLX8394, taken twice a day by mouth, with or without another drug called cobicistat. Data on 45 of these patients with BRAF alterations, who received PLX8394 and cobicistat, were available for researchers to evaluate. The researchers reported that the addition of cobicistat resulted in doubling to tripling the level of PLX8394 in the blood. Ten of 45 patients (22%) with advanced, refractory, cancer had a partial response to PLX8394.11
TAPUR Trial Expands...The American Society of Clinical Oncology's (ASCO) Targeted Agent and Profiling Utilization Registry (TAPUR) clinical study has added the enrollment of additional patient groups and continues to grow with more than 500 participants and 16 therapies now available. The purpose of TAPUR is to help cancer patients who have exhausted standard options access targeted study drugs matched to the genomic profiles of their cancers and provide physicians assistance in interpreting genomic results and identifying potential treatment options.12
The TAPUR Study Data Safety and Monitoring Board (DSMB) has expanded enrollment of additional participants for colorectal cancer patients with a BRAF_V600E mutation to be treated with Zelboraf (vemurafenib) plus Cotellic (cobimetinib).
Both Cotellic and Zelboraf block different cellular mechanisms to disrupt the over activity of BRAF V600 mutations. Zelboraf and Cotellic are already FDA approved for the treatment of advanced or unresectable (not able to be surgically removed) melanoma that has a BRAF V600 mutation.
Patients can also find study information such as general eligibility criteria, participating clinical sites, and contact information for the site study teams at TAPUR.org.
References
J Clin Oncol**.** 2019 March 20. Epub ahead of print).
LBA-006 'BEACON CRC: a randomized, 3-Arm, phase 3 study of encorafenib and cetuximab with or without binimetinib vs. choice of either irinotecan or FOLFIRI plus cetuximab in BRAF V600E–mutant metastatic colorectal cancer' presented by Scott Kopetz during Session XX: Colorectal Cancer (Part I) on Saturday, 6 July 09:20-10:05 CEST. Annals of Oncology 30 (Supplement 4): iv137–iv151, 2019
De Roock et al., Lancet Oncol, 2010
Global Cancer Facts & Figures 3rd Edition. American Cancer Society. Available at: here Accessed January 2018.
Cancer Facts & Figures 2018. American Cancer Society. Available here:. Accessed January 2018.
Safaee Ardekani G, Jafarnejad SM, Tan L, et al. The prognostic value of BRAF mutation in colorectal cancer and melanoma: a systematic review and meta-analysis. PLoS One. 2012;7(10):e47054.
FDA approves encorafenib in combination with cetuximab for metastatic colorectal cancer with a BRAF V600E mutation.
EORTC [European Organization for Research and Treatment of Cancer, NCI [National Cancer Institute], AACR [American Association for Cancer Research]. The Symposium takes place online on 24-25 October. Abstract no: 5LBA, "Interim results from a phase 1/2 precision medicine study of PLX8394 – a next generation BRAF inhibitor", by Filip Janu et al, presented in New Drugs on the Horizon, channel 1, 21:00-22:45 CET, Sunday
​