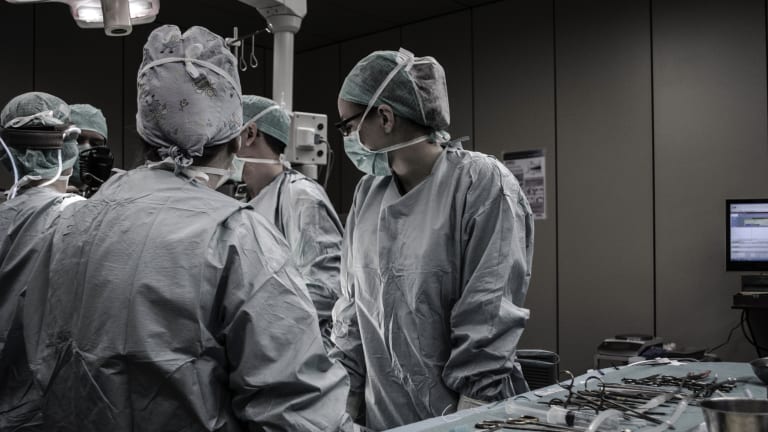 What Should Patients Know About Robotic Surgery for Gynecologic Cancer?
Dr. Jeffrey Fowler, MD from Ohio State-James Cancer Inst answers frequently asked questions about robotic surgery
Dr. Jeffrey Fowler, MD, Director, Division of Gynecologic Oncology Ohio State University Comprehensive Cancer Center answered questions about minimally invasive robotic surgery for gynecologic cancers.
About 13,000 women are diagnosed with cervical cancer each year in the U.S. Radical hysterectomy with pelvic lymphadenectomy is the standard treatment recommendation for women with early-stage disease.
Minimally invasive surgery was adopted early on as an alternative to full laparotomy before evidence was available comparing the two surgical treatments. In 2019 the results of two clinical trials comparing minimally invasive surgery to open surgery reported that women with early-stage cervical cancer who underwent minimally invasive radical hysterectomy had an increased risk for recurrence and poorer survival outcomes than women who had open surgery.1,2
The final results of thee pivotal clinical trial designed to compare minimally invasive surgery to the more traditional open hysterectomy performed in 631 patients were released in March 2022 and not only failed to confirm the benefit of the less invasive procedure but determined it was associated with significantly worse outcomes.· 
Cancer-free survival rate at 4.5 years was 96% for open surgery compared to 85.0% with minimally invasive surgery.
While the trial was not designed to answer the question of the effect of tumor size on surgical outcomes, patients with larger tumors did worse with minimally invasive surgery. There was no difference in outcomes for patients with tumors less than 2 cm.
These results somewhat surprised gynecologic oncologists who were increasingly using the minimally invasive surgical approach. Some major cancers have stopped offering minimally invasive surgery altogether. Patients considering robotic-minimally invasive surgery should discuss this option carefully with their treating physician before proceeding.
What is robotic surgery and how does it work?
A. Robotic surgery in gynecologic oncology is a major surgical procedure performed in a minimally invasive fashion. It involves sophisticated medical devices that allow surgeons to operate through tiny incisions, using enhanced imagery and incredibly precise movements. Robotic-assisted surgery offers improved, magnified visualization in high-definition 3D. Surgeons are able to precisely control the surgical instruments because they offer seven degrees of free motion (like a wrist).
Robotic surgery was introduced in 1999 but was approved in 2005 by the Food and Drug Administration for use with gynecologic procedures. While the benefits of this cutting-edge technology are great, one thing remains unchanged: the experience of the surgeon is crucial to the success of the procedure, particularly when it comes to more-complex surgeries, such as those involving cancer.
To which types of gynecologic cancers would robotic surgery best apply?
A. Approximately 40,000 women are diagnosed with gynecologic cancer in the United States each year. Most of these women require major surgery that includes a hysterectomy and a lymph node dissection, which is required for staging. Some women need a radical hysterectomy, a more aggressive form of hysterectomy used in the treatment of cervical cancer. Most of these major procedures have been performed through a large incision in the abdomen, but robotic surgery is now a viable and much less invasive option.
Endometrial, or uterine, cancer is the most common gynecologic malignancy. In our experience the great majority of these patients are eligible for robotic surgery. Patients with early-stage cervical and ovarian cancer are also eligible for robotic-assisted minimally invasive surgery.
The approximately 600,000 women in the United States each year who undergo hysterectomies for reasons not related to cancer are also good candidates. The great majority of these patients undergo traditional open abdominal surgery or laparotomy (70 to 80 percent). Many of these patients would benefit from robotic surgery because it's much less invasive and provides many advantages over open surgery.
What are the potential benefits of robotic surgery for gynecologic cancers?
A. Robotic surgery can offer patients significant benefits compared with traditional open surgery:
Less pain
Less blood loss
Less scarring
Shorter recovery time
A faster return to normal daily activities
In our experience patients have a decreased length of hospital stay, less postoperative pain, and an overall lower risk of complications that are more common with open surgeries, such as wound infection, bowel function issues, and the need for a blood transfusion. Most patients return to full function earlier than with open surgery/laparotomy.
Are there any serious risks or side effects of robotic surgery for gynecologic cancers? If so, what are they?
A. Although robotic surgery has been found to minimize complications and improve outcomes for many patients, the surgery is still a major procedure and complications are possible. Patients should discuss all the options and potential side effects with their physicians.
What makes a patient a good candidate for robotic surgery for gynecologic cancers?
A. Most patients with apparent early-stage disease will be potential candidates for robotic-assisted surgery. Some patients with very large ovarian tumors or advanced-stage disease that requires a large incision to remove the tumors are usually not good candidates for robotic or other minimally invasive surgery.
What should I look for when choosing my surgeon?
A. Patients with gynecologic cancer should seek sub-specialists who have completed a fellowship in gynecologic oncology and who are board certified or board eligible. It is very important that the surgeon have knowledge of the natural history of the disease and expertise in treatment options and surgical anatomy.
Robotic surgery is only a tool to accomplish the surgical goal for a patient with a gynecologic malignancy. Adding layers of technology to the surgical procedure adds complexity to the operation. Patients should seek out surgeons who perform this procedure regularly in a high-volume center.
What can I expect before, during, and after a robotic procedure?
A. Preoperative preparation is identical to other preoperative procedures:
Patients are counseled in the office and provided educational materials.
Patients undergo general anesthesia and therefore have no recollection of the procedure.
Patients are usually closely observed overnight after robotic gynecologic oncology procedures. The majority of patients will be discharged the next day.
How does robotic surgery compare with other surgical options for gynecologic cancers?
A. Prior to the advent of robotics, laparoscopic surgery was utilized as a minimally invasive option for gynecologic surgery. With robotics, the surgeon is able to control the camera and the surgical and retraction instruments, which offers an increased level of control over the procedure compared with laparoscopy. Other limitations of laparoscopic surgery include a limited field of vision, counterintuitive motion, limited degrees of freedom of surgical instruments, and suboptimal ergonomics for the surgeon. Surgeons have been slow to adopt its use in major gynecologic procedures due to these limitations and the long and complicated learning curve.
Patients undergoing open surgery, or laparotomy, for cervical and endometrial cancer have a higher incidence of post-operative complications, including wound infections, bowel function issues, and blood transfusions. In open versus robotic surgeries, the need for pain medications may be more, the hospital stay may be longer, and a patient's return to full function may take weeks.
How do you see robotic surgery changing in the next several years? What will be available for patients in the near future?
A. Robotic surgery will remain an option for patients requiring pelvic and abdominal surgery. More surgeons are likely to adopt this technology, which will increase availability to patients. Further technology improvements are likely.
Jeffrey Fowler, M.D. is The Director, Division of Gynecologic Oncology Co-director, Ohio State's Center for Advanced Robotic Surgery Ohio State University Comprehensive Cancer Center–James Cancer Hospital and Solove Research Institute Professor, Ohio State University.
References:
Fader AN, et al. N Engl J Med. 2018;doi:10.1056/NEJMe1814034.
Melamed A, et al. N Engl J Med.2018;doi:10.1056/NEJMoa1804923.
Ramirez PT, et al. N Engl J Med.2018;doi:10.1056/NEJMoa1806395.

Ramirez P, Frumovitz M, Pareja R, et al. Open vs. minimally invasive radical hysterectomy in early cervical cancer: LACC trial final analysis. Presented at SGO 2022; March 18-21, 2022. Abstract LBA 10.