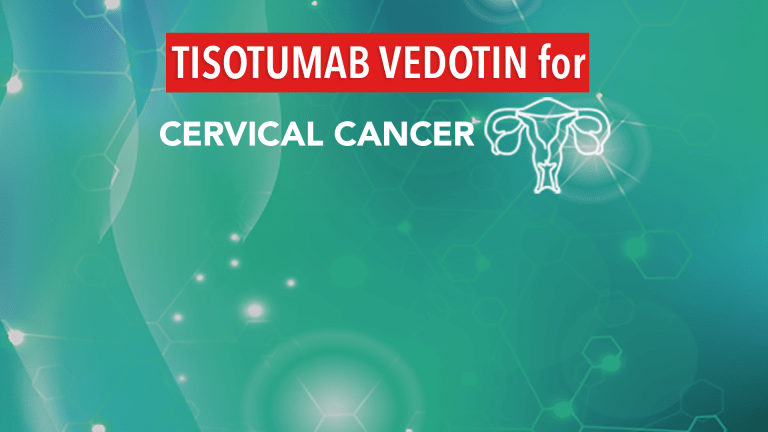 Tisotumab Vedotin – Promising in Advanced Cervical Cancer
Novel precision cancer medicine receives FDA approval for treatment of advanced ovarian cancer.
by Dr. C.H. Weaver M.D. 5/2022
Results from the innovaTV 204 clinical trial evaluating Tivdak (tisotumab vedotin) administered every three weeks for the treatment of patients who have relapsed or progressed on or after prior treatment for recurrent or metastatic cervical cancer have been released and results from the trial showed a 24% confirmed objective response rate with a median duration of response (DOR) of 8.3 months.1
The study results have led to a US FDA approval of the medication making it the first Antibody-Drug Conjugate used to treat advanced cervical cancer.
Each year in the United States, more than 12,000 women are diagnosed with cervical cancer and more than 4,000 die of the disease. Traditional chemotherapy drugs have limited effectiveness against advanced cervical cancer, highlighting the importance of finding new ways to treat this disease.
Precision cancer medicine: Unlike traditional chemotherapy, which attacks any cell in the body that is rapidly dividing, precision cancer medicine aims to target specific genetic alterations that allow cancer cells to grow. Most or all cancers result from abnormal genes or gene regulation. The strategy of precision cancer medicine is to define abnormalities at the most basic genetic level. These abnormalities in the DNA are called genomic alterations and they are responsible for driving cancer cell growth. Once the abnormality is identified, genomic tests are created to measure the specific genes in cervical cancer that are abnormal or are not working properly. By identifying the genomic changes and knowing which genes are altered in a patient, cancer drugs that specifically attack that gene (or the later consequences of that gene) can be used to precisely target the cancer and avoid affecting healthy cells.
About Tidvak (tisotumab vedotin)
Tisotumab vedotin is an antibody-drug conjugate (ADC) composed of a human monoclonal antibody specific for tissue factor and a protease-cleavable linker that covalently attaches the microtubule-disrupting agent monomethyl auristatin E (MMAE) to the antibody and releases it upon internalization, inducing target cell death. In cancer biology, tissue factor is a protein that can promote tumor growth, angiogenesis and metastases.2 Based on its high expression on many solid tumors and its rapid internalization, tissue factor was selected as a target for an ADC approach.

The innovaTV 204 trial is an ongoing study evaluating tisotumab vedotin in patients with recurrent or metastatic cervical cancer who were previously treated with doublet chemotherapy with or without Avastin (bevacizumab). Updated results from the trial showed a 24% confirmed objective response rate with a median duration of response of 8.3 months. The most common side effects were alopecia (hair loss), epistaxis (nose bleeds), nausea, conjunctivitis, fatigue and dry eye. The data from the trial is expected to be submitted for presentation at an upcoming medical meeting.
Additional clinical trials of tisotumab vedotin are currently enrolling patients, including in combination with pembrolizumab, carboplatin or bevacizumab, and with a weekly dosing schedule in patients with locally advanced or metastatic cervical cancer. Tisotumab vedotin is also being evaluated in other tissue factor expressing tumor types, including ovarian and other solid tumors.
References:
Seattle Genetics Announces Positive Topline Results from Phase 2 Clinical Trial of Tisotumab Vedotin in Recurrent or Metastatic Cervical Cancer
Van de Berg YW et al. Blood 2012;119:924.
https://www.businesswire.com/news/home/20210920005921/en/