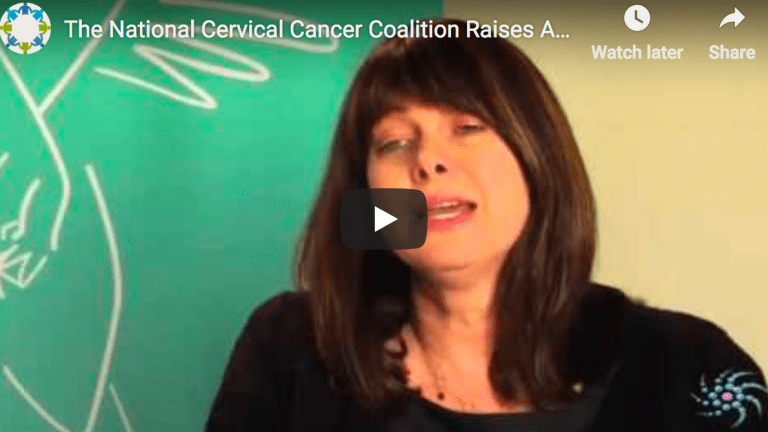 The National Cervical Cancer Coalition Raises Awareness
The National Cervical Cancer Coalition Raises Awareness
January is National Cervical Cancer Awareness Month and the National Cervical Cancer Coalition raises awareness and offers support.
SARINA ARAUJO, Executive Director, National Cervical Cancer Coalition: So the National Cervical Cancer Coalition has been around since 1996, and it was founded by Alan Kay who owned a pathology lab that did Pap testing, and he found that there was no organization that supported cervical cancer survivors.
We really are supported mainly by small donors. It's a grassroots, non-profit organization. Cervical cancer doesn't affect as many people as breast cancer does. In the United States, 11,000 women are diagnosed with cervical cancer, and 4,000 women die of cervical cancer every year. The deaths of those women could be prevented if caught early. Not only can we prevent deaths of cervical cancer, but we can prevent the pain and suffering of thousands of women who have to deal with the treatment of cervical cancer. That's our goal is to eliminate that. Nobody in the United States should die from cervical cancer.
This January is cervical health awareness month. Our organization worked very hard to make that a nationally recognized month. We're very proud of that and we are going to work hard to raise awareness. We have posters that we've distributed to college campuses, coffeehouses and gyms. We've had over 1,800 requests for posters already – that's a huge number to be out in the community reminding people to get vaccinated (if appropriate) , get their pap test, get the HPV test, if their doctor recommends it. We're really excited about getting that message off – and would be that there are more women scheduled to get their pap test in January than any other month.
I think we've made huge progress in cervical cancer awareness and the vaccines have drawn a lot of attention to it. So now that you have a vaccine that can prevent that human papillomavirus – anybody from getting it – so that has drawn a lot of attention to cervical cancer. So that's a positive because we are raising awareness.
Empowering young women is personally pretty important to me; I have three daughters who are all college, or just recently college age. So I think that empowering young women to be advocates for their own health, to be advocates in the community, for things that are important to them is really important. And one of the things the Cervical Cancer Coalition has done is reached out to sororities, and we've produced a tool kit so that they can take this tool kit and go into their community and it gives them everything they might need to give accurate information. And we now have 17 chapters across the United States and they can also partner with our chapter leaders in those communities.
One of the things that inspires me the most about cervical cancer patients and the women that volunteer for this organization is the passion that they have to prevent other people from having to go through what they went through.
We just lost a woman to cervical cancer in November and she had four children under the age of six. She had a lot of faith and she had her children and her family, and she said to me, "Don't stop the fight." And we see that. You just… it affects you. That woman didn't have to die and those children lost their mom.
Nobody in the United States should die from cervical cancer.