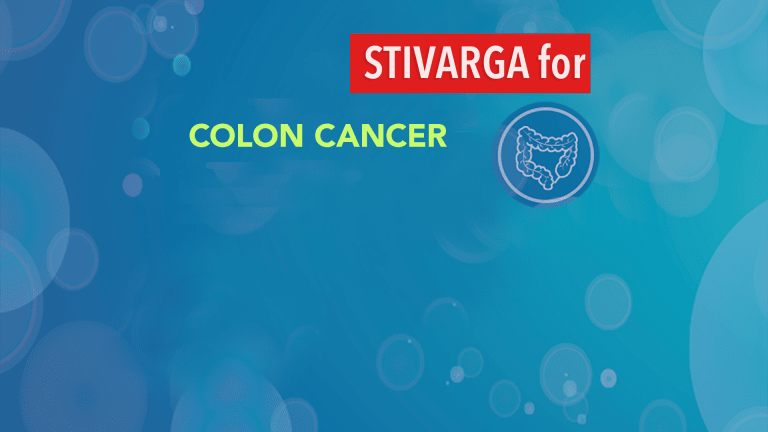 Stivarga Treatment for Metastatic Colorectal Cancer
Stivarga precision cancer medicine helps prolong survival in individuals with advanced colo-rectal cancer.
by Dr. C.H. Weaver M.D. updated 7/2022
The U.S. Food and Drug Administration (FDA) approved Stivarga® (regorafenib) for the treatment of patients with metastatic colorectal cancer that has progressed following previous treatment because Stivarga was demonstrated to delay cancer progression and prolong survival.1,2
Additional studies published in 2019 have provided guidance on how to optimally dose Stivarga to achieve the highest quality of life. These studies suggest that Stivarga should be initially administered at a lower dose and then gradually increased or escalated to an optimal dose. This strategy helps avoid unnecessary side effects and improve quality of life, and allow patients to get more benefit from the treatment.3,4
The treatment of advanced colo-rectal cancer is a constantly evolving process whereby new precision cancer medicines and chemotherapy drug regimens are incorporated into a management strategy based on an ever increasing number of genomic tests that help doctors select and sequence the best treatment to prolong survival.
Precision cancer medicines are anticancer drugs that interfere with specific pathways involved in cancer cell growth or survival. Stivarga is a multi-kinase inhibitor that targets multiple biological pathways involved in cancer development and is an important addition to the portfolio of treatments that can be sequenced to provide the best outcomes in colo-rectal cancer.
Stivarga's FDA approval was based upon the results of a clinical study that included 760 patients with previously treated metastatic colorectal cancer. Patients were randomly assigned to receive Stivarga or placebo in addition to best supportive care (BSC), which includes treatment to manage the symptoms and side effects of cancer. Patients received treatment until their cancer progressed or side effects became unmanageable.
The results indicated that Stivarga prolonged life and delayed tumor growth. Patients in the Stivarga group lived a median of 6.4 months, compared to 5 months for patients in the placebo group. Patients in the Stivarga group also experienced a delay in cancer growth compared to placebo.
The most common side effects reported in patients treated with Stivarga include weakness or fatigue, loss of appetite, hand-foot syndrome (also called palmar-plantar erythrodysesthesia), diarrhea, mouth sores (mucositis), weight loss, infection, high blood pressure, and changes in voice volume or quality (dysphonia).
References:
Grothey A, Sobrero AF, Siena S et al. Results of a phase III randomized, double-blind, placebo-controlled, multicenter trial (CORRECT) of regorafenib plus best supportive care (BSC) versus placebo plus BSC in patients (pts) with metastatic colorectal cancer (mCRC) who have progressed after standard therapies. Paper presented at: 2012 Gastrointestinal Cancers Symposium; January 19-21, 2012; San Francisco, CA. Abstract LBA385.
FDA approves new treatment for advanced colorectal cancer. [FDA News Release]. U.S. Food and Drug Administration website. Available at:
Argiles G, et al. Abstract O-026. Presented at: ESMO World Congress on Gastrointestinal Cancer; July 3-6, 2019; Barcelona, Spain.
Lancet Oncol. 2019 Jun 28. Epub ahead of print