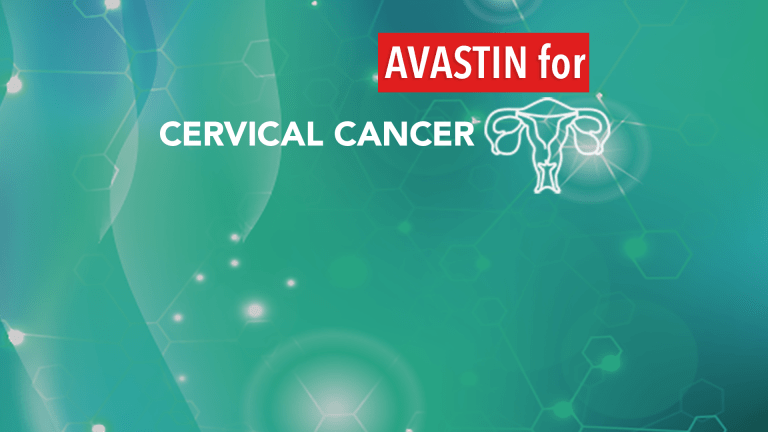 Possible Role for Avastin® in Recurrent Cervical Cancer
Possible Role for Avastin® in Recurrent Cervical Cancer
A small study of six patients suggests that the combination of Avastin® (bevacizumab) and chemotherapy may be a promising approach to the treatment of recurrent cervical cancer. These results were published in the journal Gynecologic Oncology.
When cervical cancer has been detected or has returned following initial treatment with surgery, radiation therapy, and/or chemotherapy, it is said to be recurrent or relapsed. The course of treatment for recurrent cervical cancer depends on what treatment a patient has previously received and where the recurrence is located. Some patients who have recurrence of cervical cancer within the pelvis can be treated with additional surgery or with radiation therapy, if no radiation therapy was given previously. Recurrence of cervical cancer outside the pelvis is difficult to treat.
Avastin belongs to a class of drugs called monoclonal antibodies. Avastin produces its anticancer effects by targeting vascular endothelial growth factor (VEGF) and preventing the interaction of VEGF with its receptors.
VEGF plays a role in the formation of new blood vessels. By blocking the activity of VEGF, Avastin alters the blood supply to cancer cells and slows their growth.
Although Avastin is being evaluated for the treatment of several types of cancer, the current study is the first to report on the use of Avastin in patients with recurrent cervical cancer. The study involves six patients with recurrent cervical cancer who were treated with Avastin plus chemotherapy (either 5-fluorouracil or capecitabine). All study participants had received extensive prior cancer therapy.
One of the six patients experienced a complete disappearance of detectable cancer following treatment.
One patient experienced a partial disappearance of detectable cancer.
Half the patients survived for more than five months. None of the patients survived for longer than six months without cancer progression.
The one case of a serious (grade 4) adverse effect of treatment involved neutropenia accompanied by an infection.
The researchers conclude that the combination of Avastin and chemotherapy was well tolerated and produced promising results in this small study of patients with recurrent cervical cancer. The researchers note that "These encouraging findings warrant further evaluation…"
Reference: Wright JD, Viviano D, Powell MA et al. Bevacizumab Combination Therapy in Heavily Pretreated, Recurrent Cervical Cancer. Gynecologic Oncology. 2006;103:489-493.