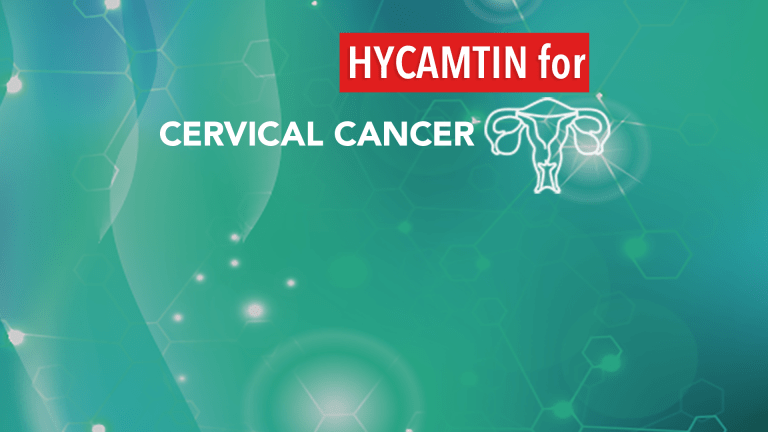 Hycamtin® Approved for Advanced Cervical Cancer
Hycamtin® Approved for Advanced Cervical Cancer
According to a press release from GlaxoSmithKline, Hycamtin® (topotecan) was recently approved by the U.S. Food and Drug Administration (FDA) for a new use-the treatment of stage IVB, recurrent, or persistent cervical cancer, when given in combination with Platinol® (cisplatin).
The cervix is a glandular organ that is located at the bottom of the uterus. Due to routine screening methods for cervical cancer in the U.S., this disease is often diagnosed in early stages, prior to the spread of cancer. Thus, cure rates remain high. However, some patients are diagnosed with advanced cervical cancer, where the cancer has spread to distant sites in the body, while others experience a cancer recurrence following initial therapy.
Currently, there is no standard chemotherapy regimen for patients with advanced or recurrent cervical cancer. Researchers continue to evaluate and compare different chemotherapy regimens for these patients. Platinol is a commonly used chemotherapy drug for treatment of cervical cancer.
Hycamtin is classified as a topoisomerase inhibitor. Hycamtin produces its anticancer effects by inhibiting an enzyme, topoisomerase, which is responsible for maintaining structural function and integrity of DNA. By inhibiting the normal activity of topoisomerase, Hycamtin ultimately causes cellular death.
Hycamtin was originally approved for the treatment of small-cell lung cancer and advanced ovarian cancer. The approval for advanced cervical cancer was based on the results of a phase III clinical trial conducted by the Gynecologic Oncology Group.
The study compared Platinol alone to Platinol plus Hycamtin in the treatment of patients with stage IVB cervical cancer. Women treated with Platinol and Hycamtin lived longer and had higher response rates to treatment than women treated with Platinol alone. Compared to women treated with Platinol alone, women treated with Platinol and Hycamtin were twice as likely to respond to treatment and survived for an average of three months longer. Women treated with Platinol and Hycamtin, however, experienced more adverse effects of treatment, such as low white blood cell levels.
In addition to developing treatments for cervical cancer, GlaxoSmithKline is also developing a vaccine to prevent infection with the types of human papillomavirus (HPV) that cause a majority of cases of cervical cancer.
Reference: GlaxoSmithKline news item. GlaxoSmithKline Announces Expanded Indication for Hycamtin to Treat Cervical Cancer in Combination Chemotherapy. June 15, 2006. Long HJ, Bundy BN, Grendys EC et al. Randomized phase III trial of cisplatin with or without topotecan in carcinoma of the uterine cervix: a Gynecologic Oncology Group study. Journal of Clinical Oncology . 2005;23:4626-4633.