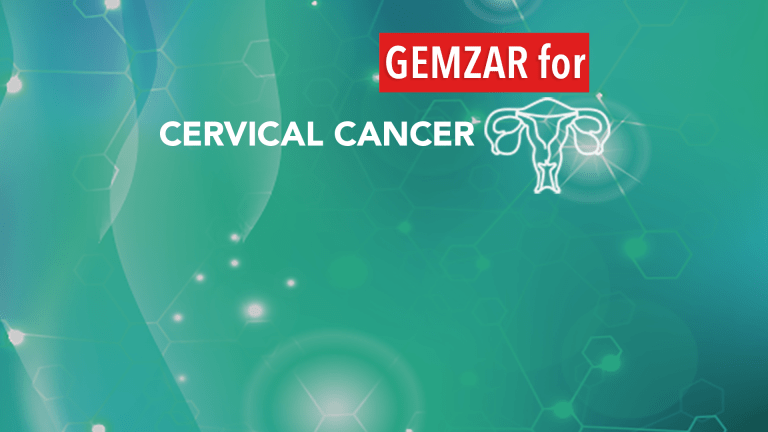 Gemzar® Added to Chemoradiation Improves Survival in Cervical Cancer
Gemzar® Added to Chemoradiation Improves Survival in Locally Advanced Cervical Cancer.
The combination of Gemzar® (gemcitabine), Platinol® (cisplatin), and concurrent radiation significantly improves survival over single-agent Platinol and radiation in women with Stage IIB-IVA cervical cancer, according to the results of a study presented at the 2009 annual meeting of the American Society of Clinical Oncology in Orlando, Florida.[1]
Cervical cancer affects the cervix, the part of the body that connects the uterus (or womb) to the vagina (or birth canal). Women who receive treatment for early-stage cervical cancer generally have an excellent prognosis, with a cure rate of greater than 90%. Despite successful screening programs for this disease, cervical cancer remains the second leading cause of cancer-related deaths in women worldwide—partly as a result of insufficient screening programs in developing countries.
Treatment of cervical cancer depends on the stage (or extent) of disease at diagnosis and may include surgery, radiation, chemotherapy, or other innovative strategies. Standard treatment for locally advanced cervical cancer has been Platinol and concurrent radiation therapy. Researchers at the National Cancer Institute of Mexico evaluated the addition of Gemzar to this regimen.
The study included 256 women who were randomly assigned to receive the standard treatment of Platinol and radiation and 259 women who were randomized to receive the same standard therapy along with the addition of Gemzar. The study was conducted in Argentina, Bosnia/Herzegovina, India, Mexico, Pakistan, Panama, Peru, and Thailand. None of the women had received prior treatment with chemotherapy or radiation.
After three years of follow-up, the researchers observed a significant improvement in progression-free survival (PFS) among the group of women who had received Gemzar: PFS was 74% in the Gemzar group versus 65% in the standard treatment group. Furthermore, overall survival and time to disease progression were also significantly improved for the Gemzar group: 78% of women in the Gemzar group were alive three years after treatment compared with 69% of those who received the standard treatment.
Women who received Gemzar experienced a higher incidence of side effects, though they were generally viewed as tolerable. The researchers concluded that the addition of Gemzar to standard therapy significantly improved the outcomes for women with locally advanced cervical cancer.
Reference:
[1] Duenas-Gonzalez A, Zarba JJ, Alcedo JC, et al. A phase III study comparing concurrent gemcitabine (Gem) plus cisplatin (Cis) and radiation followed by adjuvant Gem plus Cis versus concurrent Cis and radiation in patients with stage IIB to IVA carcinoma of the cervix. Presented at the 2009 annual meeting of the American Society of Clinical Oncology, May 29-June 2, 2009, Orlando, FL. Abstract CRA5507.