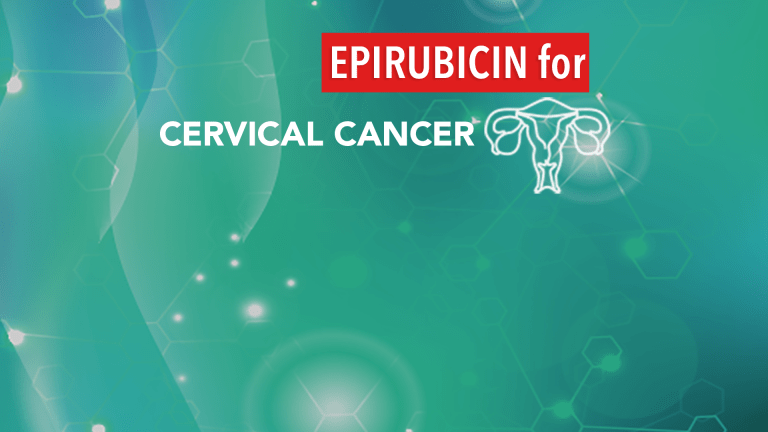 Epirubicin: A New Drug for the Treatment of Cervical Cancer
Epirubicin: A New Drug for the Treatment of Cervical Cancer
The standard treatment of locally advanced cervical cancer has utilized external beam, and interstitial seed implant radiation therapy for many years and no significant progress in the treatment of cervical cancer has occurred. The strategy of administering chemotherapy concurrent with radiation treatment is appealing because chemotherapy and radiation therapy may act together to increase the killing of cancer cells without delaying the course of radiation therapy. Chemotherapy may also destroy cancer cells independently of radiation therapy. At least 5 clinical studies published in the last year have demonstrated that treatment of locally advanced cervical cancer with concurrent cisplatin-based chemotherapy and radiation therapy is superior to radiation therapy alone.
Many patients with advanced cervical cancer, however, still experience cancer recurrence locally and at distant sites. New drug regimens could improve outcomes. Epirubicin is an anthracycline chemotherapy agent and has activity in the treatment of recurrent cervical cancer. Physicians in Hong Kong performed a clinical study evaluating epirubicin and radiation therapy in 220 patients with bulky stage I-III cervical cancer. The results were reported in the Journal of Clinical Oncology.
Patients were treated with standard pelvic radiotherapy or epirubicin chemotherapy administered during and after radiation therapy. The average follow-up in this clinical trial is over 6 years from diagnosis. Thirty percent of patients treated with radiation alone experienced cancer recurrence compared to approximately 15% of patients treated with epirubicin chemotherapy and radiation therapy. Overall survival was over 80% in the group of patients treated with chemotherapy and radiation therapy compared to less than 70% if treated with radiation alone. The primary benefit of chemotherapy was the prevention of distant relapses.
This study confirms previous clinical trials showing that chemotherapy and radiation therapy are superior to radiation therapy alone for the treatment of locally advanced cervical cancer. Importantly, further improvements in treatment might result from adding epirubicin or a similar drug to cisplatin-based adjuvant treatment of locally advanced cervical cancer. (Journal of Clinical Oncology, Vol 17, No 7, pp 2055-2060, 1999)