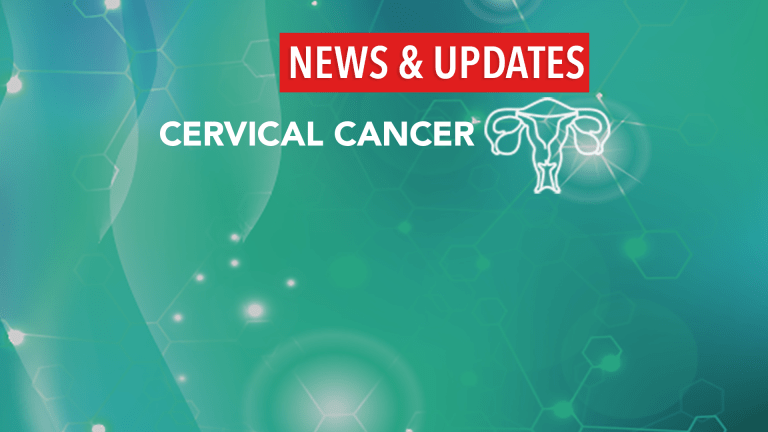 Checkpoint Inhibitor Immunotherapy for Treatment of Advanced Cervical Cancer
Checkpoint inhibitor immunotherapy prolongs survival and delays recurrence in advanced cervical cancer.
by Dr. C.H. Weaver M.D. Medical Editor update 8/2022
The use of PD-1 "checkpoint inhibitor" immunotherapy appears promising for the treatment of advanced cervical cancer. The U.S. Food and Drug Administration (FDA) approved Keytruda (pembrolizumab) for the treatment of patients with recurrent or metastatic cervical cancer with disease progression on or after chemotherapy whose tumors express PD-L1 in 2018. Keytruda was the first "checkpoint inhibitor" anti-PD-1 immunotherapy approved for patients with advanced cervical cancer.1 Reports also suggest the checkpoint inhibitor Opdivo (nivolumab) produces similar responses.2
According to Dr. Bradley Monk, oncologist with Arizona Oncology, medical director of US Oncology Research Gynecology Program and professor of obstetrics and gynecology at University of Arizona's College of Medicine and Creighton University School of Medicine "Even with the many advances observed across gynecologic cancers, new treatment options have been lacking for previously treated patients with advanced cervical cancer. The approval of immunotherapy for cervical cancer patients is important news – and as an oncologist, it is exciting to see a much needed option made available to these patients."
About Cervical Cancer
Each year in the United States, more than 12,000 women are diagnosed with cervical cancer and more than 4,000 die of the disease. Traditional chemotherapy drugs have limited effectiveness against advanced cervical cancer, highlighting the importance of finding new ways to treat this disease.
About Keytruda (pembrolizumab)
Keytruda is a monoclonal antibody know as a checkpoint inhibitor that helps to restore the body's immune system in fighting cancer. It creates its anti-cancer effects by blocking a specific protein used by cancer cells called PD-L1, to escape an attack by the immune system. Once PD-L1 is blocked, cells of the immune system are able to identify cancer cells as a threat and initiate an attack to destroy the cancer. Research confirms that Keytruda treatment improves survival duration in advanced cervical cancer. 
An initial study, Keynote-158 evaluated Keytruda in 98 patients with recurrent or metastatic cervical cancer. For the 77 patients whose tumors expressed PD-L1 the overall response rate was 14.3 percent with a complete response rate of 2.6 percent and partial response rate of 11.7 percent. Among the 11 responding patients, the median duration of response has not yet been reached (range, 4.1 to 18.6+ months) and 91 percent experienced a duration of response of six months or longer. No responses were observed in patients whose tumors did not have PD-L1 expression.
Keynote 826 Confirms Keytruda Benefit
The Phase 3 KEYNOTE-826 trial is the confirmatory trial for the current accelerated approval for Keytruda as treatment for advanced cervical cancer.5
The trial confirmed that the addition of Keytruda to chemotherapy with or without Avastin improves survival in patients with advanced cervical cancer, according to an interim analysis of the phase 3 KEYNOTE-826 clinical trial presented at the 2021 ESMO Congress Presidential Symposium.
Interim analyses showed the average overall survival was improved from 16.5 to 24.4 months with Keytruda and patients with higher CPS scores fared even better.
What is the CPS Score?
Cancers that "express" PD-L1 are more likely to respond to treatment with checkpoint inhibitor immunotherapy drugs and the greater the proportion of cells that express PD-L1- the better the response to immunotherapy. In order to assess PD-L1 in tumors doctors have developed the Combined Positive Score (CPS), which is the number of PD-L1 staining cells (tumor cells, lymphocytes, macrophages) divided by the total number of viable tumor cells, multiplied by 100. This calculates what percentage of cells in a tumor "express" PD-L1.
In the subset of patients with a PD-L1 CPS of 1 or higher, the overall response to therapy was improved from 50% to 68% and the median duration of response 18.0 months compared to 10.4 months. 
In the United States, Keytruda in combination with chemotherapy, with or without bevacizumab, is approved for the treatment of patients with persistent, recurrent, or metastatic cervical cancer whose tumors express PD-L1 (CPS ≥1) as determined by an FDA-approved test. 
Opdivo - Yervoy Immunotherapy Combination
Opdivo in combination with Yervoy (ipilimumab) appears to benefit women with recurrent or metastatic cervical cancer regardless of PD-L1 status, according to results of the results of the CheckMate 358 clinical trial presented at the 2019 European Society for Medical Oncology Congress.
The checkpoint inhibitor Opdivo blocks the activity of PD-1 found on T cells and Yervoy targets a molecule called CTLA-4 on T cells. Studies have shown that Opdivo combined with Yervoy results in improved anti-tumor activity when compared to either agent alone. Doctors from Dana Farber Cancer Institute in Boston MA reported this observation in the treatment of malignant melanoma further supporting the idea that combination precision cancer immunotherapy is promising.
Researchers treated 91 women with advanced cervical cancer with 2 different dosing strategies combining Opdivo and Yervoy for up to 24 months, or until disease progression or unacceptable side effects occurred. With an average follow up of approximately one year 46% of previously untreated and 36% of those receiving prior systemic treatment responded to therapy with Opdivo -Yervoy combination.2,3
Balstilimab - Zalifrelimab Active in Advanced Cervical Cancer
Checkpoint blockade with the PD-1 inhibitor balstilimab, alone or in combination with the anti-CTLA-4 drug zalifrelimab have also been demonstrated to have anti-cancer activity in women with recurrent or metastatic cervical cancer according to the results from two early phase clinical trials.4
Each of the studies involved women with recurrent or metastatic cervical cancer who experienced a recurrence following platinum-based chemotherapy as first-line treatment.
The combination of a PD-1 inhibitor with a CTLA-4 inhibitor in women with recurrent/metastatic cervical cancer and report an overall response rate of 26% including 8% of patients who experienced complete response and a 33% response rate in patients whose tumors were PD-L1 positive. The trial was conducted 155 women between the ages of 24 and 76 in the trial. All had previously been treated with at least one prior line of platinum-based chemotherapy.
Libtayo
Libtayo is a fully human monoclonal antibody targeting the programmed death receptor-1 (PD-1) on T cells. Libtayo blocks the PD-1 protein that interferes with certain types of immune responses and may enhance the ability of the immune system to fight cancer.
A Phase 3 clinical trial investigating the PD-1 inhibitor Libtayo® (cemiplimab) compared to chemotherapy in patients with recurrent or metastatic cervical cancer was stopped early because Libtayo monotherapy demonstrated an improvement in overall survival. The trial included women with either squamous cell carcinoma or adenocarcinoma. Libtayo monotherapy was directly compared to the investigator's choice of commonly used chemotherapy (pemetrexed, vinorelbine, topotecan, irinotecan or gemcitabine). Libtayo treated patients experienced delayed recurrence and prolonged survival compared to women treated with chemotherapy.5
References:
FDA Approves Merck's KEYTRUDA® (pembrolizumab) for Previously Treated Patients with Recurrent or Metastatic Cervical Cancer Whose Tumors Express PD-L1 (CPS Greater Than or Equal to 1)
J Clin Oncol. 2019;37[31]:2825-2834
Naumann W, et al. Abstract LBA62. Presented at: European Society for Medical Oncology; Sept. 27-Oct. 1, 2019; Barcelona, Spain.
[O'Malley DM, et al "Single-agent anti-PD-1 balstilimab or in combination with anti-CTLA-4 zalifrelimab for recurrent/metastatic (R/M) cervical cancer (CC): Preliminary results of two independent phase II trials" ESMO 2020; Abstract LBA34.](https://www.annalsofoncology.org/article/S0923-7534(20%2942346-4/pdf)
Colombo N, Dubot C, Lorusso D, et al. Pembrolizumab plus chemotherapy versus placebo plus chemotherapy for persistent, recurrent, or metastatic cervical cancer: randomized, double-blind, phase 3 KEYNOTE-826 study. Presented at: 2021 ESMO Congress; September 16-21, 2021; virtual. Abstract LBA2_PR.